Democratic Senator Sparks Progressive Backlash After Refusing to Back Court Packing
Democratic Senator Joe Manchin drew the ire of progressives on Monday night after he pledged not to vote against his own party on Supreme Court packing or ending the filibuster, even if the Senate were to be split 50-50 in the wake of Georgia's runoff races.
Appearing on Fox News, the U.S. senator from West Virginia said he would "not vote" with Democrats on those key issues if the Senate were split down the middle—effectively offsetting Kamala Harris' deciding vote as vice president.
Speaking to Special Report with Bret Baier, Manchin said: "If both of the Georgia senators were elected from the Democratic Party, then that would be 50-50, if both Dan Sullivan and Thom Tillis win. Fifty-fifty means there's a tie. But if one senator does not vote on the Democratic side, there is no tie, and there is no bill.
"So I commit to you tonight, and I commit to all your viewers, and anyone else that's watching, I want to rest those fears for you right now. When they talk about, whether it be packing the courts or ending the filibuster, I will not vote to do that. I will not vote to pack the courts, and I will not vote to end the filibuster."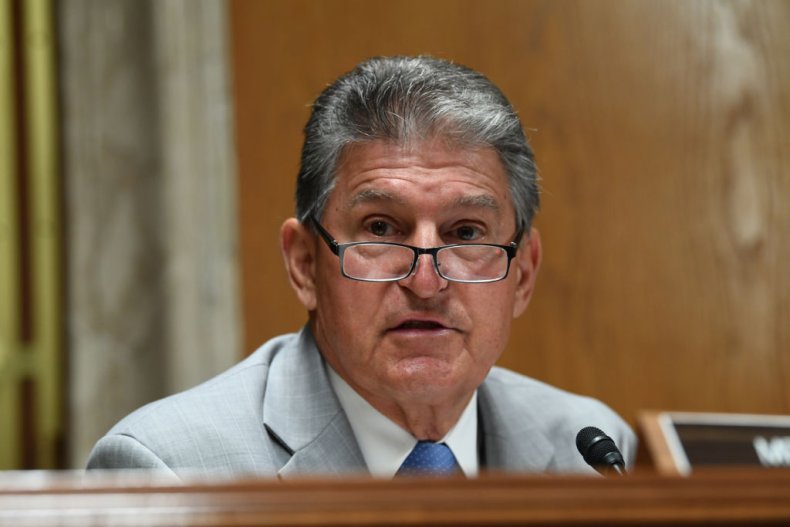 The Democratic senator added that the upper chamber was made to "work in a bipartisan way" and argued that the Senate would lose its essence as an institution if those "barriers" were broken down.
"I don't know any Democrats in the caucus who are for defunding the police. We're not for that whatsoever," he later added. "And when they talk about Medicare for All, we can't even pay for Medicare for some. It doesn't make any sense at all."
The lawmaker's attack on progressive legislative goals and any future effort to overturn the 6-3 conservative majority on the Supreme Court benches rankled with progressive members of the Democratic caucus.
Reacting to the Fox News interview, Minnesota Rep. Ilhan Omar tweeted: "Stop worrying about progressives, this might be the reason we don't win the Senate races in Georgia. Good grief."
Mike Siegel, a progressive Democratic candidate for Texas' 10th congressional district, said: "Manchin doesn't even believe in democracy. He'd rather people die of starvation & COVID than amend the Senate rules. If he won't support Democratic legislation he should lose his committee seats—including Appropriations & Energy."
The progressive Justice Democrats PAC also responded to the clip of Manchin on Fox News with a vomiting emoji. Rep. Alexandria Ocasio-Cortez of New York, Congressman-Elect Jamaal Bowman (D) and the rest of the "Squad" won backing from the influential group as they ran to replace moderates.
Senator Manchin's remarks were the latest salvo in an ongoing fight between the left and center of the Democratic Party following poor performances in several key House and Senate races last week.
Lawmakers sparred over who was to blame for unexpected losses during a leaked House Democrats call on Thursday. Over the course of the call, Virginia Rep. Abigail Spanberger pinned the blame for losses to GOP challengers in some House races on progressive lawmakers, while Rep. Rashia Tlaib of Michigan said progressive Democrats had not been wrong for "fighting for issues that matter to our communities."