Democratic Senator Says He Fears Americans Are 'Unwittingly' Spreading Russia Disinformation Campaign
Virginia Senator Mark Warner compelled U.S. intelligence officials to release more details about Russian attempts to influence November's election on Sunday.
During an appearance on NBC News' Meet the Press, the Democratic lawmaker, who serves as vice chair of the Senate Intelligence Committee, warned that Americans could unknowingly become complicit in Russia's digital disinformation campaign.
"The intelligence community, 10 days ago, said that the Russians are back trying to interfere in our elections again, that they have a disinformation...misinformation campaign targeted against Vice President Biden," Warner told Meet the Press moderator Chuck Todd.
He referenced recent reports from top U.S. intelligence authorities about Russian election interference, as President Donald Trump pursues reelection against Democratic challenger Joe Biden. On August 7, William Evanina, director of the National Counterintelligence and Security Center, said an intelligence investigation concluded Russia is targeting Biden's campaign ahead of the November polls.
The State Department's Global Engagement Center (GEC) released a report on Russian interference into the presidential election on August 11, discussing ways in which the country aims to spread "disinformation and propaganda" online.
"Russia's disinformation and propaganda ecosystem is the collection of official, proxy and unattributed communication channels and platforms that Russia uses to create and amplify false narratives," the report read.
Without adequate information about the interface and how to recognize propaganda, Warner said Americans risk elevating those false narratives further.
"I think it's incumbent upon the intelligence community to lay out more of the facts of what we know about that disinformation campaign," he said during Sunday's interview. "My fear is that there may be Americans that are unwittingly promoting that Russian disinformation campaign, and I think they need to be briefed so they don't become, frankly...agents, in effect, of this disinformation campaign."
Warner helped craft the Senate Intelligence Committees latest, and final, report with findings from its inquiry related to Russian election interference allegations, which prompted Trump's impeachment earlier this year. The report, titled Counterintelligence Threats and Vulnerabilities, documented Trump campaign staff's contact with Russia leading up to the 2016 election, but did not officially confirm collusion on the president's part.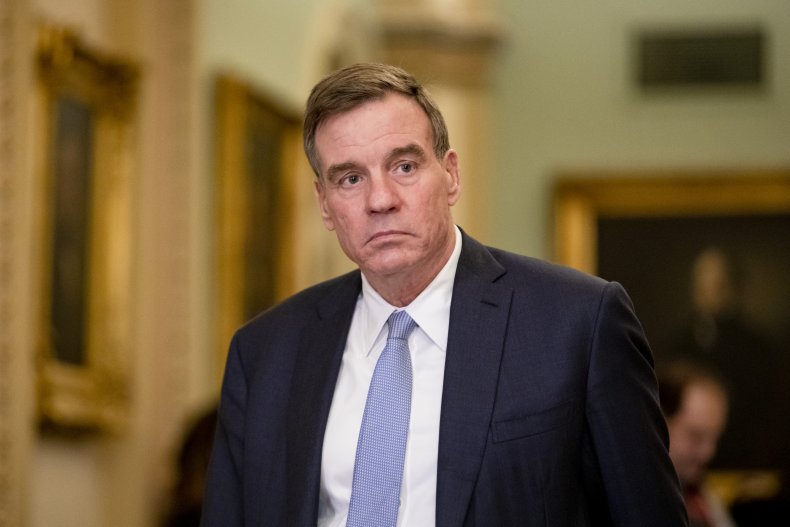 After the report's release last week, Florida Senator and acting Senate Intelligence Committee Chair Marco Rubio issued a statement saying the committee "found absolutely no evidence" of collusion between Trump or his campaign members and Russian officials in 2016. But Warner told Todd he and other Democrats disagree.
"Respectfully, I disagree with Marco on that. You will see a whole series of other Democrats who wrote a separate opinion where they drew a different conclusion," the senator said on Sunday.
In his own statement issued last week, Warner called the extent of contacts between Trump officials and Russian government operatives "breathtaking" and described the connection as "a very real counterintelligence threat to our elections.
Newsweek reached out to Warner for additional comments, but did not receive a reply in time for publication.