Four Democratic governors took the unusual step of breaking with Joe Biden's White House on pandemic policy and rolled back school mask mandates in the face of enraged parents and a buoyant GOP.
Citing declining COVID-19 caseloads, the governors of Connecticut, Delaware, New Jersey and Oregon all announced Monday plans to drop statewide school masking requirements and leave the decision to local districts. The move marks a notable about-face for Democrats, who have favored heightened restrictions throughout the pandemic to prevent the virus from spreading.
The White House, which promised an end to restrictions, has pushed back on the governors' decision.
When asked if these governors were getting ahead of public health recommendations, White House press secretary Jen Psaki told reporters Monday that the Biden administration continued to advise schools to follow guidance from the Centers for Disease Control and Prevention (CDC) that still calls for masks.
"Our hope is that states, leaders will look at the science and data about what's going on, they'll make decisions about local school districts," Psaki said Tuesday.
Both opponents and allies of the Democratic governors have questioned if dropping school masking requirements is motivated by politics as well as growing demands to end pandemic restrictions that have marked daily life for nearly two years.
"The medical science didn't change, the political science changed," Florida Governor Ron DeSantis, a Republican who has championed lifting COVID-19 restrictions, said Tuesday. "They feel the heat. They know that voters have been tired of perpetual lockdown policies. They know that they have basically offered no offramp, and they know that they're fixing to get whooped at the polls. And so that's what's causing the epiphany."
Masking requirements continue to be a source of gaffes for Democratic leaders. Stacey Abrams, the party's 2018 nominee for Georgia governor, apologized on Tuesday after a photo emerged of her appearing maskless in a school photo. California Governor Gavin Newsom similarly faced criticism last month for appearing in a maskless photo with Magic Johnson.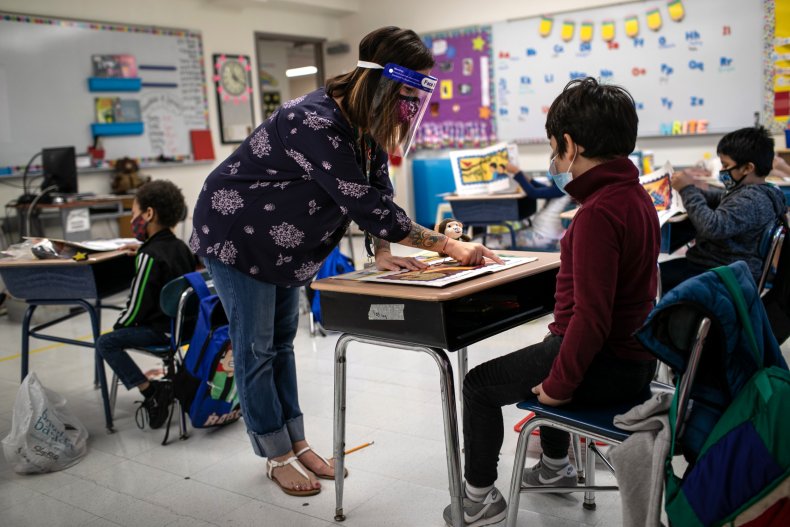 Masks have become a highly fraught subject in schools, which have become increasingly political over the pandemic. Districts across the country have seen angry confrontations and ongoing legal wrangling over masking and other pandemic restrictions. Eight Republican-led states, including Texas and Florida, have sought to ban districts from implementing mask requirements.
Over the last year, groups like Moms for Liberty popped up all over the country, gaining influence during last year's Virginia gubernatorial election, where "parental rights" was a key theme. After prevailing in the race, Republican Glenn Youngkin swiftly issued an order seeking to undo mask mandates in local schools.
In New Jersey, which also held its gubernatorial election last year, Democrat Phil Murphy narrowly won against Republican challenger Jack Ciattarelli, who also called for an end to school mask requirements.
Republican success in 2021 has Democrats worried as they head into the 2022 midterm elections after President Joe Biden promised a return to normalcy.
House Democratic leaders during a press briefing Tuesday were quick to take credit for the states lifting the mask mandates, citing the party's investments in vaccinations and public health.
New York Democratic Representative Sean Patrick Maloney said, "we trust parents to know what's best for their children and their schools."
"People are sick to death of this pandemic," he continued. "And I do believe because of the president's leadership and because of the Democratic plan to beat the virus, we will be in a position to communicate a clear off-ramp and to make sure people understand they will be in a position to care for themselves and their families."
The reaction from teachers' unions, a traditional ally of Democrats, to blue state governors relaxing mask requirements ranged from caution to concern.
The New Jersey Education Association leaders said in a statement they were "cautiously optimistic."
Shelley Meadowcroft, the spokeswoman for the Delaware State Education Association, told Newsweek that with masking soon to be a local decision, the union was confident it would have a seat at the table as districts developed policies.
"We are glad this conversation will happen at this level," she said. "It doesn't mean the masks will go away, it just means it's going to be a local-level decision."
But Oregon Education Association President Reed Scott-Schwalbach told Newsweek in an email that "while the science is clear that wearing masks indoors helps reduce the transmission of COVID-19, opinions on mandatory masks in schools vary greatly from community to community and from school to school." She said, "it will be more important than ever for District leaders" to engage with educators and communities.
Connecticut Education Association President Kate Dias said in a statement that over half its members still supported masking requirements.
Each union said decisions on masks should be made using data and science.
Randi Weingarten, president of the 1.7 million-member American Federation of Teachers, said Tuesday that the conversation about an off-ramp for masks needs to be "based upon science instead of politics."
"What are the measures so that everybody knows?" she said, speaking on an appearance of MSNBC's Morning Joe. "So it doesn't feel like it's based upon politics, it feels like it's based upon making sure that there's no transmission in school."
Decisions over masks should be based on factors such as vaccination rates, community spread and hospitalizations, she said.
"I'm just asking the [CDC] to actually weigh in here so that we have that kind of guidance around the country, "said Weingarten.
COVID-19 cases have fallen in the U.S. as a surge driven by the Omicron variant has subsided. As of Monday, the U.S. had a seven-day average of 247,319 new cases, down from the January 15 peak of 805,624, according to CDC data. The four states lifting mask requirements for schools have followed a similar trajectory, and all have higher percentages of fully vaccinated people than the U.S.' 64 percent.
Currently, the CDC still recommends universal masking of students 2 years and older, as well as staff and teachers, regardless of vaccination status.
When asked about Weingarten's remarks, Psaki said Tuesday that "the CDC moves at the pace of data and science."
"I would note that our goal remains continuing to ensure that there is guidance that helps school districts stay open," she said.
Newsweek has reached out to the CDC for comment.
President Biden's Surgeon General Vivek Murthy told the Senate Finance Committee that masking remains useful in slowing the spread of COVID-19. But he said that "no parent would want a mask if it's not needed."
"I think our goal should be to get to a place where we can pull back on these types of restrictions," he said.
Correction 02/09/2022, 6 p.m. ET: This article was updated to reflect that Oregon Education Association President Reed Scott-Schwalbach is a woman.