Democratic Strategists Say Deval Patrick Faces 'Near-Impossible' Battle in Primary Field
Deval Patrick will face an "uphill battle" if he wants any chance of becoming the Democratic 2020 nominee, and has probably entered the cycle too late for any breakthrough with voters, strategists have said.
Democratic analysts told Newsweek that the narrow window between the former Massachusetts governor's primary campaign launch yesterday and the Iowa caucuses in February made it "near-impossible" for him to become a frontrunner in the race.
One strategist also doubted that the moderate would pull votes away from Joe Biden, but could elevate himself if he is able to "cobble together" the votes of "low-tier" candidates on the same political wavelength.
Deval Patrick revealed he was entering the already crowded Democratic primary field yesterday, shortly following reports that the former New York City mayor and billionaire Michael Bloomberg is also preparing to run for the presidency.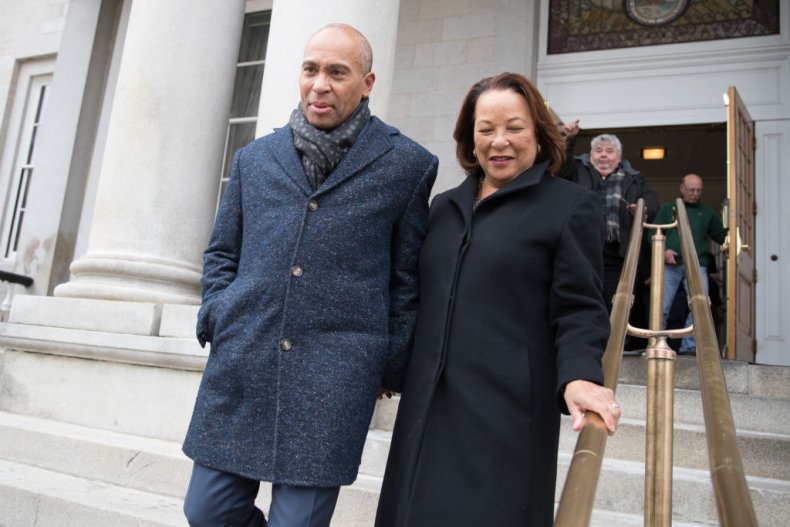 In a video unveiling his candidacy, Patrick said: "I admire and respect the candidates in the Democratic field. They bring a richness of ideas and experience, and a depth of character, that makes me proud to be a Democrat.
"But if the character [of the] candidates is an issue in every election, this time is about the character of the country. This time is about whether the day after the election, America will keep her promises.
"This time is about more than removing an unpopular and divisive leader, as important as that is, but about delivering instead for you."
He also pitched himself as a candidate for voters "left out and left back" who wanted a future "not built by somebody better than you," but did not reveal any particular policy goals.
Patrick's campaign announcement was met with little fanfare, while his record of working in private equity and the corporate world quickly became a lightning rod for progressives.
Following his primary entrance, New York Rep. Alexandria Ocasio-Cortez yesterday tweeted: "Call me radical, but maybe instead of setting ablaze hundreds of millions of dollars on multiple plutocratic, long-shot, very-late presidential bids, we instead invest hundreds of millions into winning majorities of state legislatures across the United States?"
Speaking to Newsweek yesterday, Democratic strategist Andrew Feldman expressed a similar view.
"There wasn't a clamoring for something different out there," he said. "Real voters aren't worried about the field."
The Feldman Strategies founder had praise for the former Massachusetts governor, noting that he was the first black person to hold the office. But he also argued that Patrick would have an "uphill battle" if he sought to become a frontrunner.
Referring to the candidate's campaign launch video, Feldman also said he "didn't turn heads right off the bat," which could prove costly given that Patrick only has a few months to ready himself for the Iowa caucuses.
"While he could make a very good president, it's hard to see his path to the nomination at this point," said Michael Gordon, another Democratic strategist and ex-Clinton administration staffer.
The principal of communications firm Group Gordon said there were already many candidates in the primary field who had spent months raising money, doing campaign stump events and taking part in televised debates, but had still not yet "broken through" into the lead pack.
Asked how he expected Patrick to pitch himself to Democratic primary voters, the former New York State Democratic Party executive director Basil Smikle said the ex-governor would likely "present himself as an Obama-era moderate" with the hopes of reconstituting "the Obama coalition."
He was skeptical of the idea that he would pull support away from fellow moderate Joe Biden, but said he could "elevate himself" on the backs of "low-tier" candidates in the field.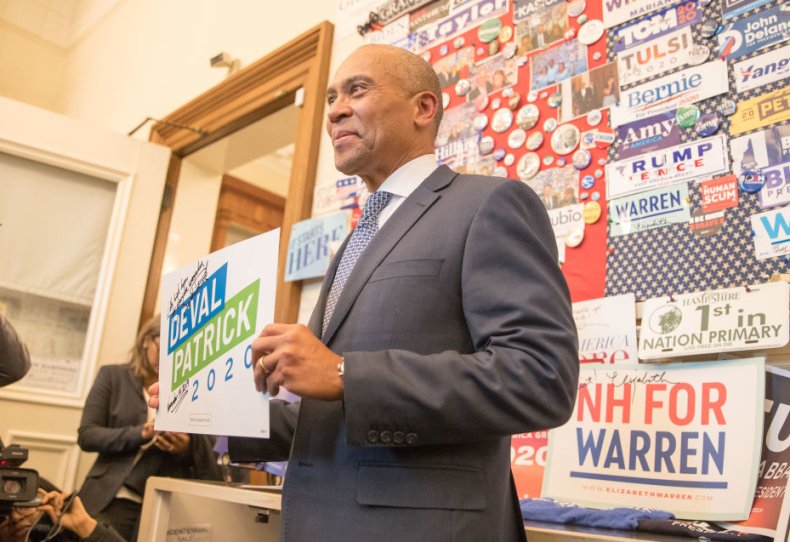 "I think Deval Patrick will be able to cobble together a lot of the support of say Kamala Harris or a Cory Booker or Amy Klobuchar," the strategist told Newsweek.
"I think what he is looking at is an electorate that not has not yet made up its mind about the type of policies that it wants, but hasn't really settled on how to beat Donald Trump in a general election."
How does he think Patrick would fare in the seemingly unlikely event that the two went head-to-head? Smikle said it was "hard to say," adding that it was a "big unknown factor" for the candidate.
Andrew Feldman disagreed on this point, predicting the former governor would likely perform "very well" against the commander-in-chief on the debate stage.
"Patrick was a successful and generally popular Governor of Massachusetts and has good private and public sector experience," strategist Michael Gordon said, summing up his view of the candidate.
"But it's near-impossible to break through at this point as a new candidate if you're not a billionaire or don't have a national name."