Democrats' Abortion Law Likely Doomed as Manchin, Sinema Dig In
Senate Democrats vowed Tuesday to try to codify abortion rights after news broke late Monday that the Supreme Court is poised to overturn Roe v. Wade, but the party has few paths forward in an evenly divided chamber where ending the legislative filibuster appears to be off the table.
"We will fight it all the way," Senate Majority Leader Chuck Schumer of New York said in a speech on the Senate floor Tuesday morning, hours after Politico published a leaked draft opinion of a Supreme Court majority decision overturning Roe, the landmark 1973 ruling that established the constitutional right to abortion.
"This is a dark and disturbing morning for America," Schumer said, reflecting widespread anger on the left at the draft opinion, which was written by conservative Justice Samuel Alito.
As angry as they are, Democrats have few options to act.
Passing legislation to protect abortion rights would require 60 votes in the Senate to override a filibuster, but that's highly unlikely given that 10 Republicans would have to join Democrats in support of the bill. There are only two GOP senators — Lisa Murkowski of Alaska and Susan Collins of Maine — who support abortion rights.
That leaves Democrats with only one other option: marshaling 50 votes to overturn the filibuster in order to pass legislation by a simple-majority vote. That move is highly unlikely as well, since it would require several Democrats who have opposed overturning the filibuster in the past to switch positions.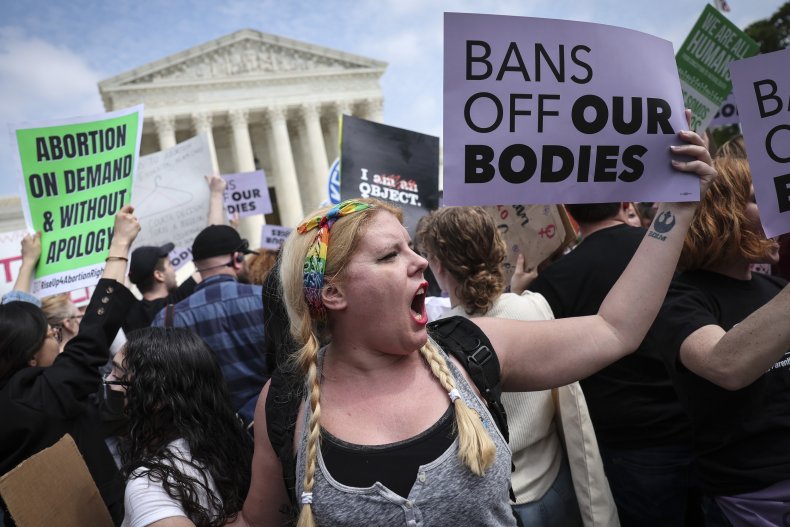 On Capitol Hill, attention quickly focused Tuesday on the small handful of moderate senators on both sides of the aisle who could play a key role in any legislative fight: Collins and Murkowski, and Democratic Senators Joe Manchin of West Virginia and Kyrsten Sinema of Arizona.
Collins released a statement Tuesday blasting Justices Neil Gorsuch and Brett Kavanaugh, two of the four justices that sided with Alito's majority draft opinion, according to Politico. The Maine Republican noted that their apparent support for overturning Roe contradicted their public and private statements about abortion during their nomination hearings.
"If this leaked draft opinion is the final decision and this reporting is accurate, it would be completely inconsistent with what Justice Gorsuch and Justice Kavanaugh said in their hearings and in our meetings in my office," Collins said. "Obviously, we won't know each Justice's decision and reasoning until the Supreme Court officially announces its opinion in this case."
Gorsuch, who was appointed by former President Donald Trump, said in his 2017 confirmation hearings that Roe was "a precedent of the U.S. Supreme Court." Gorsuch noted that the right to an abortion was upheld in the 1992 ruling Planned Parenthood v. Casey.
The sentiment was echoed a year later by Kavanaugh, who was also appointed by Trump and confirmed by the Senate in 2018 following a contentious confirmation process in which he was accused of committing sexual assault while he was in high school.
"[Roe v. Wade] is settled as a precedent of the Supreme Court," Kavanaugh said during his hearings. Collins also said at the time that Kavanaugh reiterated the position to her in a private meeting.
Murkowski told reporters Tuesday that she also felt as if conservative Supreme Court nominees had misled her about their position on abortion in the past, though she didn't say which ones. "Comments were made to me and to others about Roe being settled and precedent," Murkowski said.
Collins voted for Gorsuch and Kavanaugh. Murkowski backed Gorsuch and entered a "present" vote for Kavanaugh, using a procedural move that paired her vote with a yes vote from another Republican, Sen. Steve Daines of Montana.
Murkowski also said Tuesday that her confidence in the court was shaken. "If it goes in the direction that this leaked copy has indicated, I will just tell you that it rocks my confidence in the court right now," she said.
The Alaska Republican noted that she introduced legislation with Collins in February to codify Roe v. Wade, offering abortion rights supporters a glimmer of hope that she might back a new legislative effort in the wake of the leaked draft ruling.
"I thought it made sense then and I think it makes perhaps more sense now," Murkowski said at the Capitol on Tuesday.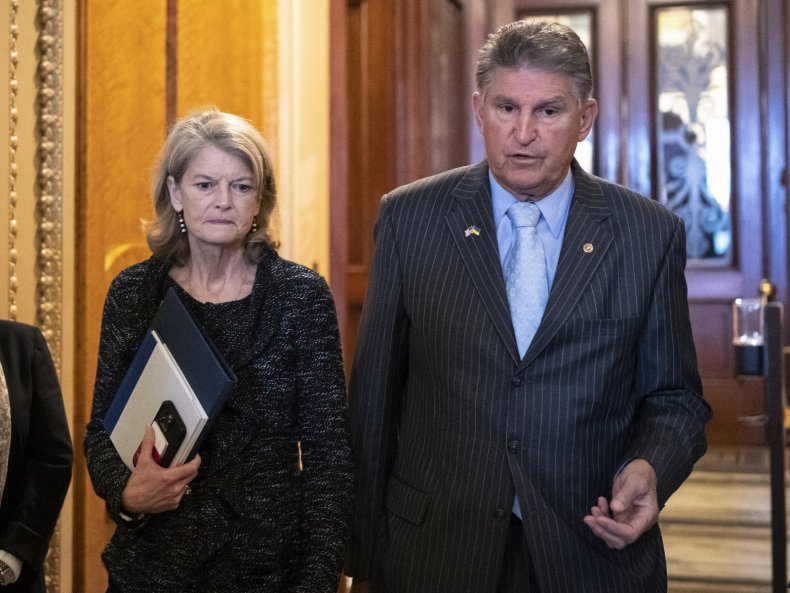 That effort would likely be doomed, though, since there are no other GOP senators who would back the move. And notably neither Collins nor Murkowski said Tuesday that they would vote to end the filibuster, a sign Democrats may have to act on their own.
Securing enough votes among Democrats and the independents who caucus with the party also looks like a longshot. Democrats tried unwinding the filibuster rule earlier this year to pass voting rights legislation, but were blocked when Manchin and Sinema refused to go along.
On Tuesday, both moderate Democrats signaled they hadn't changed their minds in response to the news of the likely Supreme Court ruling. "The filibuster is the only protection we have in democracy," Manchin told reporters.
Sinema said that while she opposed overturning Roe v. Wade, the filibuster had in the past served to block efforts to restrict abortion rights.
"Protections in the Senate safeguarding against the erosion of women's access to health care have been used half-a-dozen times in the past ten years, and are more important now than ever," Sinema said in a statement.
Senate Democrats may be unable to act, but President Joe Biden suggested Tuesday that he might take steps to counteract a Supreme Court ruling striking down abortion rights.
In a statement released Tuesday morning by the White House, the president said he directed the administration to "prepare options" in response to a new law enacted in Texas in March and other measures restricting access to abortion.
"We will be ready when any ruling is issued" by the Supreme Court, he said.
Later in the day, after the Supreme Court confirmed the authenticity of the leaked draft opinion, Biden expressed further outrage, telling reporters that he believed Alito's opinion could pave the way for attacks on a broad range of privacy rights.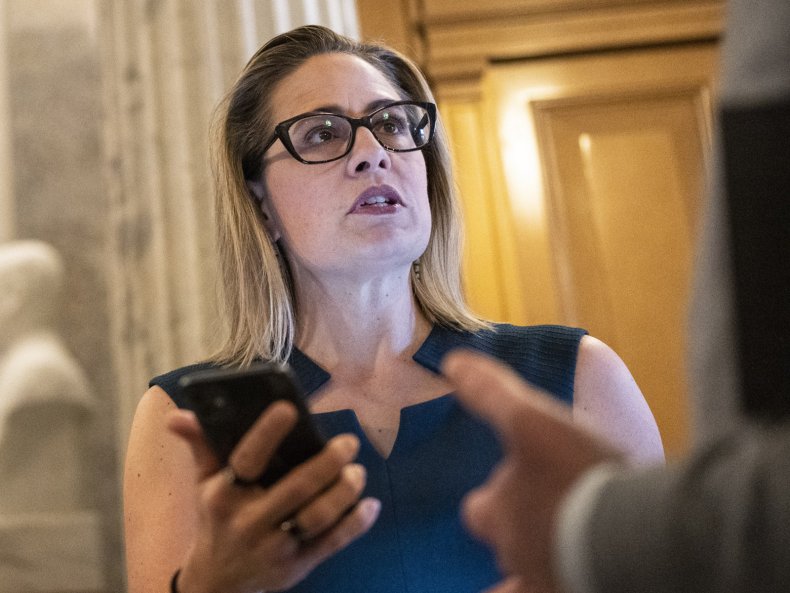 "It basically says all the decisions related to your private life — who you marry, whether or not you decide to conceive a child or not, whether or not you can have an abortion, a range of other decisions" are not protected under the law, Biden said.
Still, Biden did not provide more details on what steps he might take in response to a final ruling. He expressed support for codifying abortion rights, but said he was "not prepared" to comment on whether he believed Democrats should end the filibuster to do so.
In his first statement, however, Biden pointed to the coming political battle over abortion, which now looms as a major issue in the midterm elections this fall.
If the court overturns Roe, "it will fall on voters to elect pro-choice officials this November. At the federal level, we will need more pro-choice senators and a pro-choice majority in the House to adopt legislation that codifies" abortion rights, he said.
The leaked draft opinion marked a departure for the Supreme Court, which traditionally operates in secrecy and almost never reveals its deliberations ahead of issuing a final ruling.
Republicans criticized the leak Tuesday, while largely avoiding commenting on the substance of the ruling.
Senate Minority Leader Mitch McConnell of Kentucky called the leak a "lawless action" and urged the Department of Justice to find out who was responsible and "pursue criminal charges if applicable." It's not clear what charges the Justice Department could bring.
"Last night's stunning breach was an attack on the independence of the Supreme Court. By every indication, this was yet another escalation in the radical left's ongoing campaign to bully and intimidate federal judges and substitute mob rule for the rule of law," McConnell said.
The highly unusual leak immediately placed abortion at the center of the midterm elections, with people on both sides gathering outside of the Supreme Court building in Washington, D.C. after news broke of the draft opinion. A final ruling is expected this summer.