Democrats Accuse GOP of Delaying Massive Coronavirus Stimulus by Boxing Them Out of Early Talks
As Washington moves full steam ahead to inject money into the economy with a forthcoming stimulus worth some $1 trillion, partisan negotiations may play a role in delaying such a desired package from coming to fruition.
Democrats say that by Senate Republicans working solely with the White House to draft a third spending bill, they're only hindering Congress' ability to come to an expeditious agreement on a plan to help American businesses and workers.
"If all parties are in the room from the get-go, the final product will be guaranteed swift passage," Senate Minority Leader Chuck Schumer (D-N.Y.) said on the floor. "The process [Majority Leader Mitch McConnell] outlines is far too reminiscent of the typical legislative process in the Congress, a process that far too often results in delay and gridlock."
The task at hand for lawmakers and the White House is a daunting one. Having Congress approve a bill by next week—a bipartisan timeline set by the nation's top leaders amid fears of a looming recession—would represent breakneck speed for anything to get done in Washington, much less a massive $1 trillion stimulus package.
McConnell, a Kentucky Republican, wants to first strike a deal among GOP senators and the White House before bringing Democratic leaders into the mix. Over the course of the past two days, Republicans have huddled together behind closed doors in a spacious room in the Russell Senate Office Building. On Tuesday, Treasury Secretary Steven Mnuchin joined them.
But McConnell's idea has been met with criticism from Democrats, who argue that the quicker input from all sides is considered, the faster they can reach a final deal. Democrats have already released proposals of their own, and any package that moves forward will need the backing of the Democratic-led House.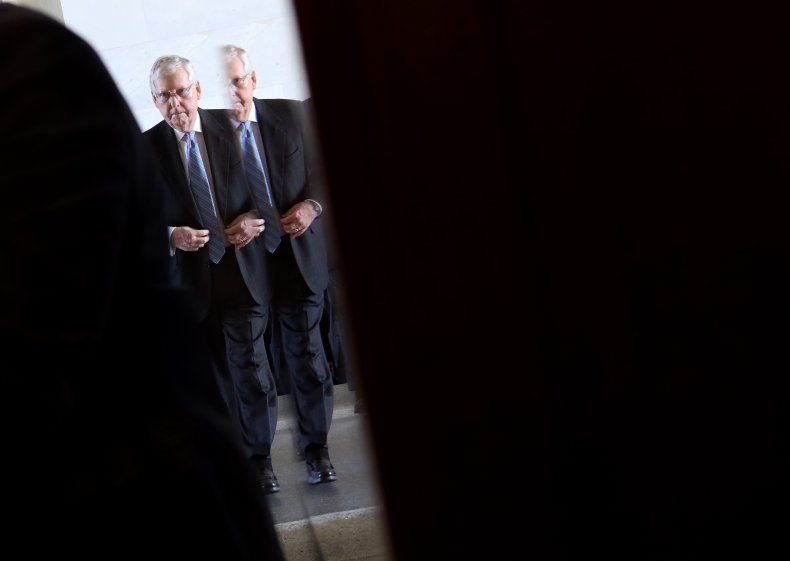 During a call with leadership and committee chairs on Wednesday about future legislation to combat the economic impact of the coronavirus pandemic, House Speaker Nancy Pelosi (D-Calif.) told colleagues that the fastest way to complete the package by next week would be to have a four corners negotiation, according to an aide on the call.
"This is the only way to get something done in a divided government," Sen. Brian Schatz (D-Hawaii) wrote on Twitter. "If McConnell moves forward with a Republicans-only proposal, we lose valuable time, and we lose trust, and it will be a sham. Start negotiating tonight."
A spokesman for Pelosi said she talked with Mnuchin twice later that night about the package. The speaker and the Treasury secretary, along with input from House Minority Leader Kevin McCarthy (R-Calif.), were responsible for negotiating paid sick leave legislation last week that passed the Senate Wednesday. A spokesman for Schumer said that he and Mnuchin also spoke twice Wednesday and though there is some "overlap," there will be more provisions Democrats want, like protections for workers of large companies that receive government assistance.
The bill approved Wednesday by the Senate to mandate certain companies provide their employees with paid sick leave marked the second stimulus package that Congress has passed and the president signed into law. Republicans and Mnuchin say the trillion-dollar-plan they're working on will include everything from individual checks for Americans, a bailout for the travel industry and lifelines for businesses across the country to make payroll, receive loans that could later be forgiven and see expanded unemployment insurance.
"Hopefully, the Democrats would be sufficiently motivated to get a solution quickly as well, realizing how quickly this thing is evolving," said Sen. John Thune (R-S.D.), the majority whip. "There's a lot of steps along the way here, but I think everybody has the motivation to get to a solution as quickly as possible."
The House remains on recess, though Majority Leader Steny Hoyer (D-Md.) has advised members they'll be given at least 24-hour notice if they need to return to Washington and vote. McConnell has vowed to keep the Senate in session until they pass the third stimulus package.
"I recommend senators stay close while we don't know exactly how long it will take to get this done," he said on the floor following the passage of the paid sick leave bill. "Everyone knows that we need to do it as quickly as possible because the situation demands it."