Democrats Accuse Joe Biden of 'Violating' Law
A coalition of democratic lawmakers and senators sent a letter to President Joe Biden opposing the expansion of Title 42 and his proposed asylum "transit ban", arguing that those measures violate asylum law and international obligations.
The 77 democrats, who signed the Wednesday letter urging Biden to reverse Title 42 and to drop the transit ban rule, include Senator Bob Menendez of New Jersey, Representative Alexandria Ocasio-Cortez of New York, Senator Cory Booker of New Jersey, and Representative Greg Casar of Texas.
"We urge the Biden Administration to engage quickly and meaningfully with members of Congress to find ways to adequately address migration to our southern border that do not include violating asylum law and our international obligations," the Democrats said in their letter to Biden.
Menendez's office said in a statement on Thursday that the lawmakers emphasized that immigration policies and actions shouldn't "come at the expense of fulfilling our commitment to restore and protect the rights of asylum seekers and refugees."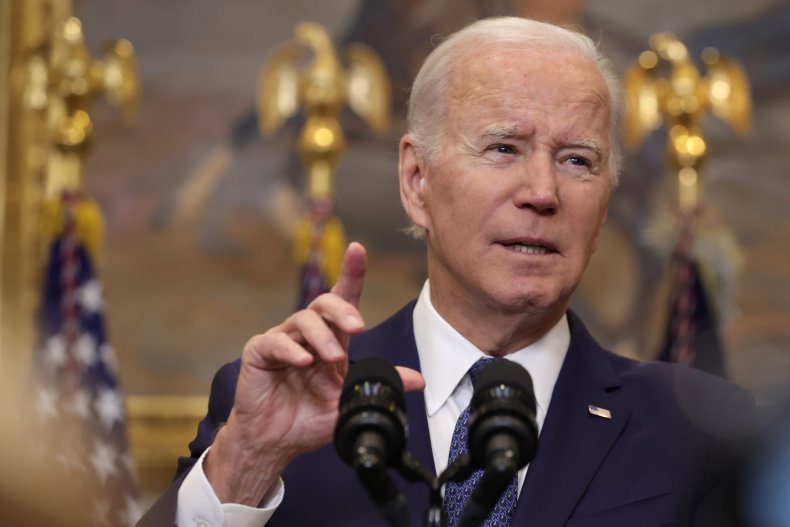 Title 42 is a pandemic-era rule that allows authorities to send migrants back over the border without going through a formal asylum process. It was introduced under the Trump administration in the early months of the COVID-19 pandemic to curb the spread of the virus. Though other pandemic-related policies have been dropped, Title 42 has remained in place as per a Supreme Court ruling in December.
Under a newly proposed version of Trump's asylum "transit ban," the Biden administration urged migrants earlier this month to take advantage of legal immigration pathways in countries across the Western Hemisphere and "avoid the dangerous consequences of irregular migration."
The proposed transit ban would prohibit asylum for individuals who didn't apply for asylum in a third country before reaching the U.S., the American Immigration Council said in a statement citing Homeland Security Secretary Alejandro Mayorkas. Those who sought asylum without going through a new process at a port of entry will also be barred from asylum.
The Democratic lawmakers wrote in their letter to Biden: "We are further concerned by the administration's announcement that it will be issuing a proposed rulemaking in the coming days that would require asylum seekers to first apply for asylum in a transit country instead of allowing them to seek their legal right to asylum at our southern border. This, in effect, is a transit ban."
"The courts rightly rejected the Trump administration's attempt to categorically end asylum when he similarly required asylum seekers to seek asylum in transit countries. Specifically, the Ninth Circuit Court of Appeals found that the Trump-Era Third Country Transit ban violated well-settled U.S. asylum laws that prohibit turning people away unless they have 'firmly resettled' in a transit country, especially not if conditions in the transit country are not safe. At the time of this ruling, countries across the Western Hemisphere were unable to meet such requirements," the letter read.
"There does not appear to be evidence to show that country conditions in transit countries have improved since the relevant appellate decision was rendered as to justify a new Third Country Transit bar. As the administration well knows, current conditions in Mexico—the primary transit country—cannot ensure safety for the families seeking refuge in the United States," the lawmakers continued.
The U.S.-Mexico border saw a drop in daily migrant encounters by more than half in January compared to the prior month, a Homeland Security official told CNN on Tuesday. The official cited the expansion of Title 42 and recent immigration rules as reasons behind the decline. Border authorities dealt with an increase in migrant encounters that averaged around 7,000 daily last month.
Newsweek reached out to the White House for comment and the Department of Homeland Security for comment.