Democrats and Activists Say Kamala Harris' First Foreign Trip Eclipsed by Her 'Don't Come' Comment
Vice President Kamala Harris, in Guatemala for her first trip abroad, announced the creation of a first of its kind anti-corruption task force to train law enforcement, aid prosecutors, and target transnational crime.
She also announced a young women's empowerment initiative, and broke the news that the U.S. would share 500,000 COVID-19 vaccine doses with Guatemala as a first donation.
The next day, in Mexico for the second leg of her trip, she announced the U.S. would invest $130 million in aid for the remainder of President Biden's term in support of labor protections for Mexican workers and for forensic training to help find thousands of missing people.
But it was her departing message during a bilateral meeting with Guatemalan President Giammattei that led to swift condemnation by Democrats and progressive activists.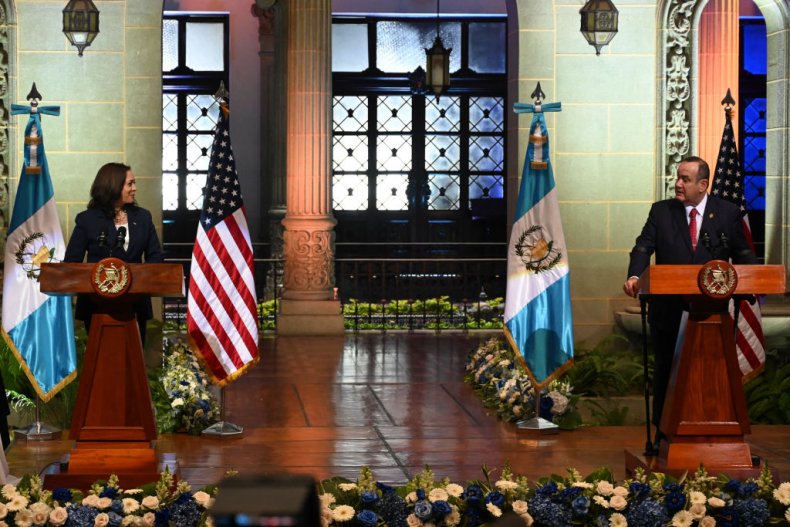 While Harris said she wanted to emphasize that the goal is to help Guatemalans find hope at home, "At the same time, I want to be clear to folks in this region who are thinking about making that dangerous trek to the United States-Mexico border: Do not come. Do not come."
That tough talk reverberated through activist circles among immigration organizations, advocates, and even Hollywood surrogates who are allies of the White House. It was quickly followed by wave of criticism.
"It's disappointing and shameful that these are the lead narratives that the administration is driving," said Cristina Jimenez, co-founder of immigration advocacy organization United We Dream, who informally advised the Biden campaign on immigration.
She also accused Biden and Harris of "contradicting the vision and commitments" they made during the campaign to address immigration and asylum programs.
"You have Harris, who on the campaign trail accused Trump of dismantling the asylum system for people in fear of their lives fleeing violence, now telling them to not come," she said.
One member of the Congressional Hispanic Caucus called Harris comments an "unnecessary distraction."
"A mistake she made was talking about it in the context of illegal immigration and enforcing immigration law when these people are seeking asylum," the source said. "It's a strange argument for a Democrat to make that you shouldn't seek asylum in the United States because the United States is going to enforce illegal immigration."
Paola Mendoza, one of the co-founders of the Women's March, told Newsweek that "'disappointing' doesn't even begin to encompass the feelings I have on what the vice president said to people suffering in a country with a tremendous amount of violence, domestic violence, and climate refugees."
She then echoed actress America Ferrera—a top Latina surrogate for the Biden campaign who took to Instagram to call Harris' message "a compassion-less" and "inadequate strategy, adding "I voted and campaigned for you and I expect better."
"What we want and one of the reasons we elected them was to restore and create a humanitarian migration process into the United States," Mendoza said, also arguing that this was not why the country elected Biden and Harris.
"She knows better than that," Mendoza concluded, "the Biden administration knows better than to tell people to not come."
Many of the mostly Latina leaders and activists who spoke with Newsweek echoed progressive Representative Alexandria Ocasio-Cortez, who called Harris' comments "disappointing" on Twitter, while emphasizing that migrants presenting themselves for asylum at the border is legal in the United States, which Harris appeared to ignore.
Harris allies noted that the vice president was merely echoing the messaging of Joe Biden and Department of Homeland Security Secretary Alejandro Mayorkas in the preceding weeks and months outlining the administration's approach in dealing with the influx of migrants at the border.
Symone Sanders, senior advisor and chief spokesperson for the vice president, released a statement saying Biden and Harris have been clear in "dissuading" migrants from making the "dangerous and treacherous journey," adding "we encourage those who do want to come to the U.S. to do so legally and seek legal immigration options in their home countries.
Asked about that messaging from Harris when requesting asylum at the border is a legal way of doing so, White House Press Secretary Jen Psaki said "of course it is," stressing that one of the administration's priorities is to improve asylum processing at the border.
Regarding Harris' controversial comments, Psaki said what "the vice president was simply conveying is that there's more work to be done, that we don't have these systems in place yet, it's still a dangerous journey, as we've said many times from here and from many forums before, and we need more time to get the work done to ensure that asylum processing is where it should be."
Astrid Silva, a well-respected Dreamer advocate from Las Vegas who worked with the Obama administration on immigration policy, tweeted about the dual reaction from the worlds she inhabits, noting that activists she was in touch with were mad at Harris over her comments, while her immigrant family thought it was a prudent message to send.
One White House ally noted the dissonance and the difficult spot the administration was in, however, with a message that when distilled could be at home in the previous administration.
"Their narrative is indistinguishable from Donald Trump," the source said. "Secure the border, don't come here."
"I would expect Stephen Miller to say something like this, not Kamala Harris or the Biden administration," said Belen Sisa, former Latino press secretary for the Bernie Sanders campaign, who has been critical of the White House. She said she made the tough comparison because Harris did not acknowledge that seeking asylum is legal.
For many who spoke to Newsweek, Harris comments recalled a much-maligned interview Hillary Clinton had with Christiane Amanpour in 2014 regarding unaccompanied minors crossing the border.
Asked if they should be sent back, Clinton responded, "they should be sent back as soon as it can be determined who responsible adults in their families are, because there are concerns about whether all of them can be sent back."
Clinton went on to say they should be reunited with their families, and cited Biden as vice president at the time arguing in Central America that the U.S. must do more to deal with the violence in the region and deal with border security, an approach she agreed with because of her time as secretary of state.
Mostly, though, the deep disappointment and anger of those who spoke to Newsweek returned to a feeling that Harris was just echoing right-wing talking points, aimed at a party and voters who won't believe she is sincere in taking a tough stance, and who will be pummeled on conservative media networks like Fox News, regardless.
"When she's saying 'don't come, don't come,' no one in the situation that forces them to migrate is going to say 'OK, I'm going to stay now,' said author and activist Julissa Arce. "So who is she really making that speech for?"
Much like Trump used his bully pulpit with a dual strategy centered on rhetoric and policy changes, Jimenez said Democrats are missing the point that their narrative strategy also shapes the conversation on all issues.
"The new programs may sound great," she said, "but you can see here that the administration is not walking the walk when talking about these issues."
For many, Harris comments just didn't align with "the battle for the soul of America" that they heard so much about and signed up for during the campaign.
"What got to me is she said it twice, 'do not come, do not come,'" Arce said.
"That tone in her voice to me felt like it was lacking compassion and lacking that humanity that she and Biden said would be part of building a humane system," she said. "They said they would do this with humanity, so where did that humanity go?"