Democrats Alexandria Ocasio-Cortez, Ilhan Omar Want to 'Make Us Slaves to Socialism,' GOP Congresswoman Accuses
Republican Representative Liz Cheney has accused Democrats of trying to steal power from American citizens and enslave the country with socialism.
Cheney, who represents Wyoming, slammed her rival political party and accused it of being guided by its "most radical voices" in a Sunday interview on John Catsimatidis's radio show. She specifically attacked her progressive colleagues, Democratic Representatives Alexandria Ocasio-Cortez of New York, Ilhan Omar of Minnesota and Rashida Tlaib of Michigan.
"You see an embrace of socialism. You see an embrace of policies that would fundamentally steal power from the American people and give it to the government. They would essentially make us slaves to socialism. Those voices right now are driving the agenda of the Democratic Party," Cheney alleged.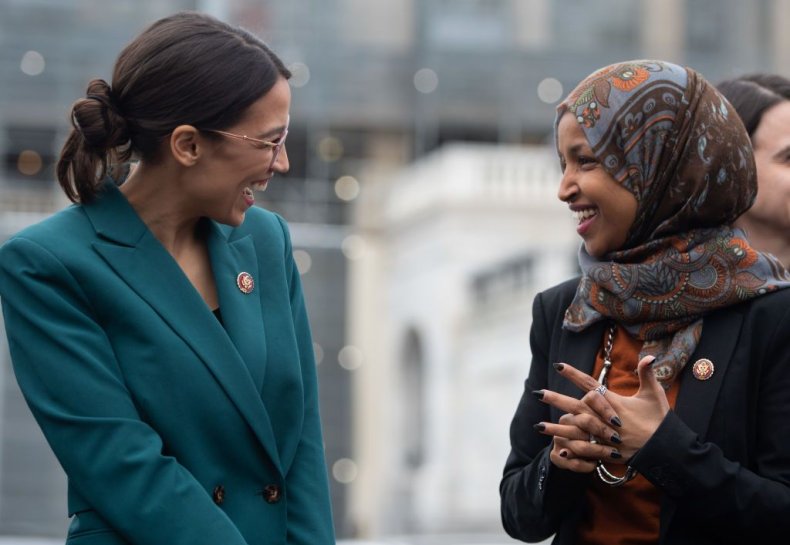 "Right now they're letting the most radical voices, including Congresswoman Ocasio-Cortez and Ilhan Omar and Tlaib, they're letting them to set the agenda and they're following them," she said. "And I think that's very dangerous for the nation. I hope that that will stop, but unfortunately I don't see any signs that it will."
Ocasio-Cortez, Omar, Tlaib and several other members of Congress have pushed hard for Democrats to adopt a more progressive agenda. While Republicans – and some members of the Democratic party – have lashed out at this shift leftward, much of the agenda actually appears to be widely popular with the American public.
When it comes to a proposed Green New Deal, a poll released by INSIDER in February showed that more than 80 percent of respondents supported most of the plan's agenda. The proposal, which was put forward by Ocasio-Cortez in the House of Representatives, calls for major changes across the U.S. economy to address the threat of climate change while also creating jobs and improving infrastructure. A similar poll released in December by the Yale Program on Climate Communication and the George Mason University Center for Climate Change Communication also found that more than 80 percent of Americans – including 64 percent of Republicans – supported the Green New Deal.
When it comes to Medicare-for-all, which has been championed by progressive Independent Senator Bernie Sanders of Vermont and supported by many other progressive lawmakers, the policy also enjoys wide support among the public. A poll by the Kaiser Family Foundation released in January found that 56 percent of respondents strongly or somewhat favored Medicare-for-all. That number shot up to 74 percent if any such federal healthcare insurance plan would also allow people to keep their current coverage if they prefer it.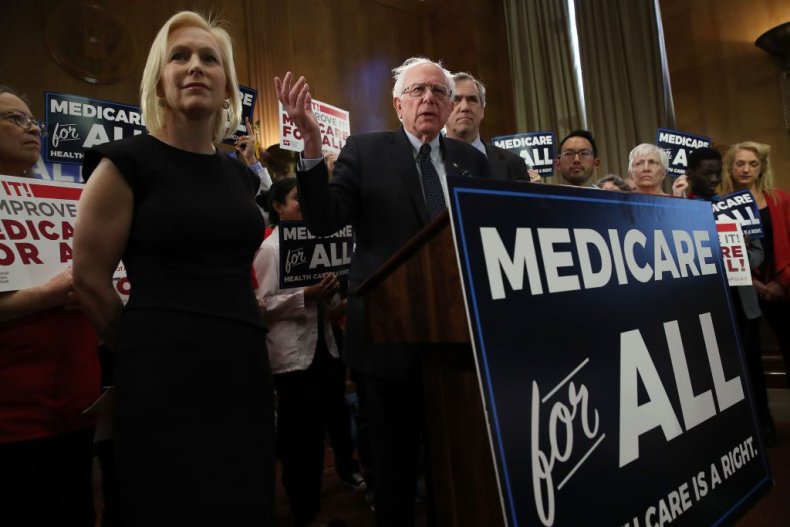 Republicans have blasted these and other progressive policy ideas as socialism, writing them off as radical and extreme. But as the polls suggest, the proposals are actually in line with what a large number of American citizens want their elected lawmakers to support. A survey by Gallup released in 2018 showed that a majority – 57 percent – of Democrats and voters who lean Democrat have a positive view of socialism. Conversely, only 47 percent said they had a positive view of capitalism.
In another sign that voters, and particularly Democrats, are supportive of a more socialist agenda, Sanders is the current frontrunner for the Democratic party's 2020 nomination among announced candidates. The progressive senator currently has an average of 21.2 percent support in nationwide polls, according to an average by Real Clear Politics. However, former Vice President Joe Biden, who has not officially announced his intentions, currently has a significant lead over the Vermont senator. Sanders describes himself as a Democratic Socialist, as do numerous other progressives – such as Ocasio-Cortez – in Congress.
Despite the apparent popularity of these politicians progressive agenda, Cheney believes Democratic House Speaker Nancy Pelosi should push back against the policies. "So far we have not seen that Speaker Pelosi will exercise any kind of control, or that she knows how to exercise control over these socialists," the representative said Sunday.