Democrats Blast Trump's 'Mafia-Like Shakedown' of Ukrainian President as Republicans go on the Defense
A partial transcript released by the White House on Wednesday of President Donald Trump's phone call with a foreign leader—with whom he asked to investigate a political opponent—has caused Washington lawmakers to once again retreat into their perspective corners, with Democrats saying Trump acted like a "mafia boss" while Republicans deny the notion of any wrongdoing or quid pro quo.
The transcript, which was a "memorandum of a Telephone Conversation" and was "not a verbatim transcript," confirmed allegations that Trump pressured Ukrainian President Volodymyr Zelensky in a July phone call to investigate former Vice President Joe Biden and his son for potential corruption.
The request from Trump came as the U.S. was temporarily withholding hundreds of millions of dollars in foreign military aid. Immediately following Zelensky's desire to purchase more U.S. defense weapons, Trump stated he'd like the foreign leader "to do us a favor" and open an investigation into the 2020 presidential candidate and his son, in addition to making the false claim that it was perhaps Ukraine who stole Democratic emails during the 2016 election.
"The notes of the call reflect a conversation far more damning than I or many others had imagined," said Rep. Adam Schiff, chairman of the House Intelligence Committee. "It is shocking at another level that the White House would release these notes and felt that somehow this would help the president's case or cause because what those notes reflect is a classic mafia-like shakedown of a foreign leader."
"This is how a mafia boss talks," he added.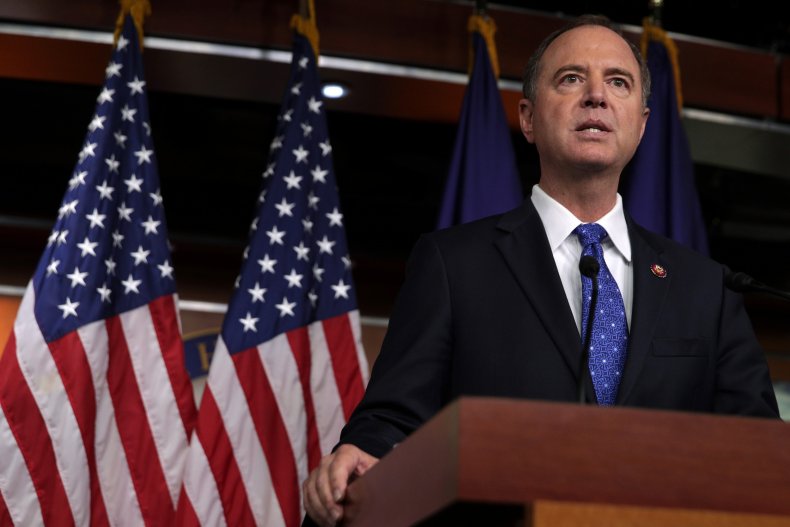 The revelations of Trump's talks with Zelensky led House Speaker Nancy Pelosi on Tuesday to declare the chamber is now conducting "an official impeachment inquiry."
"It is not part of his job to use taxpayer money to shake down other countries for the benefit of his campaign," the California Democrat said in a statement following the transcript's release. "Either the President does not know the weight of his words or he does not care about ethics or his constitutional responsibilities."
Democrats were quick to say the transcript supported their calls for impeachment proceedings and was evidence of a quid pro quo for a foreign entity to investigate the potential 2020 Democratic presidential nominee in exchange for foreign aid.
The transcript revealed that Trump offered Zelensky the help of Attorney General William Barr and his personal attorney Rudy Giuliani when investigating the Bidens, and that Zelensky should speak with both men. Judiciary Chairman Jerrold Nadler (D-NY) said Barr should now recuse himself from further handling the whistleblower complaint, which was reviewed by the department. DOJ declined to open a criminal investigation. A DOJ spokesperson said Barr and Trump have not discussed Ukraine or the Bidens, in addition to having no communications with Ukraine.
Rep. Val Demings (D-FL) classified the transcript as "utterly damning."
"Let's be clear—quid pro quo was not necessary to make this discussion illegal, corrupt, and impeachable. But this is literally quid pro quo, and it makes it all the more damning for the president," the Judiciary Committee member wrote in a tweet. "When President Nixon was facing impeachment, the turning point was when his tapes were released. This is President Trump's tape."
The Democratic committee chairmen of Judiciary, Oversight, Intelligence and Foreign Affairs—Jerrold Nadler of New York, Elijah Cummings of Maryland, Schiff and Eliot Engel of New York, respectively—said in a joint statement the request by Trump "was a shakedown." They again demanded the full whistleblower report of the unknown person who first alerted the Intelligence Community's inspector general about the call, who then deemed it an "urgent concern." Despite this, acting Director of National Intelligence Joseph Maguire has refused to provide it to Congress.
"Let's be clear: no quid pro quo is required to betray our country. Trump asked a foreign government to interfere in our elections—that is betrayal enough," the chairmen said. "The corruption exists whether or not Trump threatened—explicitly or implicitly—that a lack of cooperation could result in withholding military aid."
But Republicans and Trump loyalists pushed back against the notion of any quid pro quo, coming to the president's defense to say the transcript vindicated him and to accuse their Democratic counterparts of issuing "baseless accusations."
"There was no quid pro quo and nothing to justify the clamor House Democrats caused yesterday," Rep. Doug Collins (R-GA), the ranking member of the Judiciary Committee, said in a statement. "The real danger here is that Democrats keep using baseless accusations in hopes of crippling a successful presidency."
Rep. Mark Meadows (R-NC) in a tweet said it'd be "laughable" to claim there was a quid pro quo.
"We would all be better off if we had an honest conversation about what Democrats are trying to impeach President Trump for—that is, the high crime and misdemeanor of winning the 2016 election," he wrote.
Maguire is set to testify before the Intelligence Committee on Thursday, where he'll be grilled by Democrats for the first time about why he was directed not to provide the whistleblower complaint to certain members of Congress. Lawmakers on Intelligence said they were set to view the complaint privately Wednesday afternoon.