Democrats Block Senate Police Reform Bill
Senate Democrats blocked Republicans' plan to address racial injustice and police brutality on Wednesday, offering a stinging blow to Congress' endeavor to pass police reform in the wake of George Floyd's death and that of other African Americans recently killed by police.
The failure to advance the bill with a procedural measure that would have begun debate severely jeopardizes lawmakers' ability to accomplish sweeping changes to America's police communities under the current Congress.
"Frankly, to most Americans, the situation would sound like a satire of what goes on in the Senate," Senate Majority Leader Mitch McConnell (R-Ky.) said. "We're literally arguing about whether to stop arguing about whether to start arguing about something else."
The vote fell largely along party lines—55 to 45—with three Democrats crossing the aisle to vote with Republicans over their opposition to the GOP bill and concerns that McConnell would not allow votes on amendments during the debate process. The procedural motion required 60 votes to pass.
The Democratic trio was Doug Jones (Ala.), Joe Manchin (W.Va.)—some of the chamber's most moderate Democrats—and Angus King (Maine), who is an independent but caucuses with Democrats. McConnell switched his vote from yes to no, a procedural move that will allow him to hold a subsequent vote on the legislation at any time he pleases. When that second vote will occur remains unknown.
"The Republican majority proposed the legislative equivalent of a fig leaf, something that provides a little cover but no real change," said Senate Minority Leader Chuck Schumer (D-N.Y.).
Among the top sticking points that police overhaul hinges on is qualified immunity for officers and banning police chokeholds, both topics that Democrats said the Republican bill failed to properly address.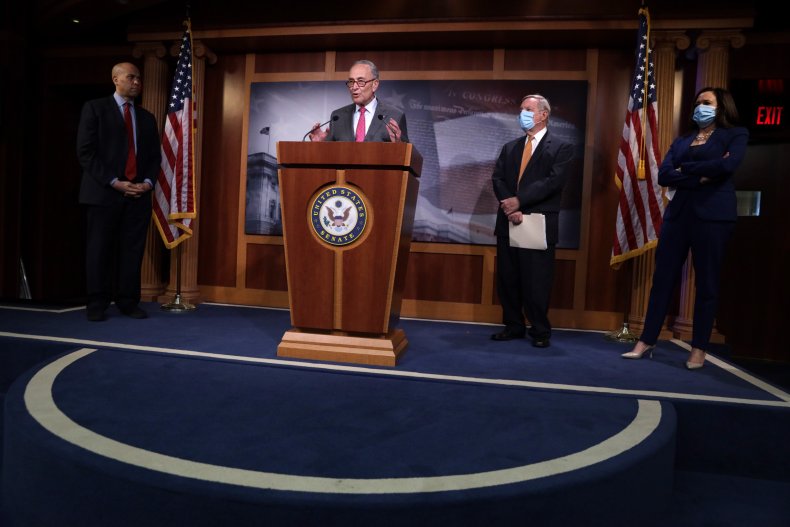 Congress was on track as recently as last week to approve historic, bipartisan transformations to local law enforcement agencies to weed out racial injustices and curb authorities' use of force. But Republicans and Democrats appear to have reached a partisan impasse, making the uphill climb to police reform that much steeper.
Democrats want the Senate Judiciary Committee to examine the proposal, debate and offer amendments, a process that Republicans are unlikely to entertain. "I don't see them running the place," Judiciary Chairman Lindsey Graham (R-S.C.) said.
Democrats say the GOP legislation, spearheaded by Senator Tim Scott (R-S.C.), one of three black senators and the only one who is Republican, offers "woefully inadequate" changes because it stops short of a bill by House Democrats, which would ban chokeholds and some no-knock warrants and eliminate qualified immunity, among other things. Scott's legislation does not include bans or alterations to legal protections for officers. It would incentivize banning chokeholds by withholding federal funds from departments that choose to utilize the tactic.
"My concern is that our friends on the other side will not take advantage of this opportunity to say to the communities that are suffering, 'We see you, we hear you, we are willing to respond as one body,'" Scott said. He retold his experiences with police, which includes being stopped by officers 18 times in the past two decades, seven of which were in one year as an elected official trying to get into the congressional office buildings.
"If you don't think we're right, make it better. Don't walk away," Scott added.
As Republicans condemn their colleagues across the aisle for playing what they called election-year politics, Democrats are banking on public pressure to help tear down the partisan stalemate. Schumer predicted that after the Democratic-led House passes its reform package on Thursday, "the nation is going to say to Leader McConnell, get something moving in the Senate." The New York Democrat also cited the more than 100 civil and human rights groups that have urged lawmakers to reject the GOP proposal.
"So, don't get on your sanctimonious horse, Leader McConnell," Schumer said. You have none of the civil rights community behind you."
Manchin said he chose to move forward with debate because he wanted to see if McConnell would "keep his word and have an open process and amendments."
"We need to be on this bill and debate it and talk about it," said Manchin. "No bill is perfect. You have to make them better."
Jones offered similar reasoning. "I'd like to see a debate. It's that simple," he said.