Historic Police Reform Legislation Is Crashing and Burning in Congress
Lawmakers had high hopes. But their expectation for transforming America's law enforcement communities in this Congress—let alone before July 4—is torpedoing faster than the movement for police reform that erupted in the aftermath of George Floyd's death.
And there's no shortage of finger-pointing going on in Washington over who to blame.
For Democrats, it's Senate Majority Leader Mitch McConnell (R-Ky.) who refuses to negotiate in a bipartisan fashion.
For Republicans, Democrats are hellbent on having an election-year talking point rather than even allowing debate—much less a vote—on a meaningful solution.
Democrats plan to defeat a vote on Wednesday to prevent the start of debate on a police reform package by Senator Tim Scott (R-S.C.), which Democrats categorized in a letter to McConnell as "not salvageable" because it stops short of banning chokeholds and no-knock warrants, and it does not eliminate qualified immunity for police officers.
"I think there's probably no path forward within this Congress if they block debate tomorrow," Senator Roy Blunt (R-Mo.), a leadership member, said of his Democratic colleagues.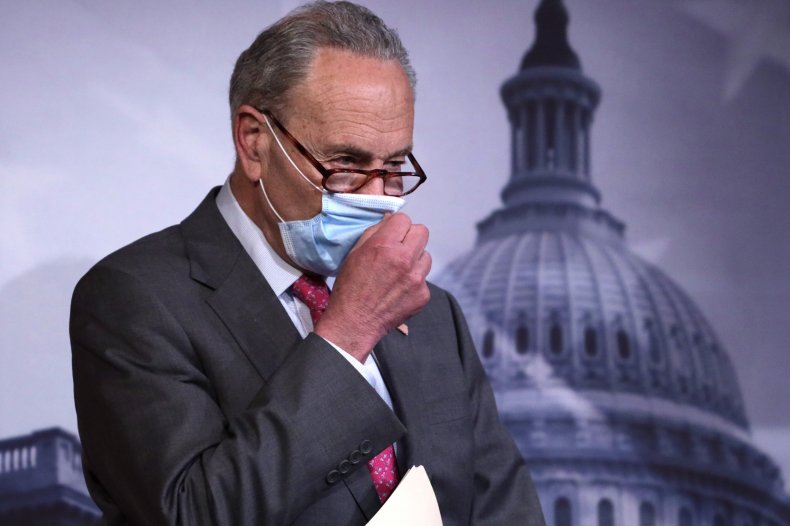 Scott's legislation would discourage chokeholds by withholding federal funds from departments that don't ban the practice and require some to report no-knock warrants to the Justice Department, among other provisions to curb police brutality.
"We have an open amendment process. That means that if they don't like the legislation, they can make it better," Scott told reporters. "What else are we supposed to do?"
The endeavor to prevent future racial injustices by America's local police forces hinges on 60 votes to proceed to debate, which would require assent by likely at least seven Democrats.
However, Republicans have provided ambiguous promises that amendments offered by Democrats would receive votes, which Republicans could block. McConnell argues Democrats' demands are moot because of the 60-vote threshold again required to end debate and vote on final passage.
"As soon as the Republicans come to the conclusion—maybe even today, maybe tomorrow—that we need a bipartisan bill and the process to get there, that's when we will move a bill," Senate Minority Leader Chuck Schumer (D-N.Y.) said.
What's to come after Wednesday's failed vote depends on who you ask. The major sticking points between Democrats and Republicans are qualified immunity and chokeholds.
Senator Mike Braun (R-Ind.) has single-handedly tried to find a compromise on immunity with a bill of his own. It would not eliminate the protections but offer "reform in a way that would be palatable hopefully to everyone," he said. However, the measure has yet to gain steam.
House Democrats will pass their own police reform bill on Thursday that includes the elimination of officer immunity and bans some no-knock warrants and chokeholds, among other things.
House Speaker Nancy Pelosi (D-Calif.) has stated she'd like the two chambers to take their dueling proposals to conference committee and iron out the differences to create a bill that can muster enough support from both parties. However, that would mean the Senate needs to pass something as well.
McConnell disagreed with the notion that a failed vote on Wednesday would mean the be-all and end-all for police reform. He said he will immediately take a procedural step that would allow for a subsequent vote to start debate at a time when he chooses.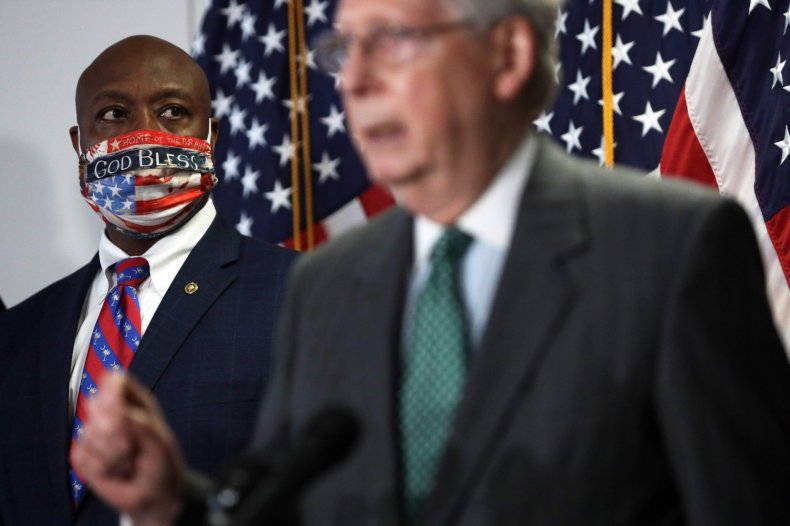 But lawmakers, who as recently as last week signaled a bill could reach President Donald Trump's desk by the July 4 recess, now have little confidence in the fate of bipartisan legislation to curb police brutality ever coming to fruition.
"If they won't even allow us to get on the bill, it means that they're trying to find a campaign issue. They really don't want to solve a problem," Senator Mitt Romney (R-Utah) said of Democrats. "One could interpret a move not to even get on a bill as indicating, 'we're not interested in a solution because that might help the Republicans look like they're actually solving a problem.'"
Senator Dick Durbin (D-Ill.), the minority whip, said the issue is now "in McConnell's hands."
"I hope he understands we have a moment in history to do something significant in this country," he said. "I think they've gone as far as they think they can politically go and defend the president's position, that if they go any further, he will turn on them."