On Wednesday, Democratic Senator Chuck Schumer of New York took on the role of Senate Majority Leader, taking the title away from Republican Senator Mitch McConnell of Kentucky as Democrats regained control of both congressional chambers for the first time since 2011.
Control of the Senate shifted over to a 50-50 party split on Wednesday as Democratic Georgia Senators Jon Ossoff and Raphael Warnock were both sworn in as the 49th and 50th Democratic senators, leaving Vice President Kamala Harris as the deciding vote should the chambers' votes ever end in a tie.
Also sworn in on Wednesday was Democratic Senator Alex Padilla of California. Padilla was appointed by California Governor Gavin Newsom to fill the vacated seat of Vice President Kamala Harris, who had previously served as a Californian senator. On Wednesday, Harris swore in Padilla, Ossoff and Warnock.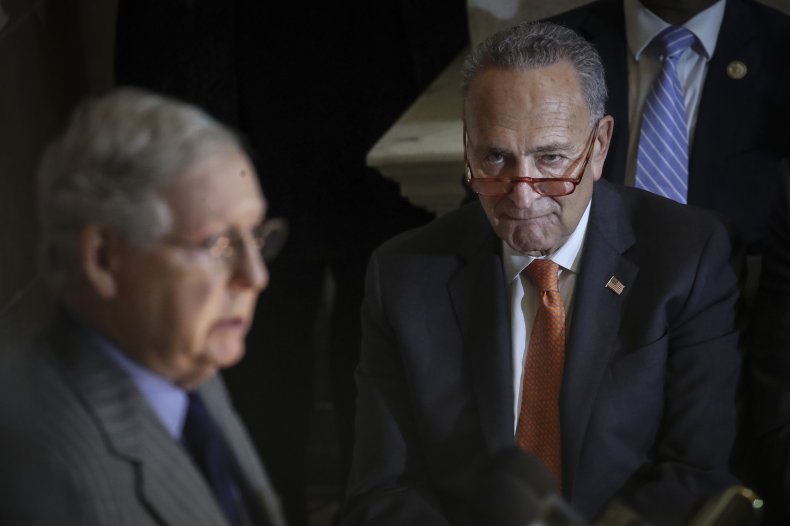 At the virtual 2020 Democratic National Convention, Schumer said that Democrats would work with Biden to help him achieve his ambitious agenda.
"We will make health care affordable for all, we'll undo the vicious inequality of income and wealth that has plagued America for far too long, and we'll take strong, decisive action to combat climate change and save the planet," Schumer said.
On Wednesday morning, Schumer said of the Senate's Democratic caucus, "We're united in wanting big, bold change, and we're going to sit down as a caucus and discuss the best ways to get that done."
The immediate business facing the Senate will involve approving $1,200 stimulus checks for Americans financially harmed during by pandemic's economic downturn as well as approving Biden's "American Rescue Plan", a $1.9 trillion emergency relief plan which would include funds for nationwide testing and vaccination. Republicans have already opposed the plan as too costly.
Schumer will also face larger questions of whether to eliminate the Senate filibuster as a way to prevent Republican obstruction of the Democratic legislative agenda.
He will also have to decide whether to pursue an expansion of the number of seats on the Supreme Court following Senate Republicans' rush appointment of sitting Justice Amy Coney Barrett following the death of former Justice Ruth Bader Ginsburg. The court currently has six conservative justices and three liberal ones.
Newsweek contacted Schumer's office for comment.
Democrats controlled both the House and Senate in 2007 following the 2006 mid-term elections of Republican George W. Bush's second term. Democrats retained control of both chambers for four years.
However, Republicans regained the House in 2011 after the 2010 midterms that occurred two years into the first term of Democratic President Barack Obama. Republicans then regained the Senate in 2015, effectively controlling both congressional chambers until 2019. At that point, Democrats regained the House following the 2018 midterms, two years into former President Donald Trump's first and only term.