Democrats Could Flip GOP-Held Senate Seats in Ohio, Pennsylvania: Polls
Amid dire predictions of Democratic losses in the upcoming November midterm elections, the party's candidates actually appear to be well positioned to flip at least two Republican-held Senate seats in Ohio and Pennsylvania, according to recent polls.
Senator Rob Portman, an Ohio Republican, announced in January 2021 that he would retire and not seek reelection in 2022. GOP Senator Pat Toomey of Pennsylvania similarly announced in October 2020 that he would not run for another Senate term.
While Toomey voted to convict Trump in his second impeachment trial and Portman condemned Trump's actions in that case, GOP candidates backed by the former president narrowly won their primaries to face off against Democratic contenders on November 8. Just under a third of Ohio Republicans voted for author and venture capitalist J.D. Vance in the primary there, while a similar percentage of Pennsylvania GOP voters backed celebrity physician Mehmet Oz.
The most recent polls out of Pennsylvania and Ohio show both Trump-backed Republicans trailing their Democratic opponents, suggesting the GOP-held seats could shift parties in the upcoming elections.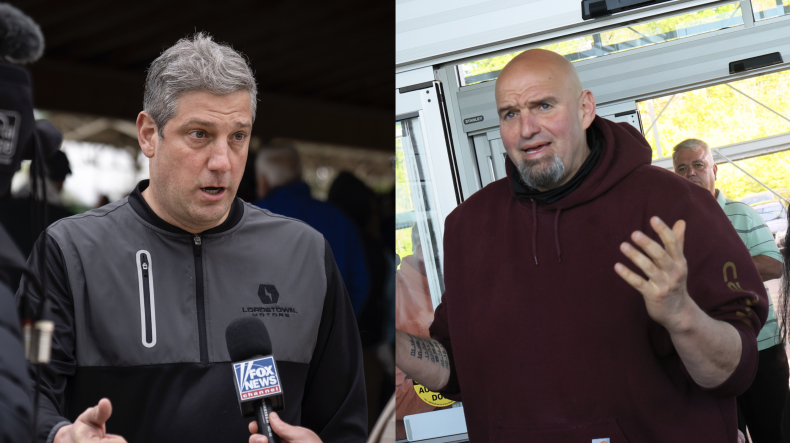 In Ohio, the most recent polls show Democratic Representative Tim Ryan ahead of Vance in the Senate race by a range of 2 to 9 points. The polls were all conducted from the end of May through early July.
A July 3 survey for the anti-Vance group Center Street PAC had Ryan ahead by 9 points. The poll, carried out with Momentive/SurveyMonkey, showed the Democrat with 49 percent support among likely voters, compared with Vance's 40 percent. Eleven percent were still undecided. Some 1,175 Ohioans participated in the survey.
Center Street PAC has backed Republicans and Democrats but is opposed to Trump and candidates aligned with him.
A late-June poll from Ryan's campaign showed him in a close race with Vance but narrowly ahead. That survey, conducted by Impact Research from June 27 to 30, had the Democrat at 48 percent and the Republican at 46 percent. The poll surveyed 816 likely voters, with a margin of error of plus or minus 3.4 percent.
Before that, a May 30 to June 3 survey by Grow Progress for Innovation Ohio, which is aligned with the Democratic Party, showed Ryan up by 3 points. That poll had the Democratic congressman at 44 percent, compared with the Trump-backed contender's 41 percent. The poll surveyed 2,018 registered voters, with a margin of error of plus or minus 3 percent.
In Pennsylvania, Democratic Senate candidate John Fetterman, the state's current lieutenant governor, led Oz by a range of 4 to 9 points in recent polls.
A recent survey by Cygnal, conducted from June 17 to 19, shows Fetterman ahead at 48 percent, compared with his Trump-backed opponent's 44 percent. Five hundred and thirty-five likely voters participated in the poll, which had a margin of error of plus or minus 4.18 percent.
Another poll, carried out from June 12 to 19 by Fabrizio, Lee & Associates/Impact Research for AARP, had the Democratic candidate up by 6 points. Fetterman had the support of 50 percent of likely voters, while Oz was backed by 44 percent. The poll surveyed 500 likely voters, with a margin of error of plus or minus 4.4 percent.
Before that survey's completion, a USA Today/Suffolk University poll found Fetterman with an even wider lead of 9 points. The Democrat came in at 46 percent, and the Republican was at just 37 percent. Five hundred likely voters participated in the June 10 to 13 survey, which has a margin of error of plus or minus 4.4 percent.
Republicans have repeatedly expressed confidence that they will retake the House and the Senate in the midterms, and historic precedent is on their side.
The University of Virginia's Center for Politics last June released an analysis of midterm elections going back to 1946. That report showed that the president's party has lost more than three Senate seats, on average, during the midterms. The biggest loss for the president's party has been 13 seats, while the largest gain has been just four seats.
Democrats currently control the Senate with the slimmest possible majority. The legislative chamber is evenly split, but Vice President Kamala Harris, in her role as Senate president, can cast tie-breaking votes. While Republicans are aiming to flip the chamber—which would require them to take just one Democratic seat while maintaining all GOP-held seats—Democrats hope to shore up their majority.