GOP's Chances of Beating Dems for Senate Control With 4 Months to Election
With the midterm election just four months away, Republicans feel emboldened by President Joe Biden's low approval rating and criticism of the Democrats' leadership in Congress—giving them hope that voters will give them back control of the Senate.
Democrats currently lead the Senate with the slimmest possible majority. The legislative body has 50 Republican members and 48 Democrats, as well as two independents who caucus with their Democratic colleagues. With the even split, Vice President Kamala Harris, in her role as Senate president, can cast tie-breaking votes, which gives her party narrow control of the chamber.
When voters go to the polls across the country on November 8, more than 30 Senate seats will be up for grabs. Fourteen are held by Democrats and 21 are held by Republicans. With the even split, Democrats cannot lose even one seat and maintain their control of the Senate. At the same time, most of these seats are considered by analysts to be safe, as they are held by incumbents in states that generally vote for the party of the lawmaker currently holding the elected position.
The four seats currently held by Democrats that analysts largely agree have the greatest possibility of flipping to GOP control are in Arizona, Georgia, Nevada and New Hampshire. Here is a closer look at recent polling data from those competitive races.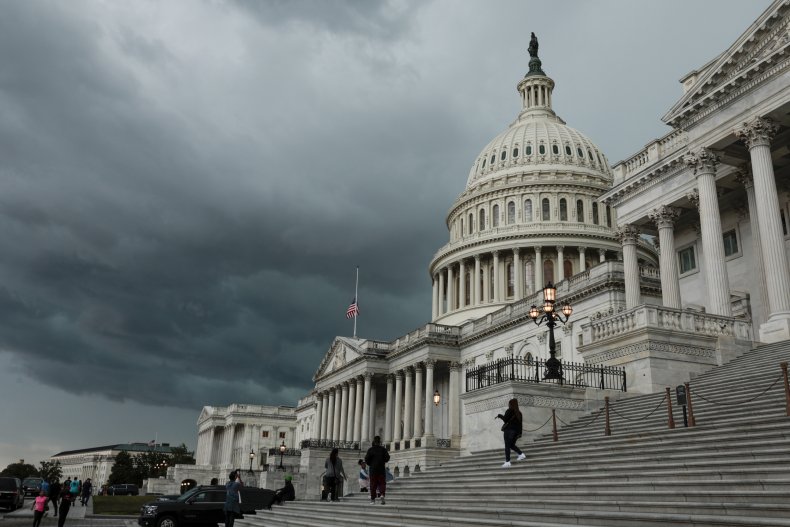 Arizona
Senator Mark Kelly flipped a red seat blue for Democrats in a 2020 special election. The seat was previously held by Martha McSally, a Republican who was appointed to serve Arizona in the Senate until the special election was held for the remainder of deceased GOP Senator John McCain's term. Kelly won in that race by a margin of 2.4 percent, with the support of 51.2 percent of Arizona's voters.
The Republican Kelly will face in November has not yet been determined. Venture capitalist Blake Masters, who was endorsed by former President Donald Trump, appears to be the frontrunner. The other leading GOP contenders are Arizona Attorney General Mark Brnovich and businessman Jim Lamon.
The latest polling data shows Kelly ahead of all the Republican challengers. Survey data from Change Research showed the incumbent Democrat 9 points ahead of Masters and 6 points ahead of Lamon. That poll, which was conducted on behalf of the Democratic group Future Majority from June 24 to 27, included 705 registered voters.
Another survey carried out by Blueprint Polling from May 12 to 16 had Kelly in the lead by double digits. The Democratic senator led Masters by 16 percent, Lamon by 13 percent and Brnovich by 17 percent. That poll included 608 likely voters with a margin of error of plus or minus 3.97 points.
Georgia
The contest between Democratic Senator Raphael Warnock and Republican contender Herschel Walker, a former football star, is one of the most closely watched in the midterms. Warnock narrowly managed to flip the previously GOP-held Senate seat blue in a special January 2021 runoff, just after Biden also became the first Democratic presidential candidate to win in Georgia since 1992.
The current Real Clear Politics average of Georgia polls shows Warnock with a narrow lead over Walker. The Democratic incumbent leads by 1.6 points, with the support of about 47.8 percent of Georgians, compared with 46.2 percent who back the Republican candidate.
Meanwhile, the most recent public poll by Quinnipiac University had Warnock double digits ahead of Walker. The senator was at 54 percent, and his GOP rival was at just 44 percent, a lead of 10 points for the incumbent. That poll surveyed 1,497 registered voters and had a margin of error of plus or minus 2.5 percent.
Nevada
Recent polling data suggests Democratic Senator Catherine Cortez Masto could be in for a tough race against Trump-backed Republican Adam Laxalt, Nevada's former attorney general. News and polling analysis site FiveThirtyEight's average of recent surveys shows Cortez Masto leading by just under 1 percent.
Meanwhile, the most recent survey conducted by Change Research for Democratic group Future Majority showed Cortez Masto with a lead of 3 points. The incumbent senator had the backing of 46 percent of Nevada's registered voters while Laxalt had the support of 43 percent. Seven hundred and one voters were included in the survey, which was carried out from June 24 to 27.
New Hampshire
Similar to Arizona, it's still unclear whom incumbent Democratic Senator Maggie Hassan will run against. Trump has not yet weighed in with an endorsement in the GOP primary, which will take place on September 13. The Republican contenders are retired Army Brigadier General Don Bolduc, President of the New Hampshire Senate Chuck Morse, former state Representative Kevin Smith and financial adviser Bruce Fenton.
Although Republicans believe they have a chance at flipping the seat red, recent polling data shows Hassan in the lead against most of her opponents. Late June survey data by Change Research had the incumbent Democrat up by 9 points against Bolduc. A previous April survey by the University of New Hampshire showed Hassan ahead of Bolduc by 1 point, leading Fenton by 6 points and Smith by 1 point. Morse, however, came out 2 points ahead of Hassan.
Whether Republicans can shift the Senate back to their control remains to be seen, but recent historical precedent is on their side. Last June, the University of Virginia's Center for Politics released an analysis of midterm elections going back to 1946. That report showed that the president's party has lost more than three Senate seats, on average, during the midterms. The biggest loss has been 13 seats, while the largest gain has been just four seats.