Neo-Nazi Publisher Voices Support for Trump-Backed Senate Candidate
Neo-Nazi publisher Andrew Anglin has voiced support for Arizona Republican Senate candidate Blake Masters, who was endorsed by former President Donald Trump early last month.
Masters still has not secured the GOP nomination in Arizona, as the primary will take place on August 2. However, the Trump-backed candidate is leading by a sizable margin in recent polls.
Jewish Insider first reported Friday that Anglin expressed approval of Masters in a June blog post, writing that he gave the Arizona Senate candidate a "forceful endorsement."
"I cannot give a more forceful endorsement, and I demand that anyone in Arizona (who is not some kind of known neo-Nazi or whatever) get in contact with his campaign and see what kind of help he needs," Anglin wrote on June 9.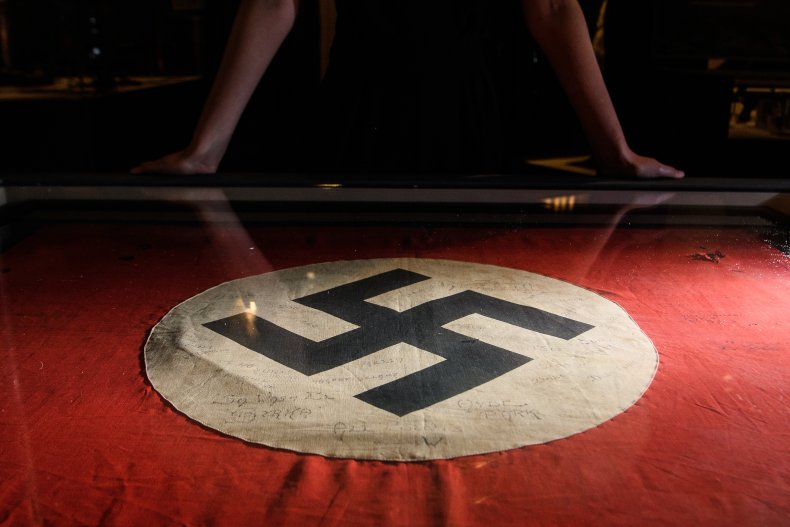 The day before, he suggested that Masters would win his race, while also mentioning GOP Ohio Senate candidate J.D. Vance, who was endorsed by Trump as well. Anglin pointed out that both Republican contenders were supported by billionaire Peter Thiel.
"Peter Thiel's losing streak is up," Anglin wrote on June 8. "I don't agree with everything the man endorses, and I don't think he agrees with everything he endorses, but JD Vance and Blake Masters are going to change the entire game."
"Masters is better than Vance, frankly," he added. Anglin then criticized Vance for being in an interracial relationship, touting Masters for being married to a white woman. Vance is married to an Indian-American woman.
The Neo-Nazi publisher went on to refer to the Arizona Senate candidate as "Master Masters" in his post.
Anglin founded Neo-Nazi website The Daily Stormer in 2013. The Anti-Defamation League (ADL), an organization that fights all forms of antisemitism and bias, states on its website that "Anglin's goal is to promote hatred of Jews and to denigrate minorities."
"Anglin also lauds Hitler and promotes Holocaust denial. His hatred extends to other minorities, particularly blacks, and he frequently uses news items as a launching pad for his racist tirades," the ADL website adds.
The South Poverty Law Center states on its website that Anglin "is infamous for the crudity of his language and his thinking, a contrast to his sophistication as a prolific Internet troll and serial harasser."
Trump critics often point to positive sentiments expressed about him by Neo-Nazis and white supremacists. At the same time, Trump's son-in-law and top White House adviser Jared Kushner is Jewish. The former president's eldest daughter Ivanka Trump converted to Judaism in 2009, the same year she married Kushner.
Newsweek reached out to Masters' and Vance's campaign for comment.