GOP Senate candidate Herschel Walker aims to wrestle back control of one of Georgia's two Senate seats for his party on November 8, but recent polls suggest Democratic Senator Raphael Warnock has the advantage.
Walker, a former football star, has been endorsed by former President Donald Trump and Senate Minority Leader Mitch McConnell, as the GOP hopes to reclaim one of the Georgia Senate seats it lost in the close January 2021 runoffs. The race could also determine which party controls the Senate, as the chamber is evenly split.
While polling had previously shown Walker is well positioned to potentially defeat Warnock in the upcoming election, a recent scandal appears to have affected his standing with Georgia's voters. The incumbent Democrat has pulled forward with a lead over his GOP rival—but the race is still close.
The current Real Clear Politics average of Georgia polls shows Warnock 1.6 points ahead of this Trump-backed challenger. The Democrat has the support of about 47.8 percent of voters, compared with the 46.2 percent who back Walker. Notably, as recently as mid-June, the average showed the Republican narrowly ahead.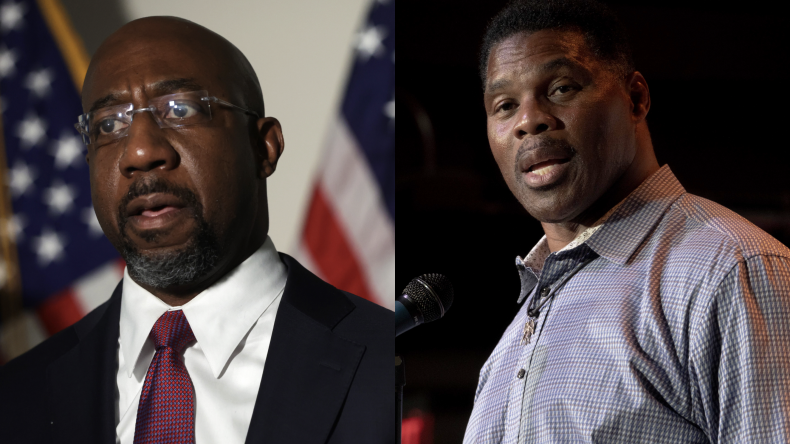 Meanwhile, the most recent public poll by Quinnipiac University had Warnock double digits ahead of Walker. The senator was at 54 percent, and his rival was at just 44 percent, a difference of 10 points. The poll surveyed 1,497 registered voters and had a margin of error of plus or minus 2.5 percent.
Another late-June poll, by Change Research, was carried out on behalf of the Democratic group Future Majority. It showed Warnock 4 points in the lead. The Democrat had the backing of 48 percent of registered voters, compared with the 44 percent who supported Walker. Seven hundred and four voters participated in the poll.
For Walker, the best recent survey data came from a June 11 to 16 poll conducted on behalf of his own campaign. That survey, by Moore Information, had the candidates tied. Walker and Warnock both were supported by 47 percent of voters. It surveyed 800 likely voters, with a margin of error of plus or minus 3 points.
An East Carolina University poll from June 6 to 9 showed the same results. Both Walker and Warnock had the backing of 47 percent of registered voters, with 868 respondents in the survey. The margin of error was plus or minus 3.9 percent.
Republicans and Democrats both view the Georgia Senate race as vital in the upcoming midterms. Warnock managed to flip the previously GOP-held seat blue in last year's special runoff election. That victory came after President Joe Biden narrowly beat Trump in Georgia in November 2020 by less than 12,000 votes—or about 0.2 percent of the total number of ballots. Before Biden's win, Georgia had not gone for a Democratic presidential candidate since 1992.