Democrats Deplore Biden Admin's 'Completely Inhumane' Deportation of Haitians in Texas
Several Democratic lawmakers have condemned the Biden administration's decision to ramp up deportation flights of Haitian migrants in Texas, calling the move "inhumane" as Haiti faces a humanitarian crisis compounded by natural disasters and political uncertainty.
On Saturday, the Department of Homeland Security (DHS) announced a plan to expedite deportation flights following reports that over 14,000 migrants – primarily from Haiti – have assembled under a bridge in the small border city of Del Rio, Texas.
The federal department said that it's preparing to increase the capacity and pace of flights over the next several days. DHS is also sending 400 border patrol agents to the area to help process migrants.
The latest surge of Haitian migrants comes after the country was thrown into turmoil this summer. In July, Haiti's prime minister was assassinated, sending the nation into political chaos. Just one month later, the country was slammed by a powerful 7.2-magnitude earthquake that killed over 2,000 people and left thousands more homeless.
Several Democratic lawmakers have since deplored the DHS announcement via social media, and are instead calling on the administration to halt deportation flights for the vulnerable migrants.
"This is completely inhumane, Haitians are experiencing a crisis after crisis and deserve compassion. Instead of stepping up deportation, we should be halting it. It's shameful that from administration to administration our cruel immigration policies remain," Minnesota Representative Ilhan Omar tweeted Saturday.
New York Representative Jamaal Bowen echoed that sentiment, writing: "Our border policy should be based on care and human rights — mass deportations are not the answer," as Haitians continue to suffer from earthquake and storm damage.
Mondaire Jones, a fellow New York congressman, called the move by Biden's administration "absolutely unacceptable."
"Amid a once-in-a-generation civic and humanitarian crisis in Haiti, @POTUS should be halting Haitian deportations, not expediting them," Jones tweeted.
"Haiti is still reeling from COVID, political instability, a recent earthquake, and tropical storm. We should be focused on a humanitarian effort, not deporting people back to an unstable environment. I renew my call for a halt of deportations to Haiti," added Massachusetts Senator Ed Markey.
As of Saturday, there were 14,353 migrants under the Del Rio International Bridge waiting to be processed by immigration authorities. The migrants crossed the Rio Grande in groups, and many have assembled cave-like shelters along the banks of the river. Some families have been there for as long as a week and living in the temporary structures under cramped, unsanitary conditions.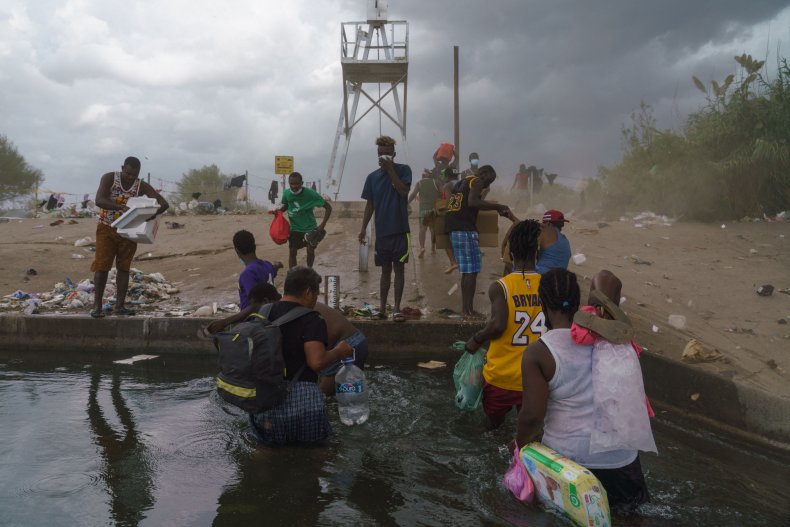 On Friday, more than 50 Democratic lawmakers signed a letter co-written by Representatives Ayanna Pressley of Massachusetts and Nydia Velázquez of New York to DHS and Health and Human Services (HHS), urging both to stop the deportation of Haitians.
"The Haitian government's ability to safely receive its citizens will take months, if not years, to secure," the letter stated. "Haitians with final removal orders should be released from immigration detention if they pose no threat to public safety or national security because there is no significant likelihood of their removal in the reasonably foreseeable future."
But despite the pushback from Democratic lawmakers and humanitarian groups, the Biden administration is moving forward with its efforts to relieve the migration influx in Del Rio and deter more Haitians from trying to come to the U.S.
The administration has three deportation flights planned for Sunday, according to The New York Times. Starting on Monday, it will run four flights a day.
"The Biden Administration has reiterated that our borders are not open, and people should not make the dangerous journey. Individuals and families are subject to border restrictions, including expulsion. Irregular migration poses a significant threat to the health and welfare of border communities and to the lives of migrants themselves, and should not be attempted," the DHS said in a statement.
Newsweek contacted the White House for additional comment, but did not hear back in time for publication.