A 7.2-magnitude earthquake rocked Haiti on Saturday and left at least 724 people dead and about 2,800 injured, the Associated Press reported—adding further devastation to the country as it navigates a tumultuous political climate and the COVID-19 pandemic.
The earthquake, which took place 7.5 miles northeast of Saint-Louis du Sud and could be felt throughout the island, has overwhelmed some hospital systems and authorities expect the death toll to grow. The quake occurred just one month after the country's president was assassinated, and amid the nation's attempt to slow the spread of the coronavirus.
Humanitarian groups on Saturday expressed fear that the latest disaster will only add to the nation's suffering.
"We're concerned that this earthquake is just one more crisis on top of what the country is already facing—including the worsening political stalemate after the president's assassination, COVID and food insecurity," Jean-Wickens Merone, spokesman for the humanitarian group World Vision Haiti, said Saturday.
Haiti entered a frenzy of political chaos last month when President Jovenel Moïse was gunned down by assassins inside his private room on July 7. Police have so far detained more than 40 suspects, including 18 former Colombian soldiers and 20 Haitian police officers. However, more than a month later, there is still no clarity on exactly who was behind the murder plot.
The country's new prime minister, Ariel Henry, pledged to hold elections for a new leader as soon as possible. However, local media reported earlier this week that those elections have been postposed from September to November.
As the poorest country in the Americas, Haiti has been suffering from political instability, gang violence, and food scarcity for decades. In the nation's capitol of Port-au-Prince, criminal organizations have taken over entire neighborhoods, with gang members often looting, extorting, kidnapping, and even killing with impunity.
The country has also faced devastation from previous earthquakes and hurricanes.
In 2010, a massive 7.0-magnitude earthquake struck Haiti, killing an estimated 300,000 people and rendering over 1 million homeless. That quake marked one of the deadliest natural disasters in the Western Hemisphere, with large parts of the island still recovering more than a decade later.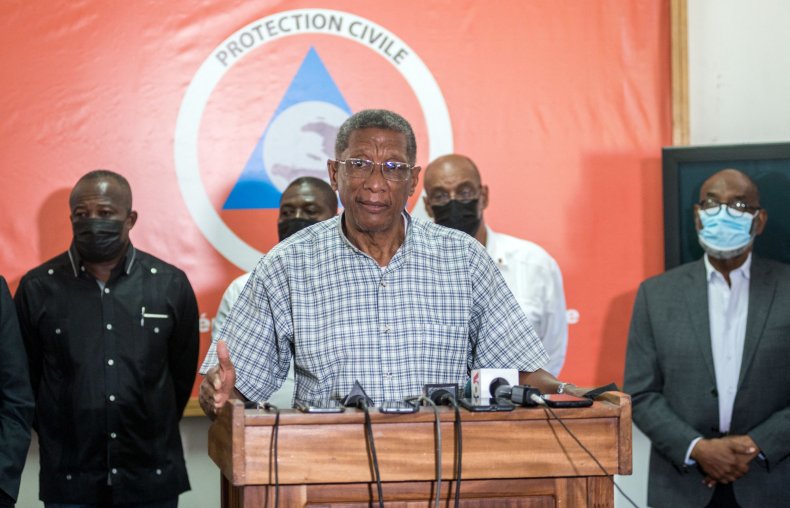 Saturday's earthquake is also leading to fears that hospitals will become too overwhelmed to take on injured patients and individuals suffering from COVID-19. The nation has severely lagged behind with pandemic resources, and only just received its first doses of coronavirus vaccines last month.
According to Johns Hopkins University, there have been 20,507 cases and 576 deaths in Haiti since the pandemic began, but the real number is thought to be much higher because testing for COVID in Haiti is low.
The prime minister said Saturday that the International Red Cross and hospitals in unaffected areas were helping to care for injured earthquake victims, as health care systems are becoming more overwhelmed.
"The needs are enormous. We must take care of the injured and fractured, but also provide food, aid, temporary shelter and psychological support," Henry said, according to the Associated Press.
President Joe Biden on Saturday authorized an immediate response for U.S. aid and named USAID Administrator Samantha Power as the senior official coordinating the effort.
Updated 8/15/21, 12:00 PM ET, with the death toll rising to 724.