Democrats Double Down on Break With Joe Biden Over Migrants at Border
Two centrist Democrats doubled down on their quarrel with the Biden administration over immigration policy on Sunday.
West Virginia Senator Joe Manchin and Texas Representative Henry Cuellar signed onto a letter last week urging the White House to extend Title 42, a pandemic-era policy started under the Trump administration allowing the U.S. government to quickly remove migrants from the countryto prevent the spread of COVID-19.
As the pandemic winds down, immigration advocates have pushed the Biden administration to end the policy, but others say that maintaining Title 42 is needed to deal with a surge of migrants seeking asylum at the U.S.-Mexico border. The current White House, which has faced scrutiny from conservatives for how it has dealt with immigration, recently lost a federal lawsuit seeking to defend the provision, meaning it could end by December 21.
Their remarks come just days after President Joe Biden requested an additional $3 billion from Congress to deal with a potential surge in migrants after the COVID restriction ends.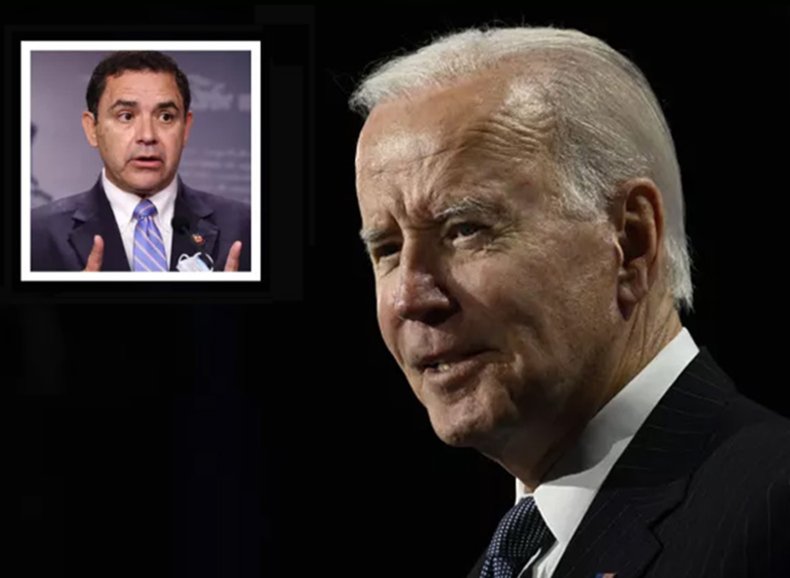 Manchin and Cuellar on Sunday appeared on CBS' Face the Nation to defend their call to extend Title 42.
"Title 42 needs to be extended until we can get, truly, immigration reform," Manchin said. "Immigration reform will not happen in our country until we come—both sides of the aisle, Democrats, Republicans and the administration—that you have to have total border security."
The senator called on the president to "use every bit of power he has" to find a way to extend Title 42, predicting that the Biden administration will ultimately request an extension of the policy.
Meanwhile, Cuellar also took aim at the Biden administration's immigration plan.
"They've been talking about this plan for the last two years. They've been blaming Republicans. They've been blaming Congress. How long is this plan going to...take effect?" he asked.
Cuellar added that if Title 42 goes away, the White House needs to have a "policy of an orderly pathway to asylum," and if migrants don't follow that pathway, "they need to go back."
The Democratic lawmaker further questioned Biden's $3 billion plan to address a migrant surge, raising concerns that it does not adequately address border security. He added that Border Patrol agents "feel that the administration doesn't have their backs."
In a statement to Newsweek on Sunday, a Cuellar spokesperson wrote that he is "committed to effectively addressing the immigration crisis at our southern border through sensible, bipartisan legislation. Today's interview on Face the Nation was proof of that."
The statement continued: "With the end of Title 42 on the horizon, Congressman Cuellar will continue to work with his colleagues to ensure our southern border is secure."
Biden Extending Title 42 Would Be 'Short-sighted,' Expert Warns
Erin Corcoran, the executive director for the Kroc Institute of International Peace Studies at the University of Notre Dame, told Newsweek on Sunday that the Biden administration extending Title 42 would be "short-sighted" because it would put asylum seekers and those seeking protection from human trafficking at risk.
Typically, migrants seeking asylum are interviewed by border authorities to determine if they meet the criteria as to whether they can pursue asylum in the U.S. However, Title 42 allows authorities to send migrants back over the border without going through that process.
"If you don't have these sort of individualized interviews, you're blanket pushing people back. Those kinds of questions aren't being asked. They're not allowing people to talk about their fear and at least access the asylum system," Corcoran added.
Corcoran also raised concerns that Title 42 is "not what the purpose of the discretionary authority that Congress gave the CDC," referring to the Centers for Disease Control and Prevention. The policy was intended for the pandemic, not as a means to enforce immigration policy, she said.
"It's not a law. It's a power that you allow an executive agency to sort of use in extraordinary circumstances," Corcoran said. "Courts are very mindful that they should use that authority in the narrowest context and not applied in arbitrary or capricious way."
Cuellar, Manchin Warn of 'Complete Loss of Operational Control'
In their letter sent last week, Manchin and Cuellar wrote alongside Republican Senator John Cornyn of Texas and Republican Representative Tony Gonzales of Texas that they are concerned the Biden administration "has not provided sufficient support or resources to the men and women of the Department of Homeland Security (DHS) who are tasked with maintaining border security."
"While admittedly imperfect, termination of the CDC's Title 42 order at this time will result in a complete loss of operational control over the southern border, a profoundly negative impact on border communities, and significant suffering and fatalities among the migrants unlawfully entering the United States," the letter reads.
Newsweek reached out to the White House and Senator Manchin for comment.