Democrats Embrace Obama for Georgia Runoff as GOP Warns Trump to Stay Away
As Georgia prepares for its most contentious election since the last one, one key figure has disappeared from the race as Republican Herschel Walker seeks to unseat Democratic Senator Raphael Warnock: Former President Donald Trump.
Since an underwhelming Peach State rally in March and a handful of failed primary efforts against candidates who stood up to his unsubstantiated claims of voter fraud in the state during the 2020 election, Trump has been visibly absent from the battleground state, even as he has kept a constant presence in closely contested races around the country this election cycle.
The reason might be strategic, particularly as evidence mounts that his influence tends to alienate independent voters and mobilize Democrats, who have since sought out popular figures like former President Barack Obama to drive turnout and dodge President Joe Biden's anemic approval ratings among independents.
A rumored rally ahead of the only debate between Warnock and Walker reported by the Atlanta Journal-Constitution in September never came to fruition, with at least one operative telling the Washington Post that Trump coming down to Georgia was "the worst thing that can happen for Republican candidates down here."
Some in the state, according to a recent report in Rolling Stone, have urged Trump not to hold a rally in the state prior to the runoff, much to his annoyance, with the former president reportedly believing his presence would be "a net positive for Walker" while accusing pundits and Republicans who oppose his presence as "unintelligent Trump haters."
But others have publicly warned him to remain out of the spotlight to avoid jeopardizing Walker's chances there following two consecutive narrow defeats in Georgia special elections that were widely seen as referendums on Trump's influence on national politics.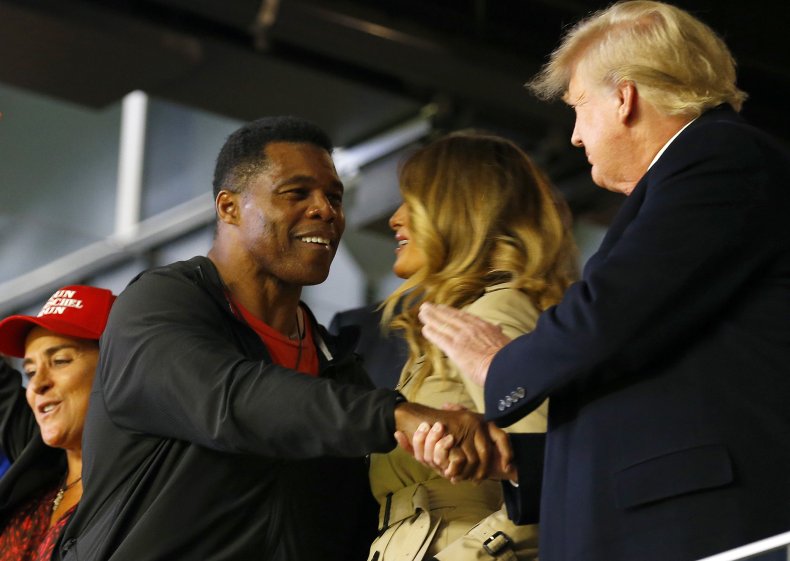 Georgia Lieutenant Governor Geoff Duncan tweeted that Trump "sucked the life" out of the Republican Party this cycle, jeopardizing the GOP's chances to seize control of the Senate, later writing for CNN that Walker should lean more heavily on non-liabilities like Florida Governor Ron DeSantis, whose momentum as a party leader is growing.
Walker, wrote Duncan, should "dial Mar-a-Lago and ask Trump to stay home," saying that while Trump's endorsement helped propel Walker to a win in the primary, Walker's main priority should be to convince voters beyond his base to support him.
"Our state's growing population, especially in Atlanta's northern suburbs, have forced Republicans to run different types of campaigns than years past, with messages tailored to swing voters," Duncan wrote in the CNN opinion piece.
Others, like Georgia activist Cole Muzio, wrote on Twitter that some activists have been talking to him about what it would take to keep Trump out of Georgia, saying that more "moderate" public officials like Georgia Governor Brian Kemp—who notably opposed Trump's efforts to overturn the state's presidential election results in 2020—are the real key to securing an in-state victory for the GOP.
"Everything comes down to Herschel Walker and Georgia," Jason Miller, a senior Trump adviser, told right-wing news channel Newsmax this month ahead of Trump's recent announcement to run for president again in 2024.
"I'm advising the president to hold off until after the Georgia race, after Herschel Walker," he added. "This is bigger than anything else in the country."
Democrats, meanwhile, can only pray for the former president to get involved.
After Trump specifically shouted out Walker in his announcement speech this month, the Warnock campaign released an advertisement that was just a replay of Trump endorsing the former football star from the rostrum at Mar-a-Lago, an effort by the Warnock campaign to tie Walker's politics to Trump's, rather than the mainstream Republicans who have served as surrogates for Walker in the lead-up to the December election.
"Stop Donald Trump," the advertisement closed. "Stop Herschel Walker."
Newsweek reached out to the Walker campaign for comment.