Democrats' Winning Strategy for 2020 Georgia Runoff Likely Won't Work Now
The last time a Senate race went to a runoff election in Georgia, Democrats won big, flipping not one but two seats blue and handing President Joe Biden just enough votes to pass his agenda in an evenly divided Senate.
The Democrats' victory in the Peach State was largely attributed to the huge turnout that was fueled by the work of voting rights organizations. But the timeline of this year's runoff could undercut the key strategy they relied on in 2021, meaning Senator Raphael Warnock could face the same fate he delivered his predecessor when he ousted her less than two years ago.
With neither candidate receiving more than 50 percent of the vote, Warnock and Trump-backed Republican candidate Herschel Walker are headed to a runoff on December 6—an election that will come 28 days after the general. Comparably, in 2021, candidates had more than double that time to rally their supporters back to the polls.
The changes made to the runoff schedule, thanks to a new election law enacted in Georgia last year, are likely to disadvantage Democrats, who tend to encourage more early voting and mail ballots than Republicans do. At the same time, Republicans typically do better in runoff elections because of the low voter turnout seen in such races.
Given how critical voter turnout is for Democrats in Georgia, December 6 could deliver them a one-two punch. Not only will Democrats be up against more restrictions for getting out the vote, the whole premise of a runoff election is about who is going to be able to get their supporters back to the polls.
"There are three important variables in this race: turnout, turnout, turnout," Daniel Franklin, an associate political science professor at Georgia State University, told Newsweek.
Franklin said even though the stakes are "incredibly high on this one," the timing of the runoffs will make it difficult for candidates to convince Georgians to vote again, especially with the holidays around the corner.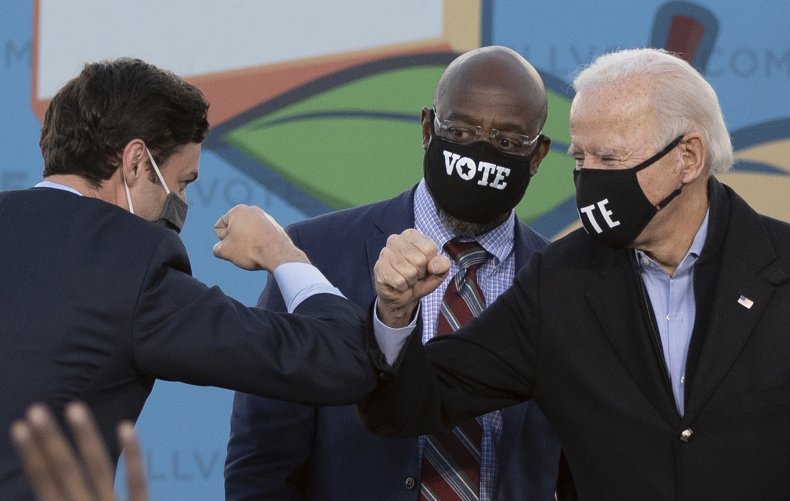 While candidates will only have four weeks—with Thanksgiving smack in the middle—to campaign for this year's runoff, Warnock's first runoff election was a nine-week contest that included three weeks of early in-person voting. This year, Georgia voters will have five days for early voting.
"Some Republicans did vote early in this election cycle, but clearly Democrats, and especially African-Americans, in Georgia really like early in-person voting," Trey Hood, who has been conducting political research at the University of Georgia for more than two decades, told Newsweek. "So, that could be a possible dampening effect."
Last time, Democrats also made a massive push for expanding voter registration between the 2020 presidential election and the 2021 Senate runoff. Voting rights activists rallied to register people who had moved to Georgia in that time frame, as well as teenagers who turned of voting age in those nine weeks.
It was estimated by the Civics Center that up to 23,000 Georgia teenagers who were too young to vote in the 2020 election turned 18 by the time the 2021 runoffs took place, which was particularly good news for the Democrats. A study from the Center for Information and Research on Civic Learning and Engagement at Tufts University found that Georgia is not just the best-performing youth voter state in the country, but the state's youth vote is also heavily Democratic.
Democrats won't have that advantage this year. Georgia's 2022 voter registration closed before the midterm elections, meaning that voters who weren't already registered by November 8 will have to sit December 6 out as well.
"There was a considerable number of new voters...who did vote in the runoffs but didn't vote in the general election," Hood said. "That's really not possible this time."
Another factor that could be a demobilizing agent for both Warnock and Walker is that Senate control is no longer in play. While Warnock and Democrat Jon Ossoff's Senate wins were crucial to deciding control of the chamber in the last runoff, Senator Catherine Cortez Masto's narrow victory in Nevada over the weekend has already guaranteed Democrats will keep control of the Senate.
Hood said taking Senate majority off the table could be used as an argument for both sides. Walker could argue to voters that the runoff vote is less about national politics and more about state politics, while Warnock could benefit from a lower GOP turnout if Republicans aren't enthused that the Senate is no longer up for grabs.
Although this year's timeline could impede on the Democrats, Walker's path to the Senate isn't all smooth sailing.
Franklin said Walker is "relatively unpopular" on the Republican side when compared to officials like Governor Brian Kemp, who just won reelection last week. He said without Kemp at the top of the ticket, like the governor was in the general election, "there will be a lot of people who will simply stay home."
Walker could also be hurt by a 2024 announcement from former President Donald Trump. Although Trump's endorsement was highly coveted during the Republican primaries, a string of losses in the midterms suggested that Trump's backing could look more like a kiss of death in a general election.
Asked whether Trump should proceed with reported plans to make an early White House bid, Franklin said it would be wise for the former president to hold off.
"[Trump's] already screwed this up," Franklin said. "If the Republicans had run a normal candidate, Mitch McConnell would be the new Senate majority leader. Instead, they ran a very vulnerable candidate" with Walker. Franklin predicted that if Trump were to announce before December 6, Republicans would not only lose in Georgia, Trump would "double down on his mistake."