Democrats End Gun Vote Protest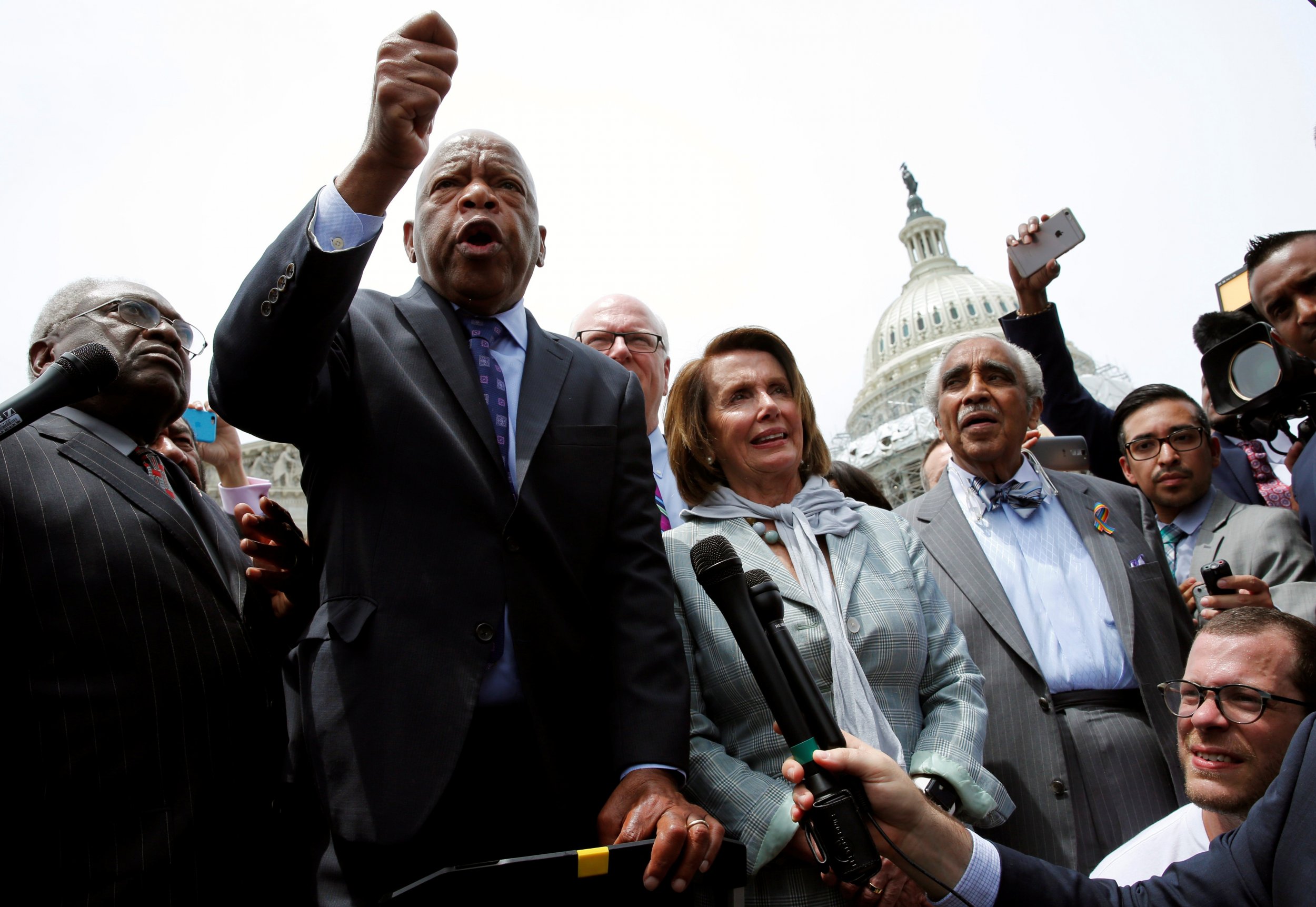 Updated | More than a day after they took over the chamber, House Democrats on Thursday ended their sit-in protest against congressional inaction on gun control legislation, having demanded their Republican colleagues allow a vote on two gun measures in the aftermath of the country's worst-ever mass shooting in Orlando, Florida.
House Democrats vowed to continue asking for support for a "no fly, no buy" bill that would prevent suspected terrorists from purchasing firearms, as well as for legislation that would expand universal background checks to cover all gun sales, including at shows and online. The protest lasted almost 26 hours before it ended around 1 p.m. Thursday. The Democrats then left the House chambers to address their supporters about organizing to national action, at a rally on the east side of the Capitol.
Democratic Representative John Lewis of Georgia, who began the sit-in with remarks on the floor of the House Wednesday, ended it with closing statements on Thursday.
"We must never, ever give up or give in. We must keep the faith, and we must come back here on July the 5th more determined than ever before," the prominent civil rights icon said, referring to the more than weeklong House recess now in effect for the July 4 holiday.
Democratic Representative James Clyburn of South Carolina suggested Democrats return to their congressional districts during their break to educate their constituents about gun legislation.
"We will not allow this body to ever feel as comfortable as they have felt in the past silencing our voices," said Clyburn, the House assistant minority leader. "The time will come on July 5 when we will return to this hallowed hall, and at that time we will be operating under a new sense of purpose."
Later Thursday afternoon, Democratic House Minority Leader Nancy Pelosi told reporters that members will meet to determine how to move forward with the gun legislation. "​We cannot stop until we get a bill," she said during her weekly press briefing. "It's about the safety of the American people. We want this off the table."
Democrats had continued with their protest on Thursday despite Republican leadership adjourning the House to the recess in the middle of the night without a vote on gun measures.
"It is our job to stay here," Democratic Representative Rosa DeLauro of Connecticut said earlier Thursday.
Led by Lewis, about 30 outraged Democrats took over the House floor just before 11:30 a.m. Wednesday. Dozens of their peers joined them throughout the day, including Democratic Senators Richard Blumenthal of Connecticut, Elizabeth Warren of Massachusetts, Cory Booker of New Jersey and Chris Murphy of Connecticut, who last week led a nearly 15-hour filibuster to call for a vote on gun control measures in his chamber.
"We had a moment of silence after Columbine. We had a moment of silence after Aurora. We had a moment of silence after Newtown, Connecticut. We had a moment of silence after Virginia Tech. We had a moment of silence after the horror of Orlando 11 days ago," Democratic Representative Matt Cartwright of Pennsylvania said shortly before the sit-in ended, referring to the Florida massacre 11 days ago that left 49 people dead. "But then, after the silence, nothing happened—no action, nothing but silence. And I'm here to say it's time for the silence to stop. We must raise our voices."
Around noon on Wednesday, in an effort to blackout the protest, GOP Representative Ted Poe, the lawmaker presiding over the chamber, called a temporary recess and shut off the microphones and cameras that normally broadcast action in the House chamber. But Democrats used their cellphones to post photos and footage from the sit-in to their social media accounts. Instead of relying on the House cameras, media outlets broadcast the sit-in by live-streaming video from the protesting Democrats, and their action quickly gained widespread attention.
Shortly before 8 p.m. Wednesday, House Speaker Paul Ryan tweeted about the sit-in, calling it "nothing more than a publicity stunt." Two hours later, he tried to end the protest in the House. In the early morning hours, amid chaos on the floor, Ryan allowed for votes on several bills the House had planned to pass this week, including one to combat the Zika virus. Democrats chanted, "No bill, no break!" and waved papers with the names of gun victims at him. They also sang a version of "We Shall Overcome," a song frequently used during the civil rights movement.
The break they referenced was the recess scheduled to begin Friday and last through the July 4 holiday weekend. Instead, the break began around 3 a.m. Thursday, as Republicans voted to leave a day early because of the sit-in. The recess will last through July 5.
"They can run, but they're not going to be able to hide from this issue because we're going to be here in the weeks and the months ahead, making sure, at every opportunity, we call upon them to take these simple measures," Democratic Representative Chris Van Hollen of Maryland said Thursday morning.
He added that his Republican peers "would rather risk the possibility of another massacre than risk the wrath of the gun lobby and the NRA," referring to the National Rifle Association.
During his weekly press briefing Thursday morning, Ryan reiterated his previous comments that the focus of the House needs to be on "confronting radical extremism" and "defeating terrorism."
"We are not going to allow stunts like this to stop us from carrying out the people's business. Why do I call this a stunt? Well, because it is one. Let's just be honest here," Ryan said. He demanded members follow the process of the system; Democrats need to gather 218 signatures and a petition if they want a vote for a bill that already failed in the Appropriations Committee.
Leaders and activists applauded Lewis and the other Democrats for their protest. President Barack Obama on Wednesday afternoon tweeted his support to Lewis for "leading on gun violence where we need it most." And on Thursday, leading executives and artists from the music industry published an open letter to Congress, demanding lawmakers take action to end gun violence in the United States. Their call came after rising singer star Christina Grimmie was fatally shot at an Orlando concert hall on June 11, just hours before a gunman opened fire in the same city at the gay nightclub Pulse on June 12.
Lucy McBath is the mother of slain teenager Jordan Davis, who was shot and killed at a Jacksonville, Florida, gas station in November 2012. On Wednesday, she pledged to continue fighting for her son.
"This isn't over yet," she said. "For Jordan, for Orlando, for the 91 Americans shot and killed every day and the hundreds more injured—we are going to keep fighting to disarm hate and save lives. And we will win."
This story has been updated to reflect the end of the sit-in.