President Joe Biden delivered Friday on his campaign promise to nominate a Black woman to the Supreme Court, setting the stage for a signature achievement in domestic affairs at a time when the White House has been consumed by its response to the Russian invasion of Ukraine.
Senate Democrats have enough votes to confirm Judge Ketanji Brown Jackson, if they stick together and Sen. Ben Ray Lujan of New Mexico, who has been out recovering from a stroke, returns to the Senate as he said he would to vote for the Supreme Court nominee. But few if any Republicans are expected to support Jackson, and she would not alter the ideological makeup of the high court, which has a 6-3 conservative majority.
Still, Biden's pick represents a milestone for the court. If confirmed, Jackson would make history as the first Black female justice. Of the 115 justices who have served on the Supreme Court, all but seven have been white men.
"This is long overdue. The court has been the bastion of white males," said Michael Gerhardt, a constitutional law scholar at the University of North Carolina School of Law in Chapel Hill.
Biden touted Jackon's credentials on Friday, while also nodding at the fact that she would be the first Black woman to serve on the high court.
"For too long our government, our courts haven't looked like America," Biden said in remarks at the White House announcing the nomination. Biden was flanked by Jackson and Vice President Kamala Harris, the first woman and person of color to serve in the role.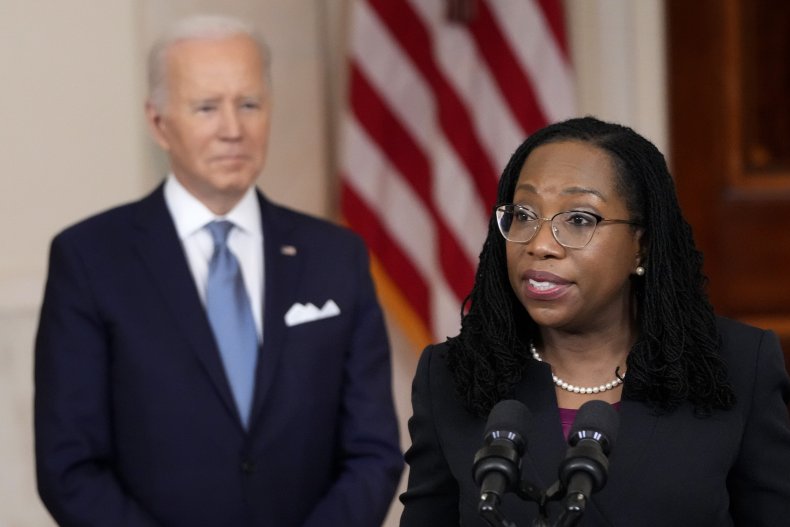 Democrats and progressive activists cheered the pick, which followed a month-long selection process that began after Justice Stephen Breyer, one of the court's three liberal justices, announced in January that he planned to step down at the end of the court's current term.
Biden spent the past several days considering the final candidates, the White House said. He studied their backgrounds and judicial records, taking time to carry out the final interviews in the midst of his effort to rally international support against Russia's attack on Ukraine.
The decision reportedly came down to Jackson and two other finalists: Leondra Kruger, a justice of the California Supreme Court, and J. Michelle Childs, a federal district court judge in South Carolina.
Childs was backed by Rep. Jim Clyburn of South Carolina, the third-ranking Democrat in the House. Clyburn is a close ally of Biden's who helped him carry the South Carolina Democratic presidential primary in early 2020, a win that propelled Biden to the nomination. Biden promised multiple times during his presidential run to nominate a Black woman to the Supreme Court, as well as to pick a woman of color to serve as his running mate.
The public and private lobbying effort for different candidates in recent weeks reflected broader divisions within the party on the legal system, and issues of criminal justice reform and policing.
In choosing Jackson, 51, Biden settled on a former federal public defender who serves as a judge on the influential U.S. Court of Appeals in Washington, D.C. Some progressive groups had pushed the White House to select a candidate with experience as a public defender, and in his speech Friday Biden singled out Jackson's defense work as well as her tenure as a trial judge.
Jackson has been confirmed by the Senate for three different roles, most recently last year when she was approved to serve on the federal appeals court in D.C. by a bipartisan vote of 53-44. Three Senate Republicans joined Democrats in backing Jackson in 2021: Lisa Murkowski of Alaska, Susan Collins of Maine, and Lindsey Graham of South Carolina.
Sen. Dick Durbin of Illinois, the top Democrat on the Senate Judiciary Committee, pointed out Jackson's history of bipartisan support Friday in a statement praising her selection.
Durbin said in a statement that the committee would "begin immediately to move forward on her nomination," an indication that Democrats plan to move quickly to put Jackson on the bench. Senate Majority Leader Chuck Schumer of New York has also made clear he wants the process to go swiftly, a Senate Democratic source said.
The confirmation process will likely be smoother than the intense fights over Supreme Court seats under former President Donald Trump.
In 2018, Justice Brett Kavanaugh's confirmation hearings were dominated by an allegation that he sexually assaulted a classmate in high school. Kavanaugh denied the allegation, but it led to an FBI investigation that delayed his confirmation and created one of the tensest moments on Capitol Hill in recent memory.
Two years later, the Republican-controlled Senate confirmed Justice Amy Coney Barrett in the final days before the 2020 presidential election. The move angered Democrats, who argued that Republicans refused to fill a Supreme Court seat in the run-up to the 2016 presidential election.
The Kavanaugh confirmation process in particular left residual anger on both sides of the aisle, and few Republicans or Democrats appear interested in staging such a partisan fight. Even so, multiple Republican senators criticized Jackson's nomination Friday. Graham said that "the radical Left has won President Biden over yet again."
Senate Minority Leader Mitch McConnell of Kentucky noted that he did not vote for Jackson last year and questioned her record on the federal bench since joining the D.C. appeals court. "With that said, I look forward to carefully reviewing Judge Jackson's nomination during the vigorous and thorough Senate process that the American people deserve," McConnell said in a statement.
Conservative legal experts said Biden's pick represented the culmination of a cynical political ploy that helped him win the presidency.
"Obviously, we know politically why he did it, and he got exactly what he hoped to get," said Thomas Jipping of the Heritage Foundation.
For their part, Democrats and their allies allowed themselves one day Friday to focus on the historic nature of the nomination before they turn to the confirmation process. "This is a tremendous moment not only for Black women but for all women of color and all Americans," said Aimee Allison, the founder and president of She the People, a group that supports women of color in politics. "We will continue to stand behind and support her as she becomes America's first Black woman on our Supreme Court."