Democrats, GOP Face Sharp Divide in Rush for Police Reform Legislation
Democrats and Senate Republicans may not agree on everything in their dueling police reform bills, but one thing is clear: Both sides are in a rush to meet public pressure and pass a swift resolution before the July 4 recess.
While there is some overlap between each party's proposal—such as addressing topics like chokeholds and police misconduct—stark differences remain that will be difficult to work out in their efforts to combat police brutality and racial injustice after the death of George Floyd that sparked national outrage. The parties have opposing views on qualified immunity and no-knock warrants, for example, as well as disagreements on how to achieve similar outcomes that root out bad officers.
The differences reflect the flashpoints in the issues dividing the national conversation on race and policing. Republicans, for example, don't want to "federalize" the local police, as they say Democrats' legislation would do. Democrats criticized the GOP measure, which they did before it was released, because it "does not rise to the moment" and it stops short of including federal mandates.
"We're not a racist country. We deal with racism because there's racism in the country," Senator Tim Scott (R-S.C.) told reporters on Wednesday, flanked by Majority Leader Mitch McConnell (R-Ky.) and other GOP colleagues who helped him craft the police reform legislation he unveiled.
"I've told my story several times. Stopped seven times in one year [by police]," said Scott, who is one of three black senators. "I was stopped this year, driving while black, when I got a warning ticket for failing to use my turn signal earlier in my lane change."
It is a "false binary choice" to suggest one either supports the law enforcement community or communities of color, Scott added.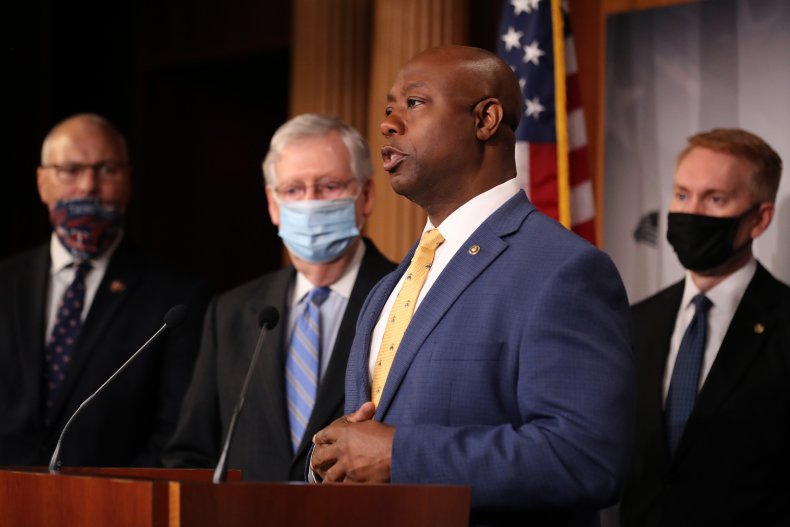 President Donald Trump also needs to sign off on whatever lands on his desk. He signed an executive order Tuesday that included modest reform policies, such as new training standards, restricting some chokeholds—unless the "officer's life is at risk"—encouraging departments to share misconduct information and directing the Justice Department to establish a database of some officer misbehavior.
Below is a brief breakdown of what Democrats and Republicans are proposing.
Democrats, led by Congressional Black Caucus
Bans chokeholds
Creates a national registry for police misconduct
Eliminates qualified immunity, a move that makes it easier for officers to be sued in civil court for excessive force or other alleged malpractice
Bans no-knock warrants for drug cases
Makes lynching a federal crime
Limits military-grade equipment sold to local departments by federal government
Requires body and dashboard cameras
Senate Republicans, led by Senator Tim Scott (R-S.C.)
Creates an incentive for police departments to ban chokeholds "except when deadly force is authorized" by withholding federal funds from agencies that do not implement such a policy
Requires localities to report and maintain police misconduct data or otherwise forgo federal funding
Does not change qualified immunity, a topic that has Republicans split
Does not ban no-knock warrants, but departments that receive certain federal funding must report such warrants to DOJ
Makes lynching a federal crime
Provides grants for body cameras