Twelve witnesses. Five days. Zero Republican defectors.
With the public phase of the House impeachment inquiry believed to be complete, Democrats are inching closer to impeaching President Donald Trump. But there remains to be any House Republican who has indicated they support the removal of the president—leaving GOP leadership worry-free.
Despite several current and former administration officials painting a damning portrait of a president who sought to pressure a foreign counterpart to engage in investigations abroad that would benefit him politically here at home, Republicans did not budge. Democrats have, as a result, appear to have failed to persuade their colleagues across the aisle.
In fact, the moderate GOP members whom Democrats pointed to as potential swing voters who could shift the impeachment tide within the Republican Party swung the opposite direction, backing their colleagues' opinion that the allegations that Trump engaged in bribery or abused his power lack evidence. And while his alleged wrongdoing may have very well been improper, they said, they've made clear their belief that Trump's actions do not deserve impeachment.
And behind closed doors, GOP leadership isn't showing any signs of distress over defectors when articles of impeachment presumably come up for a vote. When the topic was addressed during a minority whip meeting Friday, there was no concern expressed among top Republicans, according to a senior GOP aide who attended but who requested anonymity to discuss the private deliberations.
Republicans on the House Intelligence Committee, the panel that's spearheaded the inquiry and hosted the public hearings, are "representative of the conference—spans the spectrum," the aide said. As evidence, they pointed to Reps. Jim Jordan (R-OH) and Elise Stefanik (R-NY), the former a longtime Trump defender, and the latter, a lawmaker who rose to recent prominence for her defenses of the president, compared with Rep. Will Hurd (R-TX), a moderate whom Democrats had their eye on.
But, the aide pointed out, "there is no daylight between them."
Hurd made that evident at Thursday's impeachment hearing.
"An impeachable offense should be compelling, overwhelmingly clear and unambiguous, and it's not something to be rushed or taken lightly," Hurd said. "I've not heard evidence proving the president committed bribery or extortion."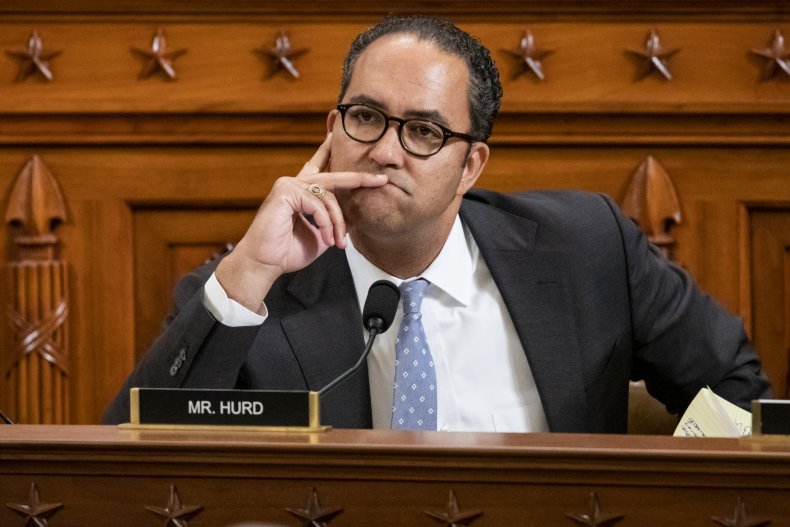 The outgoing lawmaker and only black Republican in the chamber had been a wild card on impeachment, given his more moderate views and past ridicule of Trump, in addition to his decision not to seek re-election. He characterized Trump's July 25 phone call with Ukrainian President Volodymyr Zelenskiy, in which the president pressured the foreign leader to probe the Bidens and a 2016 U.S. election conspiracy theory, as "inappropriate, misguided foreign policy." The allegations of withholding military aid and a White House meeting in exchange for investigations "undermined our national security" and America's relationship with Ukraine, he added.
In the end, Hurd was not swayed.
Another Republican, Mike Turner of Ohio, has described Trump's conversation with Zelenskiy as "alarming" and "not OK." Regularly steeped in foreign policy matters, Turner was one of 24 House Republicans who voted to impeach former President George W. Bush for misleading Congress on the Iraq War.
But his fierce defense of Trump from the dais during the impeachment hearings by way of questions and remarks made clear where he stands.
"You guys want to be the laughingstock of history to impeach a president of the United States because he didn't take a meeting?" Turner said Thursday. "Oh, please. Dear God. Please, undertake that."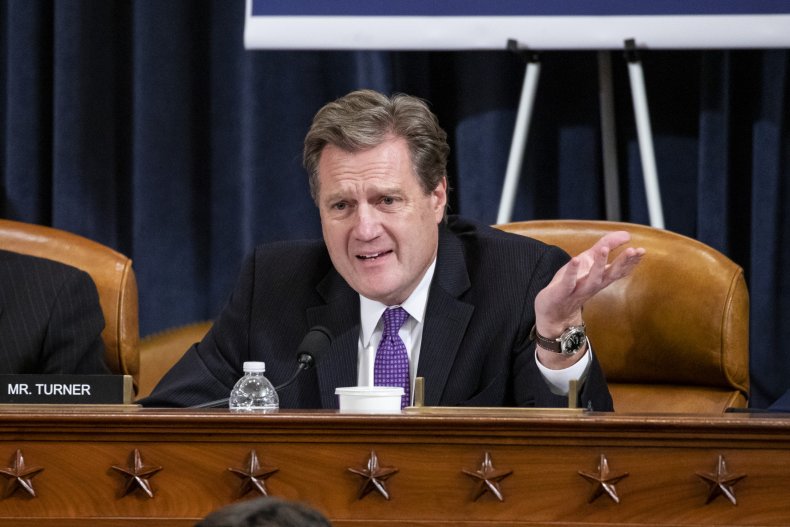 Turner was featured in a fundraising email pitch sent to supporters Friday by the National Republican Congressional Committee, in which the GOP campaign arm quoted the lawmaker calling the impeachment process "ridiculous."
Rep. Francis Rooney (R-FL), another retiring Republican who last month would not rule out impeachment, appeared to remain undecided on the matter, and the hyper-partisan nature of the impeachment hearings did not seem to nudge him in Democrats' direction.
"That's the saddest part of the whole deal, it's like Mars and Venus," he told the Associated Press Thursday. A spokesperson did not respond to Newsweek's request for comment.
House Speaker Nancy Pelosi's original hesitance to launching an impeachment inquiry stemmed from the lack of support among voters and Republicans. But that was months ago, and the Ukraine scandal has left the California Democrat with a message for her GOP counterparts.
"We said we want to see the facts and we want the American people to see the facts. Whatever decision is made—and it has not been made yet—whatever decision is made to go forward will be based on our honoring our oath of office, not on the resistance to the truth of the Republicans on the other side," Pelosi said at her weekly press conference on Thursday. "I think the sad tragedy of all of this is the behavior of the president and the defense of that behavior by the Republicans."
In the Senate, Republicans said that, despite their majority, they lack the votes to pass a measure to dismiss an impeachment trial, an acknowledgment that some GOP members need the process to fully play out before making a final determination of the president's fate.
But that's not to say Senate GOP leadership or the White House is concerned about the upper chamber acquitting Trump.
"Frankly, I want a trial," Trump said in a ranting, nearly hourlong phone interview on Fox & Friends Friday morning. "They should never, ever impeach...The hatred is incredible."