Democrats Introduce Resolution to Censure N.Y. Gov. Cuomo Over COVID Nursing Home Controversy
Members of the New York State Democratic Committee introduced a formal resolution to censure Governor Andrew Cuomo on Monday, as public controversy over his handling of COVID-19 in nursing homes continues to build.
Cuomo, a Democrat, is facing significant backlash from New York residents and lawmakers alike for his alleged mishandling of COVID-19 fatality data for long-term-care facility residents during the pandemic's first months.
Last year, Cuomo was initially criticized for his directive ordering nursing homes to admit COVID-19 patients. Then a report released by New York Attorney General Letitia James in January accused him of intentionally underrepresenting the number of deaths that subsequently occurred. Representatives from the Legislature have said that Cuomo withheld the data from them and responded with threats when some criticized him.
"The Cuomo administration repeatedly stymied and refused to comply with requests for information regarding COVID-19 in nursing homes from the New York State Senate and Assembly," reads Monday's censure resolution. It added that the governor "has personally and inappropriately threatened members of the legislature with retribution if they do not cease examining the nursing home tragedy and working towards accountability."
Monday's censure resolution comes as lawmakers seek to revoke expanded emergency powers given to Cuomo at the pandemic's onset, while federal prosecutors and personnel at the FBI pursue investigations into his actions. The resolution seeks additional action on Cuomo's part, with the authors calling on the governor to "cease his belligerent conduct, cooperate openly with all investigations, and make a full apology to the people of the State of New York."
Eleven members of the state committee—Virginia Ramos-Rios, Emilia Decaudin, Kristina Naplatarski, Julio Pena III, Jesse Pierce, Lauren Trapanatto, Amanda Farias, Sue Van Hook, Patrick Nelson, Deborah Lynch and Emily Adams—signed the document ahead of its submission Monday morning. Most reside in one of New York City's five boroughs. More than a dozen additional names were added to the resolution throughout the morning and afternoon, including other Democratic state committee members, county committee members and district leaders.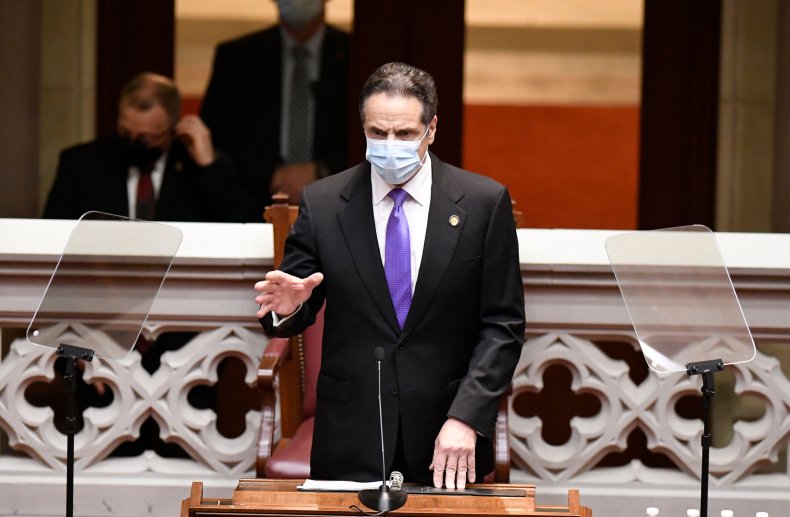 Patrick Nelson, a state committee member and former New York state Senate candidate, shared additional remarks about the push to censure Cuomo, and why he supports it, on Twitter.
"One of the core values of the Democratic Party is putting the wellbeing of our communities, state, and county ahead of partisanship," Nelson wrote. "It's time to act on that value."
Newsweek reached out to the New York State Democratic Party and Cuomo's office for comments but did not receive replies in time for publication.