Key Democrats Are Moving Closer to Impeachment Amid Trump Administration Stonewalling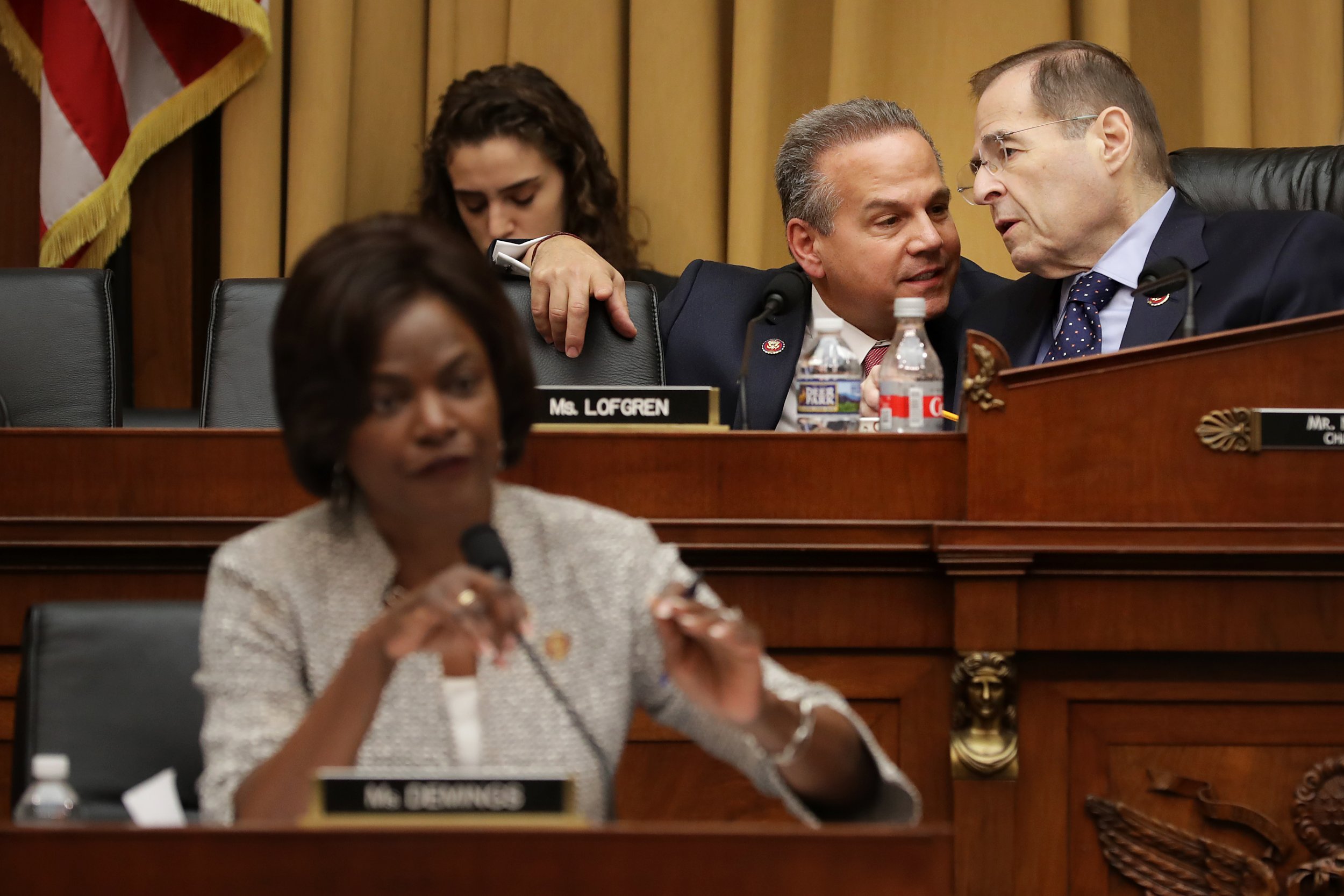 The White House didn't mince its words Wednesday in a letter to House Democrats: "Discontinue the inquiry" launched by Congress into President Donald Trump.
But the increased defiance by the president and his officials continued to push key Democrats closer to impeachment, with lawmakers telling Newsweek they may soon have no other remedy to obtain the information they've sought since launching countless congressional probes into the administration and Trump's finances that the White House has refused to comply with at nearly every turn.
"We hope that we're going to be successful in getting the materials we need to make informed judgments and to do our jobs in a responsible way," said Democratic Representative David Cicilline of Rhode Island, a House Judiciary Committee member. "But I think this sort of behavior definitely raises the specter of us being forced to proceed with an impeachment proceeding for the obstruction of Congress' investigative responsibilities."
The fiercest escalation in tensions over the past few weeks came from clashes between the White House and the House Judiciary Committee, the panel that voted last week to hold Attorney General William Barr in contempt of Congress for refusing to turn over the unredacted Mueller report and its underlying evidence.
Wednesday's 12-page letter from White House counsel Pat Cipollone blasting Democrats was in response to a sweeping probe launched in March by the committee's chairman, Democratic Representative Jerrold Nadler of New York, which requested documents and testimony from 81 government officials and business entities tied to the president. The White House attorney said the Democrats' probe lacks "legitimate legislative purpose" and accused them of attempting to "harass political opponents" and "pursue an unauthorized 'do-over'"—a clear directive for those who have been asked to hand over information to not comply.
Nadler responded by saying the administration was operating like a dictatorship, threatened to use inherent contempt to impose "very large" fines on any individuals held in contempt and vowed to issue subpoenas for the information and testimony that the White House refused to provide.
But the continued stonewalling left some Judiciary Committee members, who have the power to draft articles of impeachment, appearing to near their wit's end, saying that even if the president is laying an impeachment trap (or "goading" Democrats to initiate impeachment, as House Speaker Nancy Pelosi said) such a drastic measure may be inevitable.
"[An impeachment trap] should have absolutely zero to do with any decisions that we make," Democratic Representative Val Demings of Florida, a Judiciary Committee member, told Newsweek. "As I said a few weeks ago, I believe there's more than enough evidence to begin impeachment proceedings."
During a confidential phone call with House Democrats in the immediate aftermath of the Mueller report's release last month, which detailed numerous events where Trump tried to thwart the investigation and that Democrats said was evidence of obstruction of justice, Demings said her and other members were "struggling to justify why we aren't beginning impeachment proceedings." She reiterated to Newsweek her confidence in leadership, which has repeatedly—and successfully, for the most part—tamped down calls for impeachment, even as Nadler declared the country is in "a constitutional crisis." But if the president continues down a path that "goads" impeachment, Demings believed it should not deter Democrats from following him down it.
"If a bank robber looks across the street, sees law enforcement and says, 'Watch this, law enforcement,' and runs in the bank and robs it because they want to get arrested, we aren't going to say, 'He wants us to take him to jail, so let's don't,'" the former Florida police chief said. "We're going to do our responsibility."
Pelosi has said Trump is "not worth it," while other top Democrats advocate to stay the course with congressional investigations, subpoenas and lawsuits. However, the more the White House refuses to cooperate, the more that rank-and-file members itch for impeachment.
"The more that the president denies us the ordinary lawful demands for witnesses and documents, the more unified we are," Democratic Representative Jaime Raskin of Maryland, also a Judiciary Committee member, told reporters last week, labeling Trump as "the most impeachable president in the history of the United States."
As the congressional probes forge on, so, too, is the likelihood that Barr and others who are found to be in contempt will be forced to pay fines or face jail time. Nadler would not rule out the idea of having the Sergeant-at-Arms haul the nation's top law enforcement into the House jail—and neither did Cicilline.
"There are tons of people who are sitting in jail right now who willfully violated a subpoena and were taken into custody," the Rhode Island Democrat told Newsweek when prompted if he and his colleagues were truly considering jailing the attorney general. Barr reportedly joked with Pelosi earlier in the day while attending an event at the Capitol, asking her: "Did you bring your handcuffs?"
"This is a standard practice in the country that respects the rule of law," Cicilline continued. "I think we ought to make it clear that you need to comply with a subpoena. You can't simply ignore a subpoena issued by the Congress of the United States."