Here's How Democrats Plan to Turn the Mueller Report Into a 2020 Presidential Win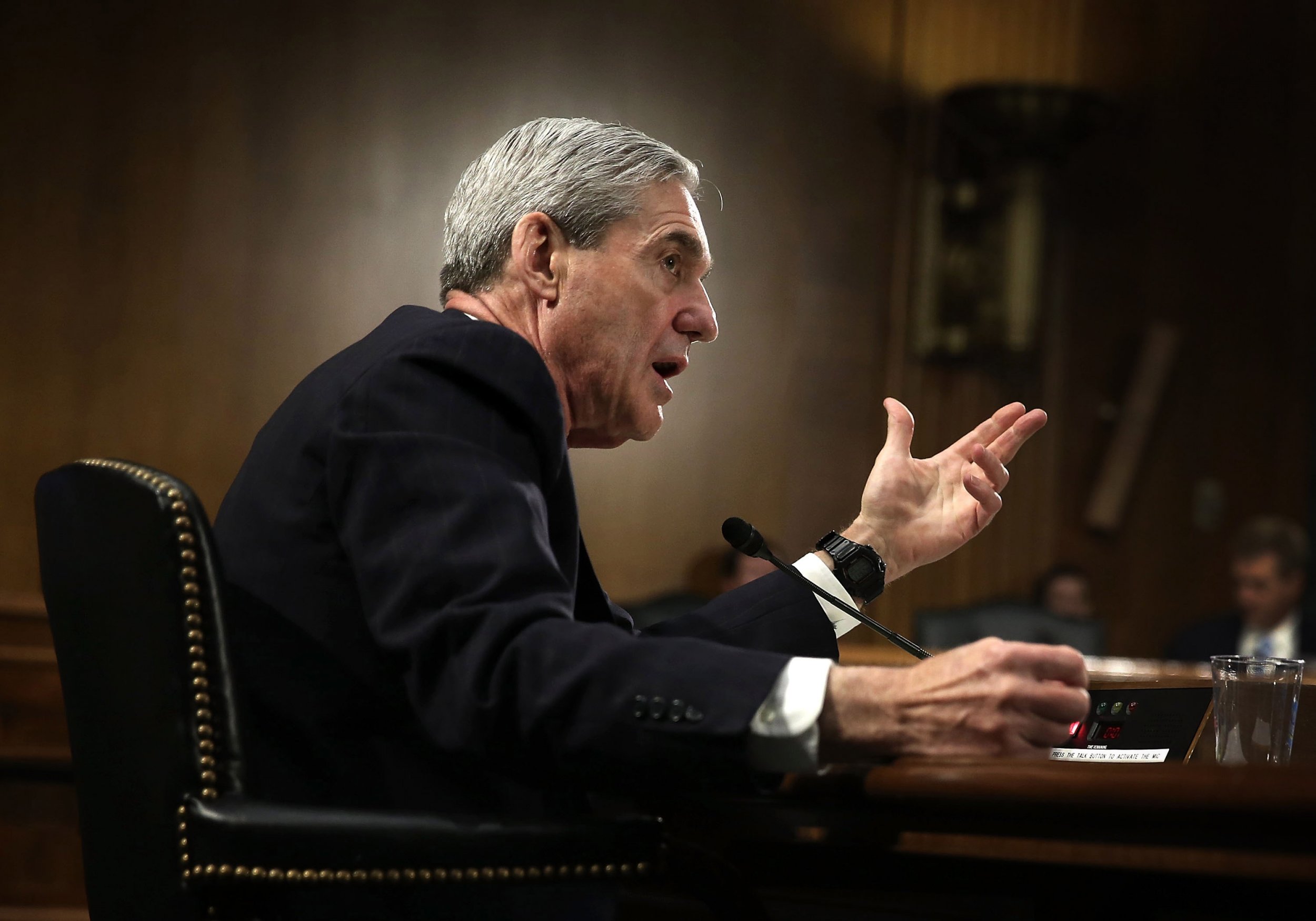 After a 22-month investigation, special counsel Robert Mueller's redacted report was made public Thursday, and both Democrats and Republicans are playing it as a win for their side. Republicans say it totally exonerates President Donald Trump, while Democrats say there is still much more investigating to be done.
Both parties are also looking for a way to parlay the 400-plus-page report into a winning strategy for 2020. So how will Democrats respond? So far, there are three possible routes they can take.
The first would be calling for Trump's impeachment. The second would be the impeachment or censure of Attorney General William Barr. And the third would be to hold a number of high-profile hearings so the investigation does not recede from the public's mind ahead of the presidential election.
Calls for Trump's impeachment have largely come from a growing faction of young House Democrats. On Thursday, Representative Alexandria Ocasio-Cortez of New York tweeted, "Many know I take no pleasure in discussions of impeachment. I didn't campaign on it, and rarely discuss it unprompted. We all prefer working on our priorities: pushing Medicare for All, tackling student loans, & a Green New Deal. But the report squarely puts this on our doorstep."
Representative Jamie Raskin of Maryland told the press that "a systematic effort to obstruct justice would clearly be an impeachable offense. The Republicans impeached Bill Clinton for obstructing justice over one lie."
House Judiciary Committee Chairman Jerrold Nadler also indicated that impeachment was an option, albeit a far-off one. "It's too early to talk about that," he told reporters Thursday. "That's one possibility. There are others."
Other Democrats, like House Majority Leader Steny Hoyer, have shied away from any impeachment talk. "Based on what we have seen to date, going forward on impeachment is not worthwhile at this point," he told CNN Thursday. "Very frankly, there is an election in 18 months, and the American people will make a judgment."
House Speaker Nancy Pelosi, for her part, is biding her time. The House Democratic Caucus, she said, would hold a conference on Monday, after its members have digested the full report, "to discuss this grave matter." But, she added, "Congress will not be silent."
Public disagreements over whether to impeach drive stories (like this one) about a divide in the Democratic Party. They also can provide Trump the ammunition for tweeting things like "They only want to impeach me because they know they can't win in 2020, too much success!"
But impeachment doesn't apply just to the president. There is talk of impeaching or censuring the attorney general.
"Russia attacked us. The Mueller Report details a multiplicity of contacts between Russia and Donald Trump's team and that Trump and his team "materially impaired" the investigation," tweeted Representative Eric Swalwell of California, a Democrat running for president. "Yet, OUR Attorney General acts as Trump's defense attorney. He can't represent both. Barr must resign."
Barr's press conference Thursday morning, prior to his release of the Mueller report, praised the president's intentions and blamed the media for some of his trouble.
"President Trump faced an unprecedented situation. As he entered into office and sought to perform his responsibilities as president, federal agents and prosecutors were scrutinizing his conduct before and after taking office and the conduct of some of his associates," Barr said.
He went on: "At the same time, there was relentless speculation in the news media about the president's personal culpability. Yet, as he said from the beginning, there was in fact no collusion. And as the special counsel's report acknowledges, there is substantial evidence to show that the president was frustrated and angered by a sincere belief that the investigation was undermining his presidency, propelled by his political opponents and fueled by illegal leaks."
Other Democrats, like Maxine Waters, chair of the House Financial Services Committee, said Barr has "proven himself to be a very capable liar and fraud." Representative Barbara Lee of California said that "Barr needs to resign," and Representative Jim McGovern of Massachusetts said that Barr had "outright lied" and was acting as "Donald Trump's personal attorney and partisan attack dog."
A third option, one Democrats are likely to take, is to prolong congressional hearings about the report for as long as they can.
Hearings could be drawn out well into 2020 in the lead-up to the election. There's already a pending subpoena for the full report. Next we'll hear from Barr, then possibly Mueller himself. Hearings involving Jared Kushner, Donald Trump Jr. and others mentioned in the report might follow, with each one reminding the public that Russia attempted to sway the 2016 election in the president's favor and that Trump may have tried to obstruct justice.
Either way, Democrats have some choices to make in what could be a defining, or at least game-changing, moment for their party. And Mueller, who laid out in his report the reasons Trump may have worked to obstruct justice, did not draw any conclusions about criminality, giving the Democrats plenty of leeway. One phrase, "While this report does not conclude that the president committed a crime, it also does not exonerate him," appears in the report three separate times.
Mueller said in his report that he did not want to make a "traditional prosecutorial judgment" about criminal allegations against a sitting president. Instead, he appeared to refer the matter to Congress.
His reasoning, he wrote, was that he agreed with the opinion of the Justice Department's Office of Legal Counsel, a legal adviser to the executive branch, that a sitting president cannot be indicted. If he had concluded that the president broke the law, he wrote, there would be no "speedy and public trial, with all the procedural protections that surround a criminal case."
If Trump were indicted, wrote Mueller, he wouldn't be afforded his day in court and would unlikely be able to clear his name.
But looking at the evidence at hand, Mueller did not feel comfortable fully exonerating the president either. In his writing, he suggested an alternative path: Congress.
"With respect to whether the President can be found to have obstructed justice by exercising his powers under Article II of the Constitution, we concluded that Congress has authority to prohibit a President's corrupt use of his authority in order to protect the integrity of the administration of justice," wrote Mueller in the section of his report titled "Constitutional Defenses."
"The conclusion that Congress may apply the obstruction laws to the President's corrupt exercise of the powers of office accords with our constitutional system of checks and balances and the principle that no person is above the law," he added.
Congress will soon hear from Barr, a Trump appointee who said it was within his authority to rule that the president was not guilty of obstructing justice. After that, Mueller has been invited to testify. And Nadler said Thursday that the Democratic-controlled House plans to continue the investigation.
Late Thursday afternoon, Nadler told CNN he believed the Mueller report "was written with the intent of providing Congress a road map." On Friday morning, he issued a subpoena for the full, unredacted version.