Democrats, Nervous About More Losses with Latinos, Start Outreach Early for Midterms Amid a Motivated GOP
Even after Joe Biden became the president-elect in November 2020, Democrats knew they had a serious problem.
While Donald Trump had been vanquished, Latino voters had embraced him in heavily Hispanic enclaves along the South Texas border and in formerly deep-blue Miami-Dade County in South Florida. In fact, a May 2021 report by the Democratic data firm Catalist found an eight-point swing nationally among Latinos toward Trump.
It was the driving force behind why, on November 19th — just two weeks after Biden's win and with the pivotal Georgia runoff election looming and control of the Senate hanging in the balance — the powerful and media-averse chief of staff of soon to be Senate Majority Leader Chuck Schumer convened a secret Zoom meeting of top Latino operatives from across the country.

Its purpose was to pinpoint what went wrong during the 2020 election and make sure it didn't happen again in 2022, according to multiple meeting attendees who spoke with Newsweek.
The previously unreported meeting with the chief of staff, Mike Lynch, included former Bernie Sanders senior advisor Chuck Rocha; Jose Parra, former senior advisor to the late Nevada Senator Harry Reid; Barack Obama's former Hispanic vote pollster Fernand Amandi; Alicia Sisneros, a Democratic Congressional Campaign Committee (DCCC) consultant who runs a direct mail and field strategy firm; James Aldrete, an Obama and Hillary Clinton campaign veteran specializing in Hispanic media strategy; Cristina Antelo, a lobbyist with close ties to Latino groups and Hispanic elected officials, and others.
At the meeting, Lynch said he had spent many cycles too focused on making sure the Democratic Senatorial Campaign Committee (DSCC) was recruiting the right candidates and not enough on how it was reaching out to voters, according to attendees.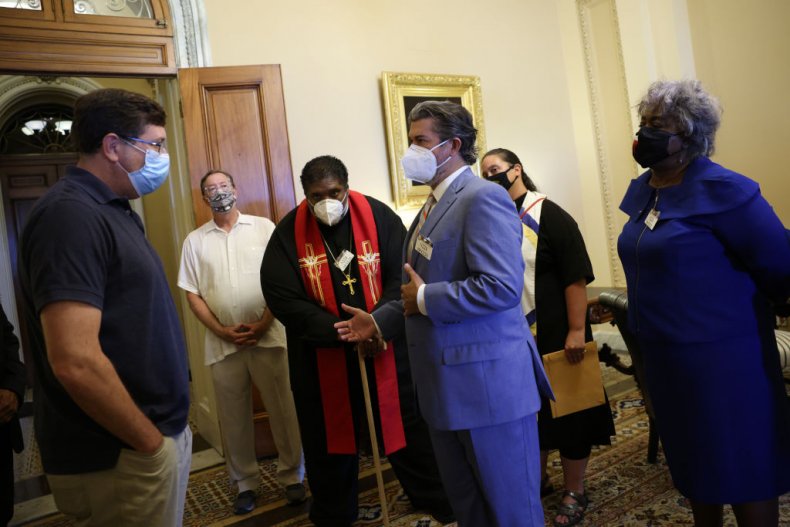 The idea that Latino voters could be further persuaded to support Republican candidates and policies was of particular concern to Democrats after the presidential election, as Biden faced multiple crises, held a razor-thin majority in Congress, and history showed the 2022 midterm cycle could lead to what GOP operatives are giddily teeing up as a possible red wave this November.
While the DSCC did not share details of the fall 2020 meeting with Newsweek, a DSCC aide indicated it was dedicating resources earlier than in previous campaign cycles and "enhancing our data and analytics programs to ensure Democrats are engaging with Latino voters early, more effectively, and in a culturally competent way."
Its "Defend The Majority Program," a $30-million dollar investment in nine Senate battlegrounds states to help build organizing infrastructure, includes four times the number of staffers than the National Republican Senatorial Committee (NRSC) on the ground focused on Latino organizing, the DSCC says.
In Arizona, efforts to build relationships with Latino voters have included an April roundtable with Latina small business owners, led by Arizona state senator Raquel Terán and longtime Arizona Democrat Mary Rose Wilcox, focused on highlighting Senator Mark Kelly's support for Latina-owned businesses. The committee is also coming with TV ads in support of both Kelly and Nevada Senator Catherine Cortez Masto, whose campaigns are already up with TV and radio ads.
To avoid a washout in November, however, Democrats must also defend difficult terrain in the House, where they hold only an eight-seat majority.
A former DCCC consultant told Newsweek they see 12 congressional districts that are pure toss-ups. While six of them are blue collar, exurban districts in what they call a Midwest "blue wall" of Illinois, Iowa and Michigan, the other six are seats where the Latino population has bloomed, creating a "brown wall" in districts such as Colorado's new 8th congressional district, the 15th district in Texas and New Mexico's 2nd district.
The DCCC told Newsweek it launched an initial seven-figure investment in organizing programs last spring that will focus particularly on building solid relationships with Latino communities.
It includes on-the-ground constituency organizing directors in areas such as the Rio Grande Valley, Miami-Dade, Las Vegas and the Central Valley, Staten Island and Allentown who have hosted more than 20 events with a focus on Spanish speakers. The committee also touted a $30-million "Building Our Base" project last fall, which includes a digital Spanish-language hub that offers events for people to join.
A high-priority events section within prominently displays events the DCCC wants to get more people involved with, such as Latino outreach phonebanking in Nevada for Representative Dina Titus, and virtual phonebanking with Representative Matt Cartwright in Pennsylvania.
The DCCC says the biggest takeaway from its research is that Latinos are "inundated" with misinformation and disinformation, which has been credited with helping Republicans in places like South Florida. It created Juntos Together, which includes messaging for digital platforms to combat disinformation.
But going beyond disinformation, Democrats acknowledge it's not enough to be on the "right side" of issues Hispanic voters care about — they also have to effectively communicate on issues such as universal pre-K and the child tax credit.
"They just don't hear from us has been part of the problem in the past," a DCCC aide told Newsweek. "The biggest thing is we really can't just count on the Latino vote, we have to court it, that's how we're approaching it."
The challenge is engaging a community that has felt it is not being heard, the aide said, and working to establish that trust again.
Some groups like Latino Victory Fund are always working to elect Latino Democrats, to the tune of more than $10 million for the 2022 midterms.
"Latino Victory's commitment to electing more progressive Latinos up and down the ballot remains our priority and guiding principle," Nathalie Rayes, president and CEO of Latino Victory Fund, told Newsweek. "This includes protecting seats in the House and Senate and engaging Latino voters who are key for Democratic victories across the country."
But a persistent struggle within the Democratic Party is how much Hispanic investment is a priority up and down the party and Latino Democrats key in on certain factors such as diversity of consultants and Spanish-language spending to ascertain if it is. The DSCC, for example, hired Rocha for the 2022 cycle but others at the meeting felt the outreach ended there.
"The meeting was a very good start, but as far as I'm concerned, there was no follow-up to that," one meeting attendee said, a sentiment echoed by two others who spoke with Newsweek.
"The smart thing to do would have been to form a council to continue getting feedback and intel from the ground," another attendee said, "but the outreach ended there."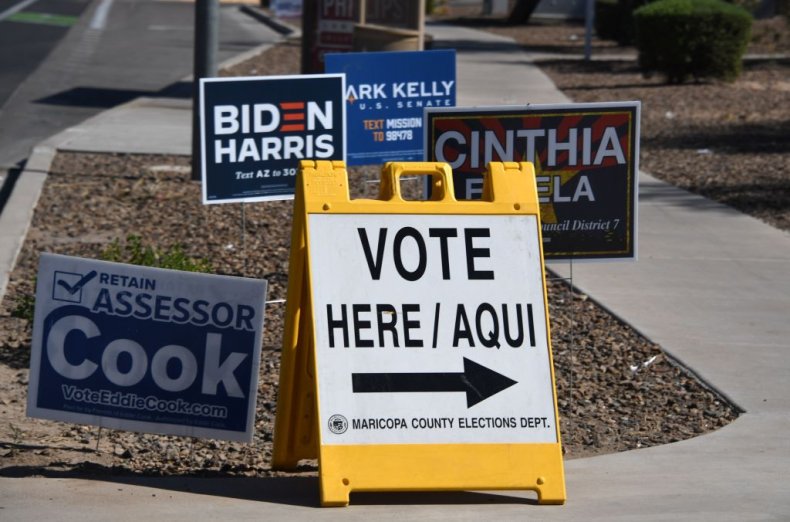 The House Majority PAC has also been slammed by the Congressional Hispanic Caucus' political arm known as BOLD PAC after it announced plans to spend more than $101 million on TV and digital ads before November with only $1.3 million, about 1%, spent on Spanish-language ads, Politico reported.
Kristian Ramos, a Democratic consultant and expert on messaging to Latino voters, called it "malpractice" that Democrats don't hit Republicans more in Spanish.
"The whole reason we have the socialism/communism meme for Democrats is the GOP talked about this for three years nonstop and yet we don't say anything bad about Republicans now, it's baffling to me," he said.
When it comes to Republicans, they may not lead with Latino voters nationally, but they don't need to.
The goal from Republican candidates and parties has long been to shave Latino support away from Democrats, which puts them in a great position to win races. But there is also no mistaking rising confidence within The Republican Party in speaking to Hispanic voters — and it has no qualms about hitting Democratic leadership and policies to do so.
The National Republican Senatorial Committee in April launched "Operación ¡Vamos!," a seven-figure investment in target states, a coordinated effort with the Republican National Committee and nine state parties to share the GOP's agenda and messaging with Latino communities.

The RNC itself is going all-in on community centers, with a multimillion-dollar investment in growing organizing efforts in Hispanic communities in key states, it told Newsweek.

The RNC has opened centers in cities such as Laredo, McAllen, and San Antonio in Texas; Milwaukee in Wisconsin; Doral in Florida; Las Vegas, Nevada, and Allentown, Pennsylvania. The community centers feature a dedicated staffer hired from within the community to build relationships, recruit and train volunteers, and conduct voter registration.
The community centers, which have featured a Thanksgiving potluck in McAllen, A Save the Children carnival and toy drive in Laredo, and a cryptocurrency workshop and ugly sweater Christmas party with Folklorico dancing in San Antonio, are an opportunity for the RNC to bring its message to diverse communities.
"We're opening them earlier than ever," Danielle Alvarez, the RNC's communications director, told Newsweek. "You have to be there for the long term and you have to fight everywhere."
The party points to post-2020 gains such as Cuban-American Jason Miyares becoming Virginia's first Latino attorney general and Texas Republican John Lujan flipping House District 118, a district Biden won by 14 points that is 73% Hispanic. In March, Lujan headlined the community center grand opening in San Antonio.
The NRCC is hoping to keep Republican wins coming with 101 Hispanic candidates filed to run as Republicans for the House of Representatives, the most it has ever fielded, it told Newsweek.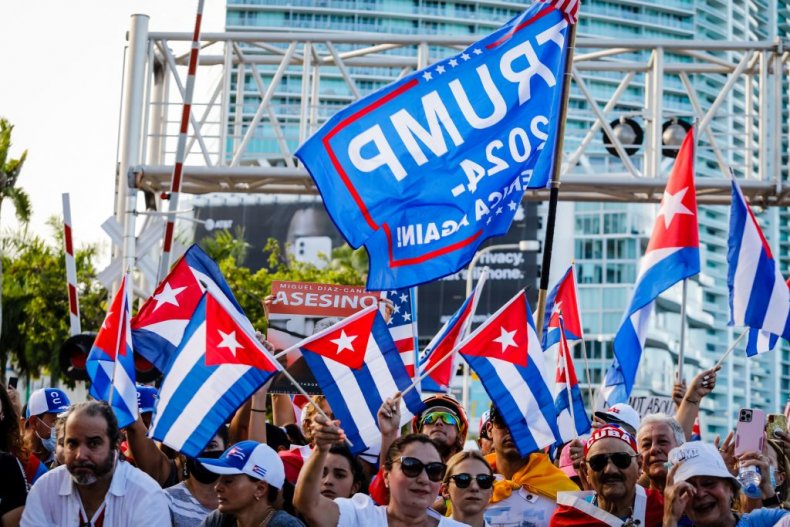 As with any issue, the parties snipe at each other on Latino engagement, too.
Democrats say Republicans lean on their ballyhooed community centers, just rebranded political offices, because that's all they have, while Alvarez said Democrats are focused on "shiny objects" such as Pandora digital radio ads and serving ads to the Hispanic community every 30 minutes.
The RNC way of community engagement is better, she said, pointing to a mix of public and Republican polls that have shown varying levels of Democrats losing Hispanic support to make her point.
When it comes to issues, Republicans are leaning on inflation and education to grab the ear, and eventually, the support of Latinos. A February NRCC poll of 1,000 Latinos found that "Hispanic voters in battleground districts are extremely concerned about inflation and parental involvement in education."
A veteran Latino Democrat who spent decades with the Democratic Party warned that heightened concern about inflation among Hispanics is real.
"If you look at the ads the NRSC is running, they're on inflation," the source said. "They could be hitting us on 'pick the social issue' but they're hitting us on inflation because it's what's hurting Latinos the most."
The LIBRE Initiative, a grassroots conservative organization started by the Republican megadonor Koch brothers, has been doing the kind of work for years that Republicans are doing more effectively now.
It, too, is looking to hammer Democrats on the effects inflation is having at the pump and the grocery store, launching a nearly half a million dollar campaign in five states called "Soluciónes con LIBRE: The True Cost of Washington Spending."
The campaign, which will touch down in swing states such as Nevada and North Carolina with high-profile races, will focus on identifying the "bad policies" that got us here, LIBRE told Newsweek.
Daniel Garza, executive director of the LIBRE Initiative, said he sees Republicans doing what his group was doing a decade ago with very little support from the broader party.
He said he has always believed effective outreach includes three things: connecting and cutting through the noise, be it with ads or showing up in person; making your case, which he said now includes "pushback against wokeism" and reigning in government, and lastly and perhaps most importantly, actually staying in the community for the long haul.
"We're starting to see a shift," Garza said.
Where the GOP was once "defenseless" to drive against the Democratic narrative, now it's taking the offensive and driving the conversation, he said.
"They're selling the merits of their policy and taking it to the Democrats," he added. "they're throwing blows and Democrats are on their heels."
Democrats who spoke with Newsweek do expect some level of bounce back with Latino voters, in part because the dampening effect of the COVID-19 pandemic on organizing, door-knocking, and get-out-the-vote efforts will not be as prevalent as it was in the heat of the 2020 election.
Democrats often privately grumble that while they followed the science, wearing masks and halting door-knocking in many areas, Republicans gleefully showed up at doors without masks. That organizing imbalance will not be replicated in 2022, they say, pointing to the success of the Georgia runoff programs Democrats ran with more in-person contact after the presidential election.
Sisneros, who attended the DSCC meeting in November 2020 and is now a DCCC consultant, said she was slated to do a voter registration program in Texas in March 2020 "when the world stopped." Now she is working on a similar program — though she declined to identify the state she's working in, citing the competitive advantages that can be gleaned from doing so.
Priorities USA, the dominant Democratic super PAC in recent election cycles, told Newsweek it is especially focused on understanding what digital targeting works to reach Latino voters based on what each subgroup needs to hear because "through the years the Democratic infrastructure has spent a disproportionate amount of time understanding different white subgroups and we should be doing the same for voters of color."
The group, which says it focuses on Black and Latino outreach year round, has previously done a Latino-aimed project with Voto Latino and a Black-focused project with Color of Change. It expects to do similar programs again to "check in" with those constituencies the way most groups do with white voters.
"Like most voters, Latinos have tuned out of the political process after the devastation of the pandemic and the Trump years, so we know that we not only have to remind them of the progress that's been made but understand that the conversations that they're having with us are much different than what we hear in the media," Aneesa McMillan, the deputy executive director of Priorities USA, told Newsweek. "Latino voters and voters of color in general want to know how the Biden agenda is working for them and it's up to us to remind them."
Still, one of attendees from the DSCC meeting back in November 2020 said they've heard similar grand plans from Democrats during past cycles, which eventually ended up hollow, leading to the precarious position the party found itself in after the 2020 election.
"They say they're going to do all these things, hire all these people, candidates are up early with reserved TV time, it's like chapter and verse now," the source said. "Like a telenovela, I've seen this storyline before, but with different characters."