Ossoff's Georgia Special Election Loss to GOP's Handel Exposes Deep Fissures in the Democratic Party in the Trump Era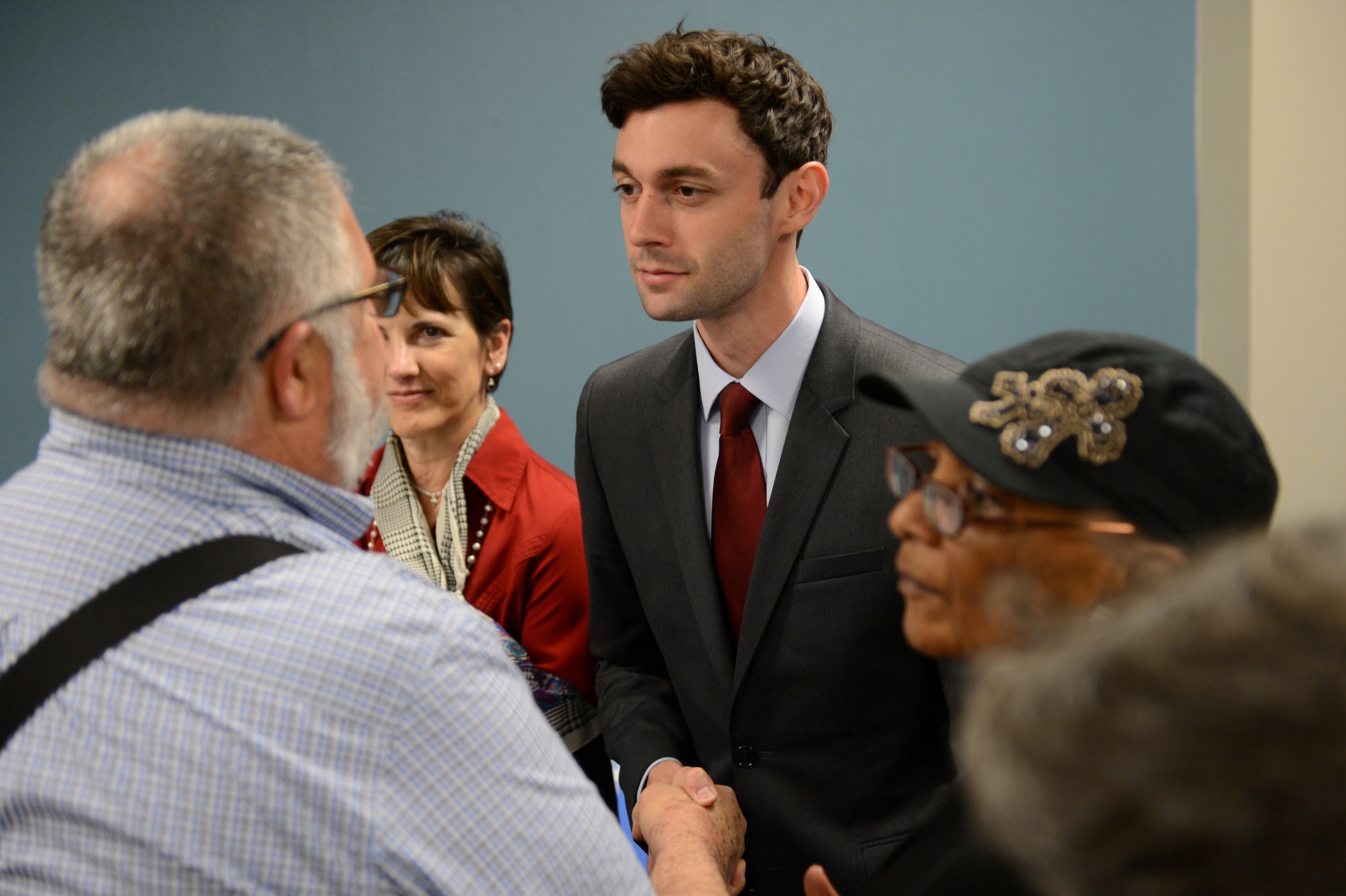 Democrats continued their special election losing streak on Tuesday as one of the party's bright hopes, Jon Ossoff, lost his bid for a suburban Atlanta Congressional seat long held by Republicans—a painful defeat that highlights deep fissures in the party.
Democrats have lost every special Congressional election since President Donald Trump took office. In addition to the Georgia race, the party failed to pick up seats vacated by Republican House members who joined the Trump cabinet in Kansas, Montana and South Carolina, although they ran far ahead of their usual numbers.
The seat in Georgia was a tantalizing one for Democrats. Hillary Clinton only lost the district by 1 percent in the 2016 presidential race, and when Trump tapped Representative Tom Price to be his Health and Human Services Secretary, Democrats hoped they could win this seat for the first time since the 1970s.
In Ossoff, Democrats had an attractive 30-year-old political newcomer who quickly garnered national attention. The two parties dumped over $50 million in the race, making it the most expensive House contest in the nation's history.
But Ossoff's centrism alienated some progressives. Vermont Senator Bernie Sanders eventually endorsed him, but only after publicly questioning whether he was a true progressive. And some on the left never cottoned to a Democrat who stressed his fiscal conservatism. In the end, Ossoff lost the seat by six points, more than the margin in Tuesday's congressional race in South Carolina to replace Mick Mulvaney, now Trump's budget director. (Archie Parnell, a little known tax expert was defeated by GOP veteran Ralph Norman).
Sanders allies may argue that a more progressive candidate might have won in Georgia. The Vermont Senator recently pointed to the strong performance by the British Labour Party in the U.K. elections as proof that left-leaning politicians can win. But Sanders endorsed candidates have also lost in recent months. He backed a candidate for mayor of Omaha, Nebraska, Heath Mello, who went on to lose to a Republican. The Sanders-supported candidate for chair of the Democratic National Committee, Keith Ellison, also lost as did his pick to be the Democratic nominee for governor of Virginia, Tom Perriello.
The basic schism in the party—should it be more progressive—is now even more apparent now that Democrats have failed to pick up Price's seat in Georgia.
Anna Galland, Executive Director of MoveOn.org, the progressive group said in a statement: "In the closing weeks of the race, Ossoff and the DCCC [Democratic Congressional Campaign Committee] missed an opportunity to make Republicans' attack on health care the key issue, and instead attempted to portray Ossoff as a centrist, focusing on cutting spending and coming out opposition to Medicare for All. This approach did not prove a recipe for electoral success. Democrats will not win back power merely by serving as an alternative to Trump and Republicans."
Going into 2018, there are a lot more vulnerable seats, more than enough to make up for the 23 the Dems need to take back the chamber. But for now, Republicans in Congress are increasingly confident they can survive—and maybe even thrive—in the Trump era.