Democrats Push Ahead of Republican Incumbents in Key Senate Races, Polls Show
A new poll published Wednesday showed the Democratic candidates in three competitive Senate races had each gained an edge over their Republican competitors.
The Change Research/CNBC poll said President Donald Trump's handling of the coronavirus pandemic was having a strong impact on voter opinion—especially in swing states like Arizona, Michigan and North Carolina.
"Approval of Trump's COVID response has never been lower in the battleground [states] and nationally," the poll said. More than half of the voters polled thought the president was making decisions that contributed to the surge in new virus cases reported by several states in recent weeks, the pollsters said.
"The weak response of Trump and Republicans to COVID-19 is tarnishing the GOP brand and is making things difficult for their chances of holding to the U.S. Senate," the poll concluded.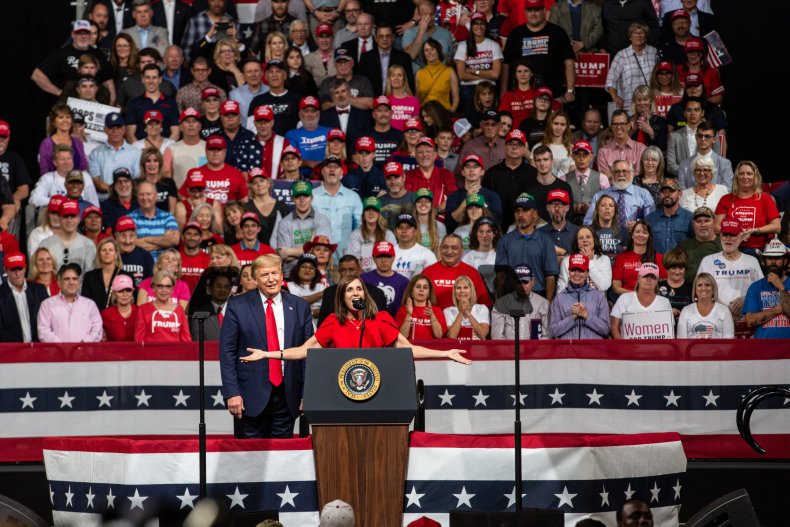 Of the three Senate races mentioned in the poll, only one of the Democratic contenders is an incumbent. In Michigan, where an April poll found a majority of residents supported Democratic Governor Gretchen Whitmer's strict lockdown measures, protesters repeatedly drew national attention to Whitmer's response to the pandemic. Incumbent Gary Peters, who was elected in 2014 to represent Michigan in the Senate, now leads his Republican competitor, John James, by 7 points with 49 percent of voter support, the poll said.
Both of the Republican incumbents are facing even stronger opposition from their Democratic challengers, the poll found. In Arizona, where the rising number of new virus cases led Republican Governor Doug Ducey to reintroduce some lockdown measures earlier this week, Senator Martha McSally was found to be trailing Democrat Mark Kelly by 9 points.
In North Carolina, Democratic challenger Cal Cunningham led by even more points, with 51 percent of voters saying they supported him, compared with the 41 percent who said they supported Senator Thom Tillis.
Newsweek reached out to the James, McSally and Tillis campaigns for comment but did not hear back before publication.
According to Change Research, 3,739 likely voters participated in the poll, which was conducted between June 26 and 28 and has a margin of error between 1.6 and 2.4 percent. The survey was one of many that Change Research has conducted this year to monitor voter opinion leading into the 2020 election. The bulk of pollsters' focus has been on the presidential election, in which pollsters said former Vice President Joe Biden led Trump by 8 points in late June, with 49 percent of voter support. Biden was also ahead in six key battleground states, the researchers said.
With the pandemic still serving as a point of concern among likely voters, the poll said its impact on politicians' support was significant.
"Across the country and the competitive battleground states, concerns about COVID-19 are up and assessments of our progress against this pandemic are negative once again," pollsters said.