Democrats are pushing back on Republican efforts to blame Russia's invasion of Ukraine on President Joe Biden.
Republicans have largely backed former President Donald Trump's assertion that Russian President Vladimir Putin's decision to launch a full-scale invasion of Ukraine last week would have "never" happened if he were still in office. On Tuesday, Representative Jim McGovern (D-Mass.) blasted Minority Leader Kevin McCarthy (R-Calif.) over pinning blame for the invasion on Biden's policies during a House hearing on a bill to expand health care benefits for veterans.
"I'm not going to be lectured by someone who takes their marching orders from Donald Trump, who said that Putin's invasion of Ukraine was a 'genius' and 'savvy' move," McGovern said. "I wish the gentleman would have condemned that.... Listening to that speech, you would think that Joe Biden invaded Ukraine. I mean, he spent all this time criticizing Joe Biden, John Kerry and everybody else but hardly criticized Vladimir Putin."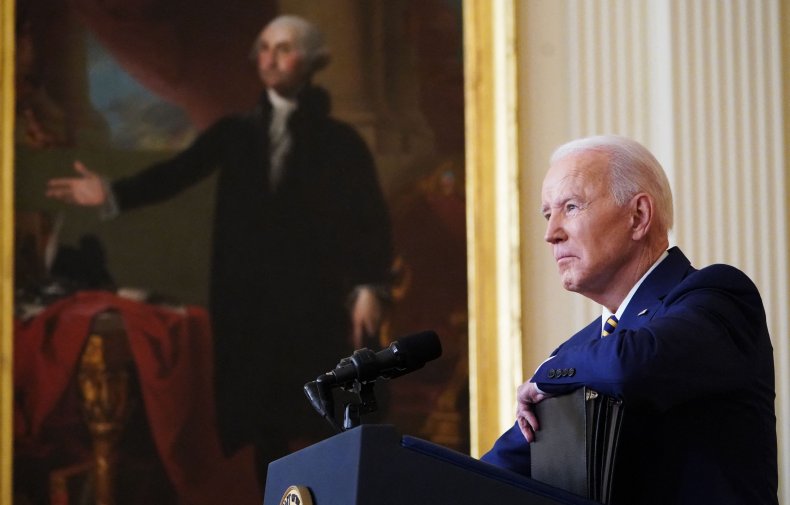 "I think it would be helpful to this country and a signal to the world if the gentleman who just spoke would reprimand members of his own party who cozy up to white nationalists and go to pro-Putin rallies," continued McGovern. "The bottom line is the people of Ukraine are being invaded by a brutal dictator, Vladimir Putin."
Newsweek reached out to McCarthy's office for comment.
McCarthy maintained from the House floor on Tuesday that Biden's energy policies helped to fund the Russian invasion. He also said that he was glad Ukrainian President Volodymyr Zelensky "didn't take President Biden's advice and leave the country, because we'd be talking today about a collapse."
McCarthy's drawing of a connection between Biden's energy policy and the invasion echoed a statement released by Trump one day earlier in which the former president argued that "the world would have had no problems whatsoever" if his "energy policy had remained in place."
Republicans have also blamed Biden's foreign policy and his administration's supposed overall "weakness" for the invasion. Senator Ron Johnson (R-Wis.) said that Putin would not have "moved on Ukraine were it not for the weakness displayed—certainly by the Biden administration, but by the West in general" during a Fox News appearance.
Meanwhile, Democrats were focused on blaming Putin only while working to praise Biden just before he was set to deliver his first State of the Union address on Tuesday.
"President Biden has done a remarkable job of working with our allies," Representative Cheri Bustos (D-Ill.) told NewsNation. "This is the most unified approach to sanctions – the toughest sanctions that we have ever done as a world."
Representative Tom Malinowski (D-N.J.) suggested that Republicans were focused on drawing connections between energy policy and the Ukraine conflict as part of a partisan attempt to harm Biden by blaming him for an engineered increase to already high gas prices.
"Responsible members of Congress are trying to maintain bipartisan consensus on Ukraine," Malinowski tweeted on Tuesday. "But those who seek partisan advantage have a clear game plan right now: Tell Biden to stop Russian oil exports, while preparing to blame Biden for the inevitable rise in gas prices."
A few days earlier, Eric Garcia, a Democratic candidate for Congress in California, suggested that Republicans may have wanted Ukrainians to be "massacred" to blame Biden and help them win the midterm elections.
"The gop are trying to blame President Biden for a dictator invading another country," Garcia tweeted. "In their twisted logic they were probably hoping that the people of Ukraine were massacred. The gop would blame that on Biden to try and win the midterms. They didn't count on Ukraine's strength."