Democrats Push Bill to Allow U.S. Aid to Fund Abortions Around the World
The Supreme Court's historic decision to overturn Roe v. Wade was quickly felt around the country as states quickly moved to enact abortion bans.
But abortion rights advocates fear not enough attention is being given to how the impact of the decision will ripple around the world.
The landmark 1973 decision in Roe, which legalized abortion nationwide, has long been used as a basis to strengthen protections for abortion in other countries.
Advocates fear much of that progress could be undone, and that Roe's demise will lead to an erosion of abortion rights around the world.
To expand access to abortion globally, Democrats introduced a bill—the Abortion is Health Care Everywhere Act—in the Senate on Wednesday that seeks to repeal the Helms Amendment.
Enacted in 1973, the Helms Amendment prohibits U.S. foreign aid from being used for abortion "as a method of family planning." In practice, it has banned all U.S. foreign assistance funds from being used for any abortion care.
"We know that many countries have used Roe to support liberalizing their abortion laws and now face challenges," Senator Tina Smith, one of the bill's co-leads, told Newsweek.
"That's why it's critical for the United States to help protect and expand access to reproductive health care."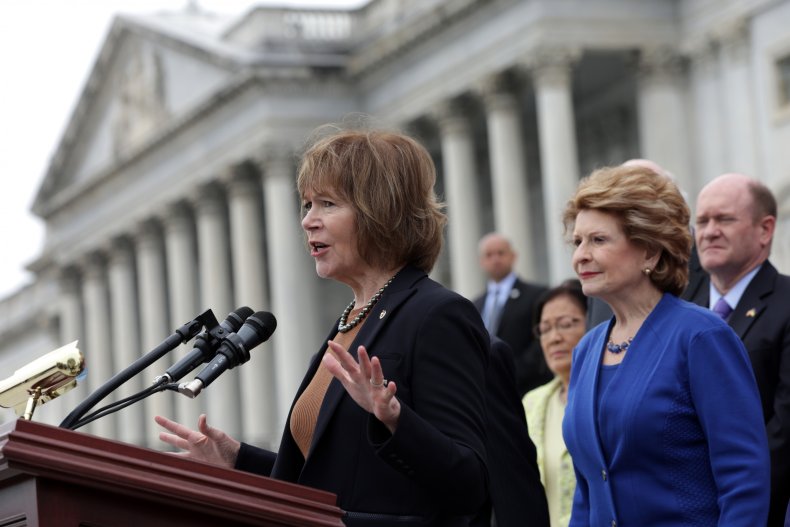 "We know that in the wake of Dobbs v. Jackson Women's Health, Americans will be denied access to essential health care services across the United States; however, the repercussions also go beyond our borders... We must take immediate action to mitigate the global impact of this decision," Senator Cory Booker, another co-sponsor of the bill, said.
The Helms Amendment must be repealed to "ensure that U.S. foreign assistance can be used for safe abortion services overseas," he said.
The fall of Roe is already "exacerbating the chill around abortion" that exists because of policies like the Helms Amendment, Bethany Van Kampen Saravia, a senior legal and policy adviser at Ipas, told Newsweek.
The Mexico City Policy—also known as the global gag rule—later added "insult to injury," she said, and requires foreign NGOs to not perform, or provide information about, abortions with any funds as a condition of receiving U.S. funding. That policy has been reinstated by Republican presidents and rescinded by Democrats, but advocates say it just creates confusion and fear when it comes to abortion care.
"Governments who were maybe dependent on U.S. government funding for a large part of their national budget, they became less friendly towards sexual reproductive health and rights" because of U.S. policies, said Sarah Shaw, head of advocacy at MSI Reproductive Choices.
"We found other NGOs were less willing to partner with us in other spaces, because maybe they took U.S. aid funds, and they didn't want to put their own funding at risk," she told Newsweek.
The fall of Roe will worsen that effect, while simultaneously emboldening anti-abortion movements abroad, Van Kampen Saravia said. "If things were bad under Roe, how could it possibly not be worse after Roe is overturned?" she said.
"The U.S. is the largest multilateral donor of family planning and reproductive health dollars. These policies that basically single out abortion cause such fear, such confusion, such avoidance that what we hear from our country directors working throughout the world, working in 18 countries, is that there is a firm belief that the U.S. government does not support abortion at all through U.S. foreign assistance."
That is because the Helms Amendment has been incorrectly implemented as a total ban on U.S. aid being used for abortion care, she said.
The language of the law that focuses on abortion "as a method of family planning" makes it clear that exceptions for cases of rape, incest and life endangerment are allowed—but it has never been implemented.
"Theoretically, if someone in the [Democratic Republic of Congo] goes to a clinic that receives U.S. foreign assistance seeking abortion care, because they are a survivor of rape, theoretically under the law, they should be able to have that abortion," Van Kampen Saravia said.
Even without Congress, the Biden administration has the power to expand abortion access by ensuring the Helms Amendment is correctly implemented, she said.
Van Kampen Saravia urged the administration to issue clear guidance to the U.S. Agency for International Development (USAID) that can be passed along to organizations so abortions can be performed safely in countries where it is permissible under the law.
U.S. policies are undermining the efforts of countries like the [Democratic Republic of Congo] to address high rates of maternal mortality due to unsafe abortion, she said. "Why are we allowing people to be denied services that they're legally entitled to?"
About 45 percent of abortions in the world are unsafe, according to the UN. They occur overwhelmingly in developing regions where many countries highly restrict abortion.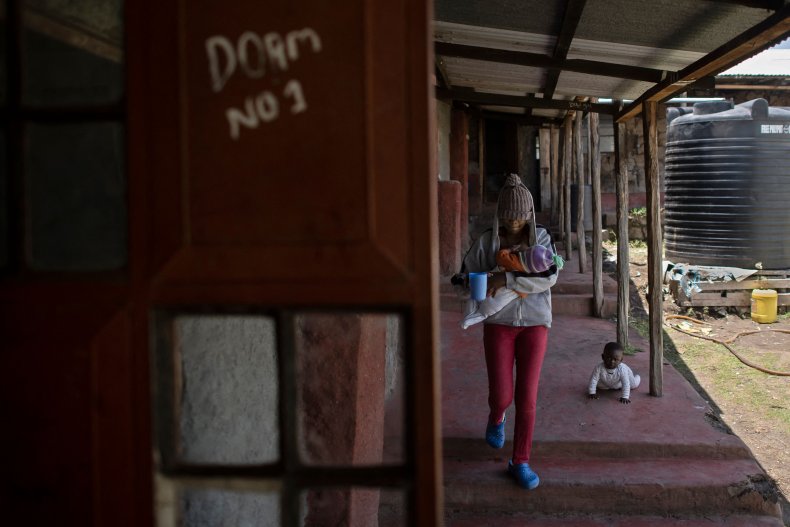 According to the World Health Organization, around 47,000 women die from unsafe abortions each year, accounting for almost 13 percent of maternal deaths worldwide.
But it's a preventable cause of maternal death, said Natasha Simone Alexenko, U.S. program advisor at VOICE, an organization dedicated to eradicating gender-based violence.
She shared fears of an uptick of unsafe abortions due to the fall of Roe. "I worry [about] progress stalling and progress being reversed," she told Newsweek.
Alexenko also pointed to the ongoing war in Ukraine. "We know that rape is used as a weapon in war," she said, noting that many Ukrainian women are fleeing to neighboring Poland, where abortion is effectively outlawed.
The Biden administration must act now to address the urgency of the situation, said Van Kampen Saravia.
"We don't need to wait until we've solved this problem here in the U.S. before we even approach how we try to make it better globally," she said. "I want to see something from them on this now."
A White House official told Newsweek: "Since it was enacted in 1973, the United States government has complied with the Helms Amendment. We're looking at every available option to ensure that women have access to reproductive health care both at home and abroad."
Update 7/28/22, 8:55 a.m. ET: This article has been updated to add a comment from a White House official.