Democrats Put Pressure on GOP Leaders as Trump Pushes for $2,000 Checks, Threatens Stimulus
President Donald Trump's last-minute threat to tank a newly passed coronavirus relief measure has put Republican leaders on Capitol Hill in a tough spot, one that Democrats are trying to capitalize on.
In a video posted to Twitter Tuesday evening, the outgoing commander-in-chief called on Congress to more than triple the amount of the $600 direct payments included in a $900 billion stimulus passed Monday to $2,000—checks that were pared back by Trump's own negotiators and congressional Republicans.
The eleventh-hour demand has put Republicans like Senate Majority Leader Mitch McConnell (R-Ky.) and House Minority Leader Kevin McCarthy (R-Calif.) in an awkward position. Do they call Trump's bluff and hope he won't veto the legislation, which includes crucial funding to keep the government open? Or do they work with Democrats, who have already mounted a public pressure campaign, to approve $2,000 checks?
Democratic leaders are more than happy to dole out the hefty payments, a measure they pushed for throughout the past eight months of talks. But with Congress out of town until the new year, Democrats would need an agreement from McConnell and McCarthy in both chambers in order to pass $2,000 checks via unanimous consent (UC) on Thursday during pro forma sessions, brief meetings where no business is typically conducted.
House Democrats will attempt to "take up another direct payment bill" during Thursday's pro forma, according to House Majority Leader Steny Hoyer (D-Md.). However, House Republicans will object, a source familiar with the matter told Newsweek Wednesday night.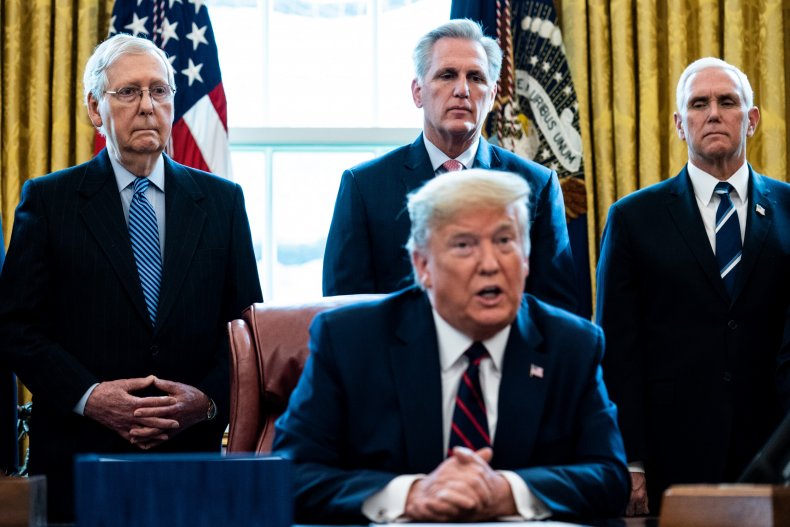 Even if Republicans would agree, it would only take a single GOP member in either chamber to then block a UC for higher checks.
"If the President truly wants to join us in $2,000 payments, he should call upon Leader McCarthy to agree to our Unanimous Consent request," House Speaker Nancy Pelosi wrote in a letter to Democrats on Wednesday.
"In the bipartisan negotiations," the California Democrat continued, "[Senate Minority Leader Chuck Schumer] and I repeatedly asked Republicans what would be the highest number the President would accept for direct payments, and they responded with Sphinx-like silence. In the negotiations, they would never go above $600 and in some cases, proposed $500."
Neither McConnell's nor McCarthy's offices respond to Newsweek's request for comment. Neither member has made public remarks since Trump threw his wrench into the mix Tuesday night.
"I am asking Congress to amend this bill and increase the ridiculously low $600 to $2,000, or $4,000 for a couple," Trump stated in his video statement.
The president added yet another caveat that further complicates the process and casts more doubt whether he'll sign the legislation into law. He demanded that Congress also strip foreign aid from the annual budget, which was passed with the stimulus in a broad package. The request was despite the foreign funding matching exactly what Trump asked of Congress in his own budget proposal. In some cases, the money for foreign countries was even less than what the president requested.
"I am also asking Congress to immediately get rid of the wasteful and unnecessary items from this legislation, and to send me a suitable bill, or else the next administration will have to deliver a COVID relief package," Trump said. "And maybe that administration will be me, and we will get it done."
To strip the hundreds of millions of dollars in foreign aid, money of which is typically included in the annual budget, would almost certainly require Congress to reconvene intense negotiations.
McCarthy advised colleagues Wednesday night that House Republicans will offer a UC request to alter the foreign aid portion of the budget so that Congress "can fully address the concerns at hand."
"It will be up to Speaker Pelosi," McCarthy wrote in a letter, "to decide if she wants to act on behalf of the American people."
Additionally, the government is only funded through Monday. That means Trump will either need to sign the stimulus-budget package—which overwhelmingly passed both chambers with a veto-proof majority—or risk shutting down the government and preventing relief from reaching millions of Americans who are set to run out of jobless benefits and eviction protections in the coming days.
It is anyone's best guess how the saga will end.
"The entire country knows that it is urgent for the President to sign this bill, both to provide the coronavirus relief and to keep government open," Pelosi wrote in her letter. "Let us pray!"
This story was updated Wednesday night to include additional developments.