As Democrats Rush to Fill Breyer's Seat, Susan Collins Says Not So Fast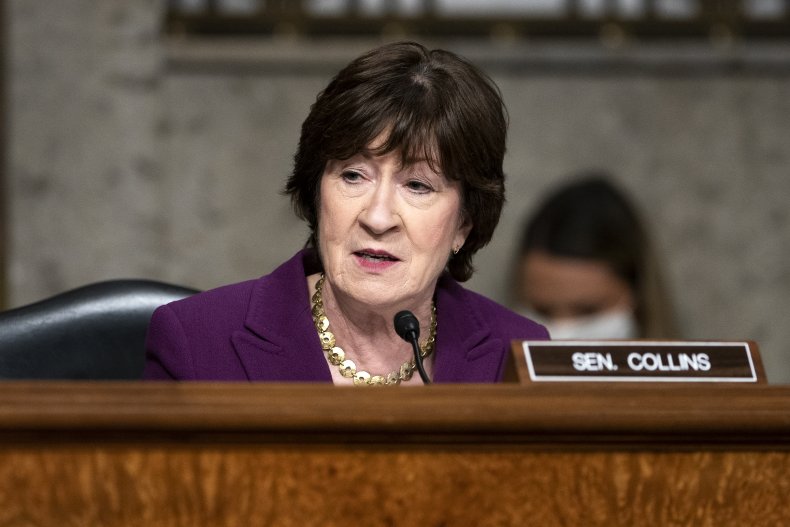 Republican Senator Susan Collins of Maine has spoken out against a "rush" for Democrats to confirm President Joe Biden's pick to replace retiring Supreme Court Justice Stephen Breyer.
Democratic Senate Majority Leader Chuck Schumer of New York said Thursday that he expected "a fair process that moves quickly" to confirm Biden's yet-to-be-announced nominee "as soon as possible." Collins, a moderate who was the only Republican to vote against quickly confirming Supreme Court Justice Amy Coney Barrett just before the 2020 election, signaled her desire to slow down the process of vetting Biden's nominee.
"I felt that the timetable for the last nominee was too compressed," Collins told reporters on Thursday. "This time, there is no need for any rush. We can take our time, have hearings, go through the process—which is a very important one. It is a lifetime appointment, after all."
Newsweek reached out to Collins' office for additional comment.
Biden has pledged that his nominee will be the first-ever Black woman to serve on the Supreme Court. Collins was one of only three Senate Republicans who voted in favor of confirming one of the leading candidates, Judge Ketanji Brown Jackson, to serve on the U.S. Court of Appeals for the District of Columbia Circuit last year.
Although the exact Democratic timeline for the "quick" confirmation process is unclear, Collins may band together with other Senate Republicans to slow down the proceedings. Moves to slow the confirmation could become more likely if Democrats attempt to emulate the Republican rush to confirm Barrett, former President Donald Trump's nominee.
GOP Senate leaders have not publicly outlined any plans to stall Biden's nominee, but Senate Minority Leader Mitch McConnell did warn the president to "not outsource this important decision to the radical left" on Thursday. McConnell stressed that he believed Biden was elected "to govern from the middle."
However, Republicans will ultimately be powerless to stop the confirmation of Biden's nominee since Democrats still hold a narrow control on the evenly divided upper chamber. Regardless of any delay tactics, the new justice should be confirmed well before any potential Republican Senate takeover following November's midterm elections.
Biden's pick could only be blocked if no Republicans support the nominee and one or more Democrats also stand in opposition. Some progressives have expressed concerns that Senator Joe Manchin of West Virginia and Senator Kyrsten Sinema of Arizona could block the nominee.
While the pair have been heavily criticized for opposing the president's Build Back Better Act and Democratic efforts to change filibuster rules to help pass voting rights legislation, neither Manchin nor Sinema have voted against a single Biden judicial nominee so far.
Last year, the moderate Democrats both voted to confirm to lower federal courts Jackson and other names believed to be on Biden's Supreme Court shortlist, including Judge Candace Rae Jackson-Akiwumi and Judge Eunice Lee.