Democrats Say State Department Watchdog Turned Over 'Package of Disinformation, Debunked Conspiracy Theories' About Biden
After House and Senate committee members received an unclassified briefing from the State Department Inspector General on Wednesday, three Democratic chairs said they were provided with documents that included a "package of disinformation, debunked conspiracy theories and baseless allegations" about former Vice President Joe Biden and former U.S. Ambassador to Ukraine, Marie Yovanovitch.
In a joint statement, Eliot Engel, chairman of the Committee on Foreign Affairs, Elijah Cummings, chairman of the Committee on Oversight and Reform, and Adam Schiff, chairman of the Permanent Select Committee on Intelligence, said the State Department held an urgent briefing in light of the complaint filed by a whistleblower regarding Trump's July call with Ukrainian leader Volodymyr Zelensky, during which he asked his foreign counterpart to probe Biden, his domestic political 2020 rival.
The documents were turned over "in an envelope marked 'White House'" and contained "folders labeled 'Trump Hotel,'" the congressmen said, adding that these documents "reinforce concern that the President and his allies sought to use the machinery of the State Department to further the President's personal political interests."
"The briefing and documents raise troubling questions about apparent efforts inside and outside the Trump Administration to target specific officials, including former Vice President Joe Biden's son and then-U.S. Ambassador to Ukraine Masha Yovanovitch, who was abruptly removed as Ambassador in May after a sustained campaign against her by the President's agent, Rudy Giuliani," the lawmakers explained.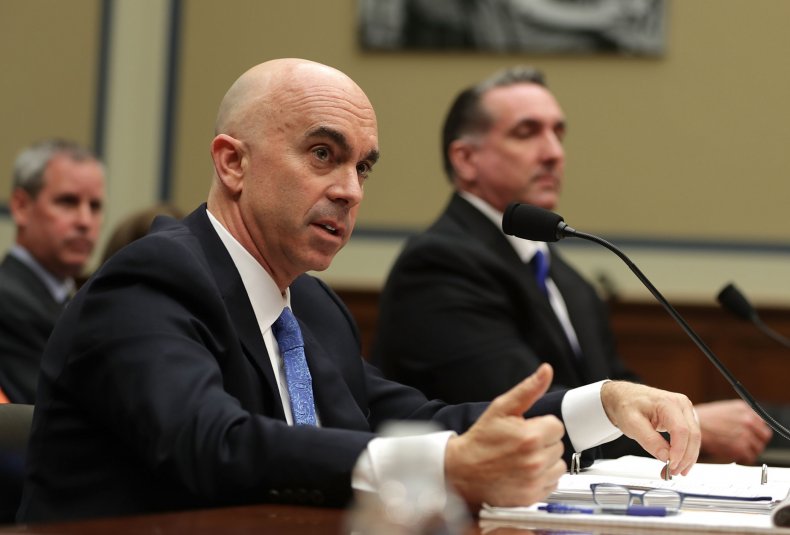 Democrats who attended the meeting were expecting information related to Trump's call with Zelensky, which is at the heart of an impeachment inquiry into the president, launched by House Speaker Nancy Pelosi last week. But, they say they were provided with materials that referenced Biden's family, Yovanovitch and Crowdstrike, a company that probed cyber breaches at the DNC before the 2016 presidential election.
"They appear to contain long-debunked theories and false statements about the former U.S. ambassador to Ukraine and one of President Trump's political opponents," Democratic Senator Bob Menendez said, according to The Hill. "These documents provide further evidence of a concerted, external effort to conduct a disinformation campaign against a career U.S ambassador, who has been the subject of baseless attacks, including by the president himself."
"It's essentially a packet of propaganda and disinformation and spreading conspiracy theories. Those conspiracy theories have been widely debunked and discredited," Democratic congressman Jamie Raskin added.
Amid a controversial impeachment inquiry into Trump, GOP members have been asking for an investigation into Biden and his 2016 role in removing a Ukraine prosecutor.