Democrats Skewered Republicans by Funding These MAGA Losers
Democratic efforts to promote Make America Great Again (MAGA) Republican candidates during the primary season appear to have paid dividends in the midterm elections.
Tuesday night has so far yielded better than expected results for Democrats and President Joe Biden's party could retain control of the Senate, while the House of Representatives may come down to the wire.
Some conservative Republicans who received an apparent boost from Democrats and Democratic groups when they faced GOP primary opponents have lost their races.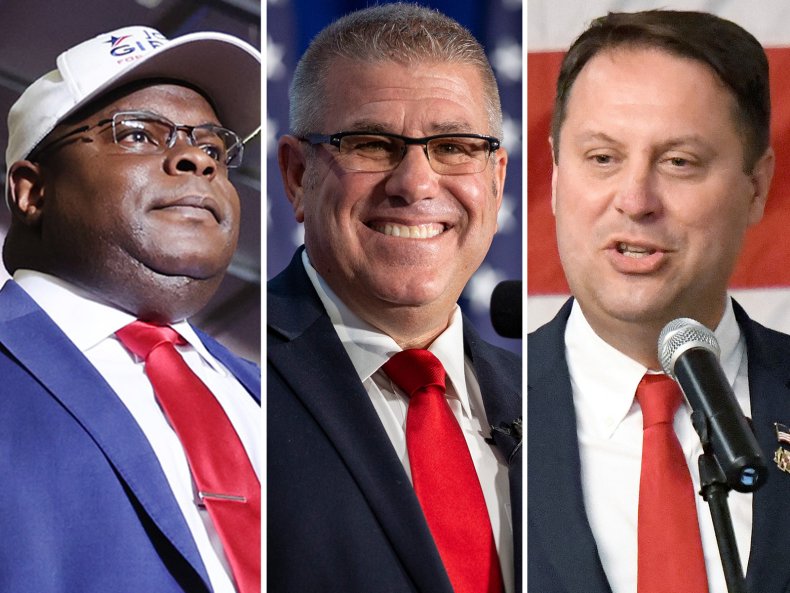 Democratic spending on MAGA candidates was considered a potentially risky strategy but it appears to have paid off in a number of contests for the House and in governor's races.
Here are races where Democrats boosting conservatives seems to have worked.
Illinois—Darren Bailey
Democratic Governor J.B. Pritzker spent $35 million on ads elevating Republican state Senator Darren Bailey and Bailey went on to win the GOP nomination and faced Pritzker on Tuesday.
The Democratic Governors Association (DGA) spent $15 million on TV ads attacking Republican Richard Irvin, Bailey's GOP primary opponent, while also promoting Bailey.
Bailey, who is strongly pro-Trump and opposed to abortion, has conceded to Pritzker. With 81 percent of votes counted, Pritzker led Bailey with 54.3 percent to the Republican's 42.9 percent.
Maryland—Dan Cox
The DGA spent almost $1.2 million in booking TV time to promote Republican state Representative Dan Cox for the GOP gubernatorial nomination in July.
The ad focused on Cox's ties to former President Donald Trump, saying: "Dan Cox: Too close to Trump, too conservative for Maryland."
Cox has cast doubt on the legitimacy of the 2020 presidential election and his nomination was opposed by Maryland's Republican Governor Larry Hogan, who strongly supported rival candidate Kelly Schulz.
Although Cox won the nomination he suffered defeat at the hands of Democratic candidate Wes Moore on Tuesday. With 89 percent of votes counted, Moore led with 59.8 percent to Cox's 37.1 percent.
Pennsylvania—Doug Mastriano
Democratic gubernatorial candidate Josh Shapiro previously defended his decision to run ads apparently aimed at boosting Republican Doug Mastriano during the GOP primary race.
Shapiro's ad called Mastriano "one of Donald Trump's strongest supporters" and the Democrat spent $840,000 on ads drawing attention to his Republican rival.
Mastriano has also promoted claims that the 2020 presidential election was fraudulent.
While Mastriano triumphed in the primary and enjoyed Trump's backing, Shapiro ultimately won the race for governor on Tuesday. With 87 percent of votes in, the Democrat had won 55.4 percent to the Republican's 42.8 percent.
Michigan—John Gibbs
Republican John Gibbs defeated Representative Peter Meijer in the GOP primary in Michigan's third congressional district. Meijer was one of 10 House Republicans who voted to impeach Trump in 2021.
The Democratic Congressional Campaign Committee spent $435,000 on ads promoting Gibbs during the primary, saying he was "handpicked by Trump to run for Congress."
Gibbs has supported Trump's unfounded claims that the 2020 election was "stolen."
The Republican was defeated on Tuesday by Democratic candidate Hillary Scholten. She led with 52.6 percent to Gibbs' 44.1 percent with 82 percent of votes counted.
Democratic groups also funded a number of other Republican primary candidates who did not win their respective nominations and while some critics considered the approach to be high risk, it appears to have paid off in at least four races.