Democrats Have Spent $20M Trying to Help Trump-Loving GOP Candidates Win
Democratic groups have spent more than $20 million supporting Republican primary candidates who strongly support former President Donald Trump—in an apparent attempt to give their own candidates more vulnerable opponents.
Polls have shown that Democrats may be on course for major defeats in the 2022 midterm elections, but the Democratic Governors Association (DGA) and external political action committees (PACs) have been attempting to boost more hardline GOP candidates.
Democrats may be hoping that their efforts will see more right-wing, pro-Trump candidates chosen by Republican primary voters, which could give Democratic candidates an easier time in competitive elections.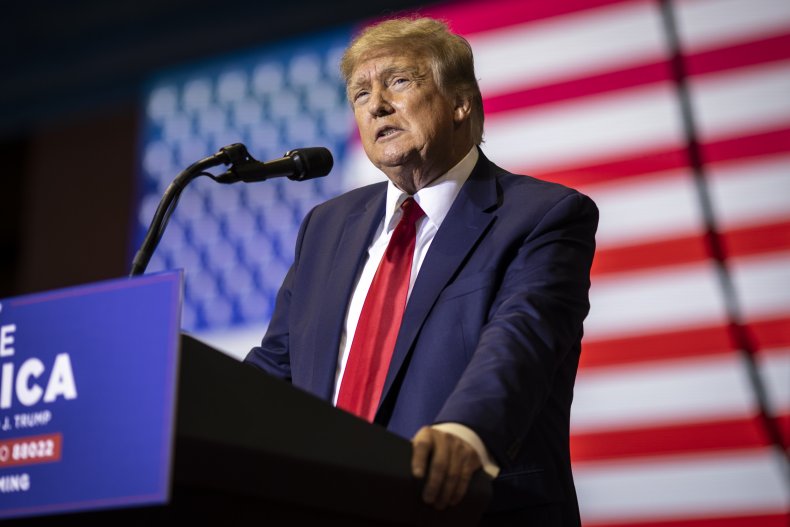 Analysis by National Journal suggests Democratic groups have spent more than $20 million on these efforts, but the final figure could even be significantly higher.
In the Illinois governor's race, for example, the DGA has spent $15 million on TV ads attacking Republican Richard Irvin, who is mayor of Aurora and considered the establishment choice for the GOP nomination.
The DGA has also reportedly spent millions more promoting one of Irvin's primary opponents, Darren Bailey, who is strongly pro-Trump and anti-abortion.
While the advertising ostensibly attacks Bailey for being "too conservative for Illinois," it appears designed to boost his standing among GOP voters. The GOP nominee will go on to face incumbent Democratic Governor JB Pritzker in November.
Conservative outlet The Washington Free Beacon estimated on June 8 that Democrats could end up spending as much as $32 million in advertising against Irvin when digital ads are included, citing spending data.
The DGA also reportedly donated $1.5 million to another Democratic group, Strong Colorado for All, which in turn donated $600,000 to another state super PAC, Colorado Information Network.
Newsweek has asked the DGA for comment.
Colorado Information Network is running ads in the governor's race ostensibly attacking GOP candidate and former mayor of Parker, Greg Lopez, highlighting his positions on issues such as abortion and same-sex marriage.
The group has also booked at least $915,000 worth of TV advertising set to feature Lopez that will run through the primary on June 28. Lopez has said he believes Trump won the 2020 presidential election.
The other Republican candidate for governor is Heidi Ganahl, a University of Colorado regent, and the only state-wide elected Republican in Colorado.
Democratic Governor Jared Polis is seeking re-election in November and that campaign may be easier if Lopez is his opponent in the typically deep blue state.
In the U.S. Senate race in Colorado, left-wing super PAC Democratic Colorado has reserved at least $1.49 million worth of TV advertising to promote state Representative Ron Hanks, who believes Trump won the 2020 election and attended the rally in Washington, D.C. on January 6, 2021.
The advertising will attack Hanks for being conservative and could prove a headache for GOP Senate candidate Joe O'Dea, who is the establishment choice in the race.
Whoever wins the Republican Senate primary will face Democratic Senator Michael Bennet in November.
A strategy of promoting more hardline Republicans through ad spending may have paid dividends in Pennsylvania, where Democratic gubernatorial candidate Josh Shapiro aired ads boosting Republican Doug Mastriano's conservative credentials.
Shapiro's campaign spent more on a single TV spot than Mastriano's entire TV advertising budget.
Mastriano has promoted the idea that the 2020 election was stolen from Trump and won the former president's endorsement in the GOP primary, which he won. It is not clear how much Democratic advertising benefited him.