'Bring It On': Progressive Democrats Embrace Socialism Label Amid Repeated Trump Attacks
Liberal Democrats in Congress aren't shying away from the term "socialism," despite efforts by President Donald Trump and Republicans to weaponize the word against the Democratic Party in 2020.
Leaders of the House Progressive Caucus welcomed the term Wednesday, arguing that many of the government services that people have become accustomed to were also once labeled as socialist policy. They made it clear that as a liberal wing that makes up roughly 40 percent of the party, they would not seek to dispel the "labels" provided by their political foes and would continue to push proposals that are popular among their base, like Medicare for All and a national minimum wage hike.
"When we did Social Security, it was socialist. When we did Medicare, it was socialist. And these are the most popular programs," Representative Mark Pocan, co-chair of the House progressive group, told reporters. "People like to throw labels out. If we go and chase the labels, we can waste lots of time doing that."
Pocan and his co-chair, Representative Pramila Jayapal, highlighted previous presidents who faced similar scrutiny for government programs that are now popular, such as Theodore Roosevelt, Franklin Roosevelt and Harry Truman.
"The idea that government should have a critical role in providing for basic needs of everybody to bring everybody to a certain standard is not socialism, but that's what they want to keep calling it," Jayapal said of Republicans' criticism. "I think that is the concept of democratic socialism."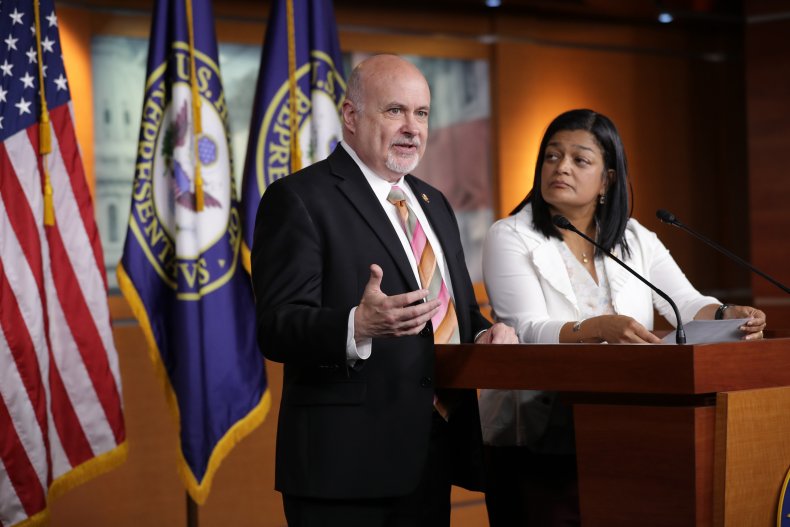 As each contender in the crowded 2020 field looks to establish themselves as the top Democrat to take on Trump, Senator Bernie Sanders took his longtime identity as a democratic socialist to a new level Wednesday. In a speech at George Washington University, the presidential candidate accused Trump and Republicans of being politicians who "absolutely love corporate socialism" while doubling down on his socialist platform.
"Like today, the quest for transformative change was opposed by big business, by Wall Street, by the political establishment, by the Republican Party and by the conservative wing of FDR's own Democratic Party," Sanders, an independent, told a welcoming crowd.
Republicans have said Democrats are pushing socialist policies in Congress, such as the Green New Deal climate change initiative, spearheaded by Representative Alexandria Ocasio-Cortez, and the Medicare for All health care proposal, both of which more progressive House Democrats and 2020 candidates continue to support. Senate Majority Leader Mitch McConnell, a Kentucky Republican, has vowed to be the "Grim Reaper" for such policies.
"Socialism" has been a popular choice of word for Trump when speaking to conservative audiences—and even to the entire country. In his State of the Union address this year, the president said he was "alarmed by new calls to adopt socialism," vowing that "America will never be a socialist country."
Appealing to a conservative crowd at a campaign event in Iowa Tuesday evening, Trump pivoted to Sanders' and Ocasio-Cortez's support for policies like the Green New Deal and Medicare for All, likening such stances as a call for socialism.
"The Democrat party has never been angrier—they're so angry... For what?" he said. "Every day the Democrat party is becoming more and more unhinged and more and more extreme. They're going crazy. Do you love it? I sort of love it."
The Progressive Caucus has yet to endorse a 2020 Democratic candidate. But Jayapal indicated support for Sanders' speech because she said it highlighted government services that Republicans believe in but that ones she called "a form of democratic socialism." She mentioned national parks and post offices as basic examples.
"No matter what we do, we are going to be called these labels because that is the playbook from the other side," Jayapal said. "So, why even engage with that? Other than to laugh and say, 'that's all you got? Cause we got real plans. Bring it on. We're gonna win.'"