Democrats React to 'Stopgap' Stimulus Package
After Congressional figureheads breached an impasse to agree on a COVID-19 relief package, Democratic lawmakers insisted the support is a step forward but not an end result.
House Speaker Nancy Pelosi (D-CA) and Senate Minority Leader Chuck Schumer (D-NY) both voiced their desire for more action to be taken under the Biden administration, as they commented on the latest agreement.
A joint statement from the pair said: "The emergency relief in this agreement, the second largest in history only to the CARES Act, is an important first step that Democrats look forward to building on under the new Biden-Harris Administration to meet the remaining needs of the American people during this historic health and economic crisis."
Schumer reiterated this stance with a message sent out on social media.
"After weeks of intense negotiation, we've reached an agreement on an emergency #COVIDrelief package. It will deliver emergency relief to a nation in the throes of a genuine emergency. We must make law as soon as possible. And then we need to do even more under President Biden," Schumer tweeted.
The roughly $900 billion package will include measures such as direct payments of up to $600, an extension to boosted unemployment support and small business aid through the Payment Protection Program. It comes nearly nine months after the last relief package, the CARES Act, was signed back in March.
Other Democrats echoed Pelosi and Schumer, welcoming the bill but calling for more support to be enacted.
"This bill is not perfect. It's not the bill I would have written. But it's a bridge. And people who are struggling are counting on us. They need help now," Rep. Jim McGovern (D-MA) tweeted. "For these reasons, I will be voting yes."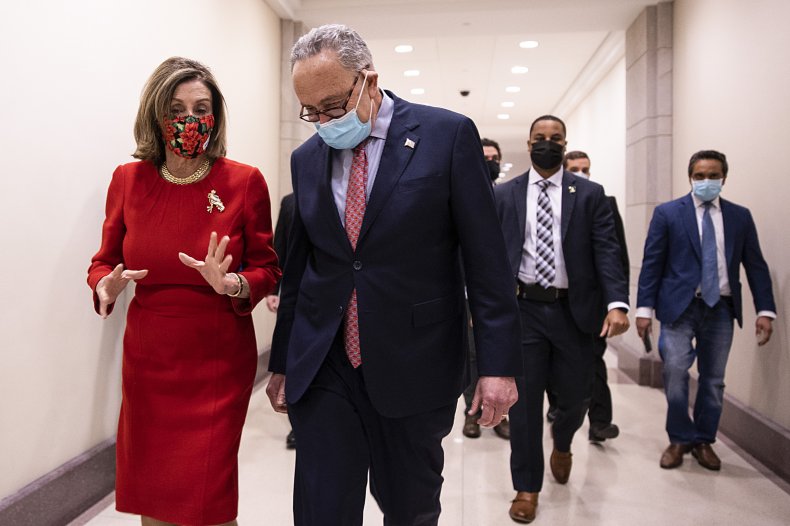 Sen. Jeff Merkley (D-OR) described it as a "stopgap measure." He tweeted: "This deal is certainly better than nothing, given the great need across our nation. But it is a stopgap measure. The key is to rebuild the economy from families and Main Street up, not Wall Street down. We'll have a lot more work to do once President Biden is in the White House."
Rep. Lloyd Doggett (D-TX) called the package "too little, too late," and said he expects more support under the next administration.
"From the discussions I've had, this relief deal is too little, too late," Doggett tweeted. "Modest help for many who are struggling, important funding for vaccine distribution, but some sorry provisions, and many omissions. Hopefully, it will at least help those most in need make it until we have a new Administration."
Asked for further comment by Newsweek, Doggett said that health care was a shortcoming in the proposals and pushed for local government support.
"One major shortcoming is health care. Virus spread is only intensified when 30 million Americans were uninsured prior to the pandemic and millions more lost coverage during the pandemic. Beginning early during the pandemic, local officials provided the leadership and advanced creative responses while national and state governments failed," Doggett said.
"Now they face the prospect of layoffs of first responders and other essential workers because Republicans have blocked aid to local governments and in states controlled by Trump acolytes like Texas, Governors have done the same."
On what action he would like to see next, Doggett said: "With many of the same Republican obstacles next month as this month, I favor whatever approach can secure the quickest and broadest success. One possibility is the long-delayed House infrastructure bill, which could provide both a boost to the economy and much-needed improvements."
The call for more next year was also reiterated by Rep. Nydia Velazquez (D-NY). "This bill isn't perfect & we need more under President Biden," Velazquez tweeted.
Rep. Cheri Bustos (D-IL) said the package outlined is insufficient but could bridge the time until further steps are taken.
"Simply put, it's not enough," Bustos tweeted. "Many of the cities and towns I serve will need additional help to avoid city layoffs and keep critical services going, like emergency and snow removal. But this will help us start to get control of this pandemic while we work toward our next step."
Republican Senator John Cornyn (R-TX) retweeted a journalist's message that they were "getting the sense Democrats want to do another stimulus bill in January," and wrote alongside this: "Ya think?"
Newsweek has contacted the lawmakers mentioned for further comment.
Update 12/22/2020: This page was updated to include further comment from Lloyd Doggett.