Congress Races to Pass Stimulus Deal as Leaders Reach Agreement, Face Another Funding Deadline
Congressional leaders ended a nearly nine-month-long stalemate Sunday evening, as they finalized a nearly $1 trillion coronavirus relief package and were racing to approve it ahead of Christmas.
"We can finally report what our nation has needed to hear for a very long time: More help is on the way," Senate Majority Leader Mitch McConnell (R-Ky.) said on the floor. "I hope we can do this as promptly as possible."
The roughly $900 billion relief package would include, among other things: $600 individual checks; $300 weekly supplemental unemployment insurance; small-business aid through the Paycheck Protection Program; food and rental assistance; and money for schools.
Despite ending the logjam, Congress was forced to pass its fourth stopgap funding measure since September to avoid a brief government shutdown that would have commenced at midnight and last for the better part of Monday.
A temporary spending bill, known as a continuing resolution (CR), was fast tracked through both chambers Sunday night, with zero senators objecting. There could have been a brief shutdown, if any one senator would have objected, that lasted a few hours due to procedural hurdles to passing the stimulus and offering at least some time for lawmakers to read over the agreement. The stimulus will be attached to a $1.4 trillion annual budget, hence the need for another CR to avoid a shutdown cliff.
Both chambers approved a one-day CR Sunday night and will vote on the stimulus sometime Monday. A single senator could delay a vote in the upper chamber.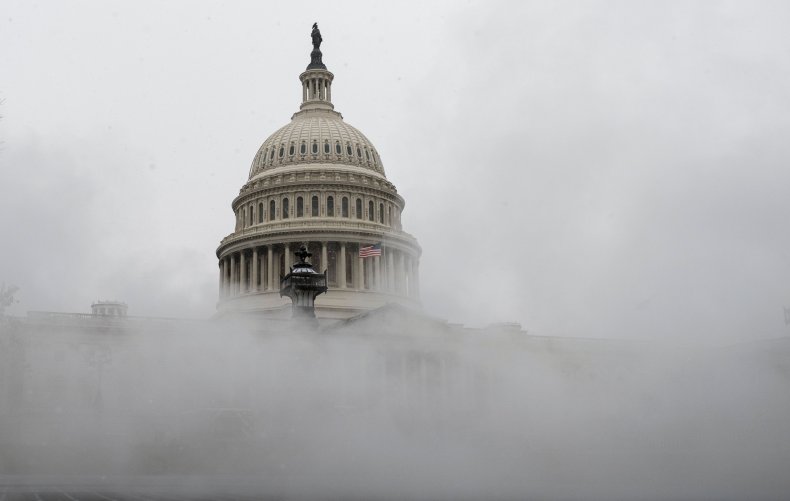 The Senate's leaders—McConnell and Minority Leader Chuck Schumer (D-N.Y.)—had earlier expressed optimism Sunday afternoon that a vote could come as early as later that evening. But among more rank-and-file members, there was pessimism about Congress' ability to move so swiftly on two massive and expensive pieces of legislation that lawmakers have yet to even read.
"It always takes longer than you think," warned Sen. Roy Blunt (R-Mo.), the No. 4 Republican.
Members cited the need to actually read the bills before moving to a final vote.
"None of us have seen the writing or what else is in there," said Sen. James Lankford (R-Okla.). "That'd be rather optimistic to try to move by tonight."
Despite the long awaited bipartisan agreement, McConnell and Schumer traded barbs on the floor, blaming one another for the delay in coronavirus relief as they lauded their new deal.
"Why did it take all this time? We know why," McConnell said. "We have heard Democrats say openly that they were not willing to deal all Summer and Fall, but are willing now, because they now have a president-elect of their own political party. That's not my accusation—that's their admission."
Schumer later shot back: "The idea that this delay was caused by Democrats is Alice in Wonderland history, it was caused by a Republican majority that didn't want to vote the moneys desperately needed by the American people... The economy is in a deep, deep hole because of President Trump and the Republican Senate's failure to act in a timely manner."
Prior to the announcement that a deal had been reached, Sen. Josh Hawley (R-Mo.) raised the specter of whether he'd even allow another CR to pass, given that the funding deadline puts immense pressure on negotiators. Sen. Bernie Sanders (I-Vt.) suggested he may also object to a CR.
While the House can move swiftly on any bill—even if a member objects to passing it unanimously—the Senate cannot, and would need buy-in from all 100 members or risk having to run out the procedural clock.
However, both senators allowed the CR to pass unanimously.
Negotiators spent the last few days working out a major disagreement involving the Federal Reserve's lending powers and a Republican desire—led by Sen. Pat Toomey (R-Pa.)—to limit the central bank's ability to create lending facilities. The move was decried by Democrats as trying to tie the hands of the incoming Biden administration.
Once Congress does finally get the stimulus legislation to the floor and passed, it will mark the end of a partisan stalemate that's persisted among the country's top leaders for nearly the past nine months. The much-needed relief will come as millions of Americans are about to see their jobless benefits run out in the coming days and countless renters will face eviction at the beginning of next month.
"When we get this done, Congress will not deserve any special praise," McConnell said. "When we finalize this measure and pass it, Congress will only have done our job. We will have finally done our duty in getting more relief to those who need it most."
Updated 7:39 PM ET to include that congressional leaders reached a final agreement and remarks from McConnell and Schumer. It was further updated to include that Congress passed a one-day CR.