Pelosi Says She Backs Smaller Stimulus Because Biden Won; Rejecting Higher Offer 'Was Not a Mistake'
Despite a refusal for roughly the past six months to advance a smaller aid package that she deemed "half a loaf," House Speaker Nancy Pelosi is now willing to support a bipartisan stimulus bill worth less than half her previous demand thanks to, in part, Joe Biden's victory.
"That is a total game changer: a new president and a vaccine," the California Democrat told reporters on Friday.
In addition, Pelosi said she has no qualms about rejecting the Trump administration's offer before the election that was more than double the $900 billion proposal gaining steam in Congress that lawmakers now hope to pass.
"That was not a mistake, it was a decision, and it has taken us to a place where we can do the right thing without other, shall we say, considerations in the legislation that we don't want," Pelosi expounded. "The fact is, I'm very proud of where we are."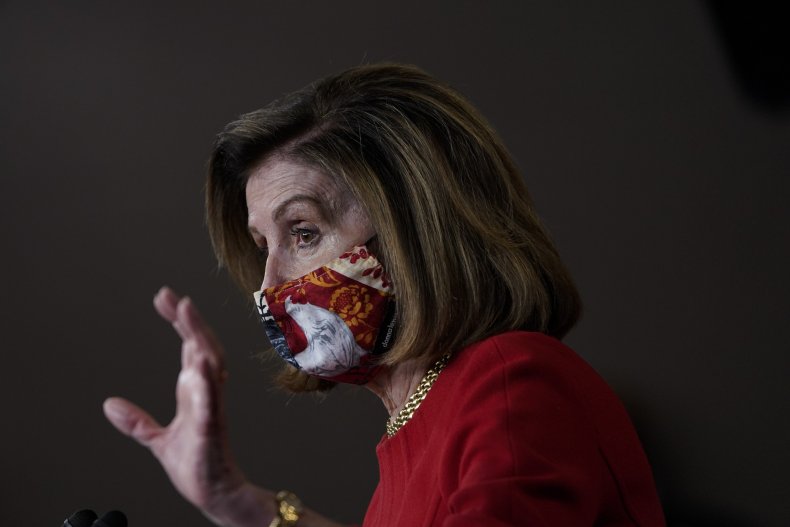 The political reality is that while Democrats held firm at $2.2 trillion in the runup to the election, and Senate Republicans refused to budge above $500 billion, the Trump administration's highest offer of $1.9 trillion was just $300 billion short.
In the grand scheme of things, with still no additional pandemic relief having reached the American people, Democrats and the administration were close but no cigar. At the time, Pelosi cited policy disagreements as a major hinderance.
But the failure to accept the deal and hammer out the differences was a move that moderate Democrats lament. Since the election—where House Democrats nearly lost control of the lower chamber and their negotiation leverage diminished—several moderates have expressed misgivings.
"We should've taken the deal. We should've done the deal, 100 percent we should have. I said it at the time," Congressman Josh Gottheimer (D-N.J.), a leader of the bipartisan Problem Solvers Caucus, told Newsweek last month. "It's outrageous that we didn't. I think it was really foolish... I wish we could get that deal today."
Pelosi suggested Friday that any forthcoming relief would act as a bridge until Congress could hopefully approve more under the new administration.
Aides to Senate Majority Leader Mitch McConnell (R-Ky.) responded with part disbelief and part humor.
"We all know this argument is beyond laughable because we have been trying to do this *exact* thing since July but she and Leader Schumer denied it every. single. time," McConnell Communications Director David Popp wrote on Twitter.
He responded with a sarcastic GIF to a reporter quoting Pelosi when she stated her previous refusal to accept a smaller bill was not a mistake.
Still, optimism has swelled on Capitol Hill in recent days that lawmakers may finally overcome the stalemate as they inch toward an agreement.
The $908 billion proposal has significant bipartisan buy-in from senators and the House Problem Solvers Caucus. Both groups are spearheading the effort.
Pelosi and Senate Minority Leader Chuck Schumer (D-N.Y.) got behind the measure this week as a good starting point for negotiations, as well as several rank-and-file GOP senators who have come on board.
However, still missing from the fray is McConnell. Thus far, he's stood firm behind a less than half-a-trillion-dollar bill that has been blocked several times by Democrats—even as Republicans behind the bipartisan $900 billion proposal publicly and privately urge him to endorse it.