Democrats Subpoena Treasury Secretary Mnuchin, IRS Commissioner Rettig for Refusing to Release Trump's Taxes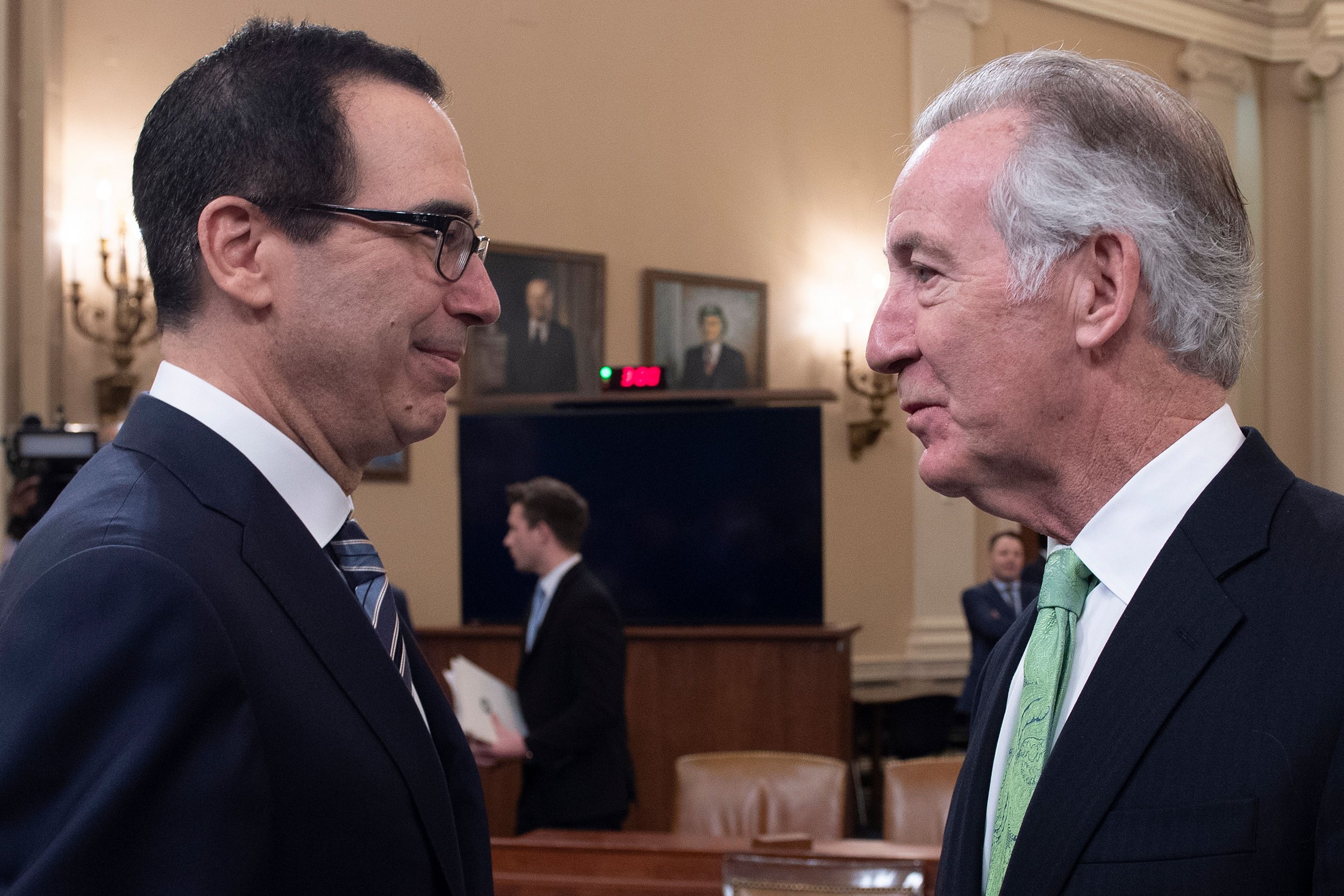 In the battle to obtain President Donald Trump's tax returns, the Democratic chairman of the House Ways and Means Committee on Friday issued a subpoena to Treasury Secretary Steve Mnuchin and IRS Commissioner Charlies Rettig to produce the president's taxes.
Mnuchin refused for a third time earlier this week to hand over several years' worth of Trump's personal and business tax information to Ways and Means Chairman Richard Neal, who requested the documents using the authority granted by U.S. law to a small number of congressional committees.
The subpoena gave Mnuchin and Rettig until May 17, or one week, to comply.
The move by Neal, a Democrat, to issue a subpoena for the Trump tax records further escalated the ongoing feud between House Democrats and the White House, and it brings the almost certain legal battle that will soon ensue one step closer to reality.
"While I do not take this step lightly, I believe this action gives us the best opportunity to succeed and obtain the requested material," Neal said in a statement accompanying the subpoena's announcement. "I sincerely hope that the Treasury Department will furnish the requested material in the next week so the committee can quickly begin its work."
Neal first made the request for six years of Trump's taxes on April 3, citing Title 26, Section 6103 of the IRS Code, which states that, upon written request from the Ways and Means chairman, the Treasury secretary "shall furnish such committee with any [tax] return or return information specified in such request."
Mnuchin has pushed back on this request, saying it "lacks a legitimate legislative purpose, and…the Department is therefore not authorized to disclose the requested returns and return information," a conclusion made after consulting with the Justice Department. The secretary also previously warned that abiding by Neal's request "could affect protections for all Americans against politically-motivated disclosures of personal tax information, regardless of which party is in power."
Neal predicted to reporters in the past several weeks an impending legal fight with the administration, which has so far refused to cooperate with several ongoing congressional inquiries by House Democrats. Earlier this week, the House Judiciary Committee voted to hold Attorney General William Barr in contempt of Congress for not complying with its subpoena, an obvious sign that both House Democrats and the Trump administration are willing to dig in and hold their ground.
Democrats have hoped the president's tax returns will shed light on previous business practices and have long suggested, with no concrete evidence, there was potential wrongdoing with foreign entities.
"I believed then, as I do now, that reviewing the requested documents is a necessary piece of the committee's work," Neal said.
A new report by The New York Times published Wednesday revealed that Trump lost nearly $1 billion, or "more money than nearly any other individual American taxpayer," between 1985 and 1994. In defending himself, the president tweeted that, as a real estate developer, it was not uncommon to "show losses and tax losses in almost all cases."
"You would get it by building, or even buying," he continued. "You always wanted to show losses for tax purposes...almost all real estate developers did—and often re-negotiate with banks, it was sport."