Democrats Threaten to Boycott Starbucks If Former CEO Howard Schultz Runs in 2020 Election
Democrats are threatening to boycott Starbucks if the coffee giant's former CEO Howard Schultz brings his potential 2020 ambitions to fruition.
Since announcing on January 27 that he was "seriously considering running for president as a centrist independent," Schultz faced almost immediate calls to seriously reconsider.
At issue is the possibility that Schultz running as an independent could split the vote in the upcoming 2020 election, potentially securing President Donald Trump's re-election.
After airing his potential 2020 ambitions on Twitter, Schultz was faced with a wave of appeals with a resounding message: "Please don't."
"Please don't," said former federal prosecutor Renato Mariotti in a tweet responding to Schultz's. "Our nation faces a serious crisis due to the actions of Donald Trump, and you would split the vote against him."
Other social media users rushed to "co-sign" Mariotti's statement, with one Twitter user saying the former Starbucks chief had "no chance of doing anything but distracting us and costing us votes."
"If you're serious about politics, this is the absolute wrong way to get in," one social media user warned. "You'll be hated and repudiated by all, and a consumer backlash will punish Starbucks. Think carefully."
Already, potential consumer backlash has started to build, with Neera Tanden, president of the Center for American Progress, threatening to boycott Starbucks if Schultz enters the 2020 race.
"Vanity projects that help destroy democracy are disgusting," Tanden said in a Twitter post. "If he enters the race, I will start a Starbucks boycott because I'm not giving a penny that will end up in the election coffers of a guy who will help Trump win."
In her own Twitter statement, writer Sarah Kendzior bluntly told Schultz: "No one wants you. The only thing you will unite in this country in is a mass boycott of Starbucks."
Meanwhile, Think Progress Justice Editor Ian Millhiser said that if Schultz "gets into the presidential race," the Democratic National Committee and "major unions" and "major presidential campaigns" should "all use their email lists to promote a Starbucks boycott until he drops out."
In an interview with CBS News's 60 Minutes on January 27, Schultz explained his reasoning for wanting to run as an independent, asserting that while he has "been a lifelong Democrat," when he looks at both parties he sees "extremes on both sides."
"The American people are exhausted. Their trust has been broken. And they are looking for a better choice," he said.
Speaking to CNN's State of the Union on January 27, 2020 hopeful Julián Castro joined fellow Democrats in urging Schultz to "truly think about the negative impact" his joining the race might have.
"I have a concern that if he did run, that essentially it would provide Donald Trump with his best hope of getting reelected," Castro said.
During his 60 Minutes interview, Schultz appeared to dismiss worries that his potential run could split the vote, asserting that this was about seeing the "American people win," after being asked directly by Journalist Scott Pelley to address those concerns.
"I wanna see the American people win. I wanna see America win. I don't care if you're a Democrat, independent, libertarian, Republican. Bring me your ideas. And I will be an independent person who will embrace those ideas. Because I am not, in any way, in bed with a party," Schultz said.
It is unclear whether the former Starbucks chief will follow through on his potential plans to join the 2020 race or whether he will still try to run as a centrist independent. If he does, however, the coffee giant he helped make a global success may take the brunt of the backlash from those who do not want to see Trump re-elected.
Trump himself also hit out at Shultz, albeit for different reasons. Taking to Twitter early Monday morning, the president said his potential rival "doesn't have the 'guts' to run for President!
"Watched him on 60 Minutes last night and I agree with him that he is not the 'smartest person,' the president continued, mocking Schultz over his prior comments. "Besides, America already has that! I only hope that Starbucks is still paying me their rent in Trump Tower!"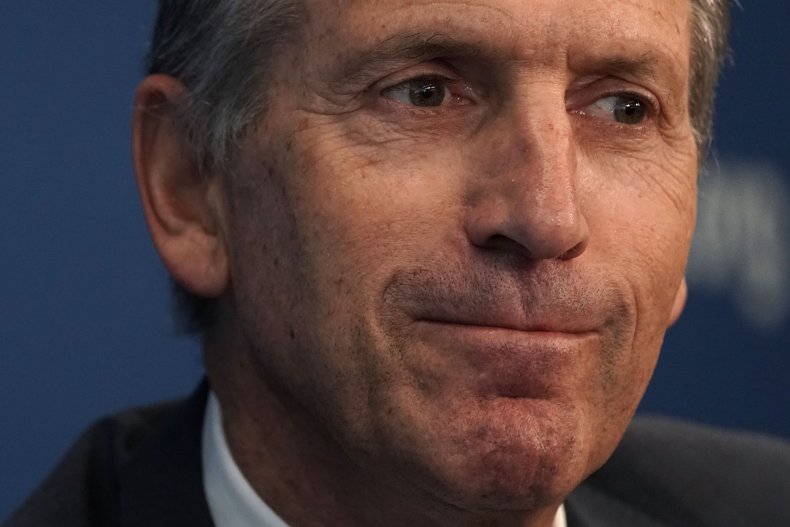 This article has been updated with a statement made by President Donald Trump.