Democrats Unveil Bill to Decriminalize Drug Possession at Federal Level, Expunge Records
A bill to end criminal penalties for drug possession at the federal level was unveiled by Democrats on Tuesday, ahead of the 50th anniversary when President Richard Nixon declared the "war on drugs."
The Drug Policy Reform Act (DPRA) would decriminalize personal use possession of all scheduled drugs—including marijuana, heroin and cocaine—and automatically expunge records and provide for resentencing for those serving time for certain drug-related arrests. It would also prohibit the denial of employment, immigration status, public benefits, voting rights, and more based upon a criminal history for drug possession.
The legislation, proposed by Reps. Cori Bush of Missouri and Bonnie Watson Coleman of New Jersey, also called for the country to address substance abuse with more health-centered approaches.
"The United States has not simply failed in how we carried out the War on Drugs—the War on Drugs stands as a stain on our national conscience since its very inception," Watson Coleman said in a statement.
June 17 will mark 50 years since Nixon designated drugs as "America's public enemy number one." Since then, drug offenses have become the leading cause of arrests in the U.S., according to the Drug Policy Alliance. In 2019, more than 1.5 million arrests were made due to drug law violations.
Bush said in a statement that "this punitive approach creates more pain, increases substance use, and leaves millions of people to live in shame and isolation with limited support and healing."
The congresswoman added: "It's time to put wellness and compassion ahead of trauma and punishment."
Under the DPRA, authority and criteria for the classification of substances would shift from the U.S. Attorney General to the Secretary of Health and Human Services (HHS).
The HHS would be responsible for producing a report on the benchmark amount for personal use drug possession and recommendations for preventing the prosecution of people possessing or distributing personal use quantities for each drug.
The bill would also direct the HHS to establish a grant program supporting initiatives that expand access to substance abuse treatment, connect people to harm reduction services, and reduce criminalization of those who use drugs.
Bush said in a press conference Tuesday that the DPRA will "instill confidence that our government is committed to advancing evidence-based public health policies."
"Today, we are stepping up and speaking out to say we can do better. We can create a more just and a more better world. We can do away with punitive systems of violence and destruction and replace them with systems of care, systems of support, systems rooted in racial equity and justice," Bush said.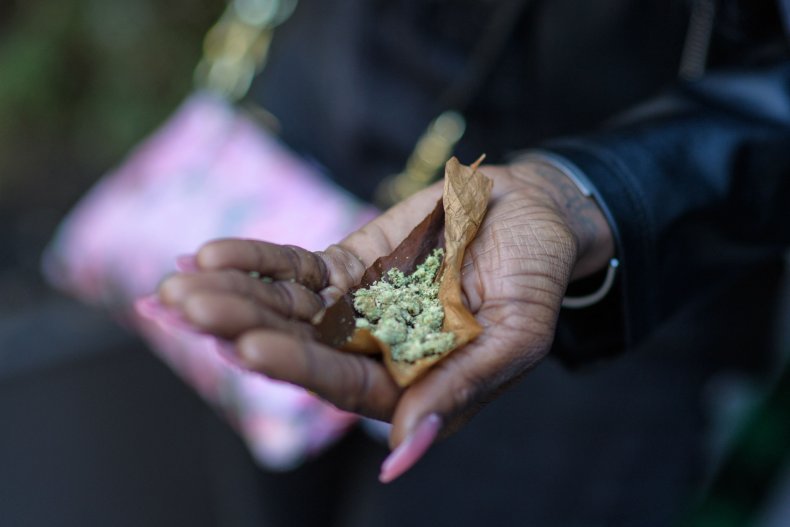 Last year, Oregon became the first state in the nation to decriminalize the possession of hard drugs—including small amounts of cocaine, heroin and methamphetamine.
Voters in the state approved the ballot measure by a 16-point margin last November, and the law officially went into effect in January. While possession of small amounts of drugs is decriminalized, possession of larger amounts could lead to a misdemeanor charge.
Last month, a bill to federally decriminalize marijuana and allow people with cannabis-related convictions to have their records expunged has been reintroduced in Congress. So far, at least 27 states and Washington D.C. have decriminalized small amounts of marijuana.
"During the last year, people across the country have seen how injustice impacts communities of color—from police brutality to the COVID-19 pandemic. The War on Drugs is no exception. We must deliver justice to those most impacted by America's racist and discriminatory cannabis laws," Representative Sheila Jackson Lee, one of the sponsors of the bill, said in a statement.
Update 06/15/21 11:45 a.m. - This story has been updated to include remarks from Tuesday's press conference with Reps. Bush and Waston Coleman.