Joe Biden Urged by Democrats to Be Much Tougher on Vladimir Putin Than Obama and Trump
Ahead of President Joe Biden's meeting with Vladimir Putin this week, Democratic lawmakers have urged him to be tougher on the Russian leader than his predecessors.
Unlike former president Donald Trump, who showed remarkable deference to Putin during his presidency, Biden has long made clear his skeptical view of Russia's president who he said he views as "a killer."
Biden has also repeatedly told the story of meeting Putin when he was vice president a decade ago and telling him to his face: "I don't think you have a soul."
But he is meeting with Putin for the first time as commander-in-chief in Geneva, Switzerland, on Wednesday.
Since Biden took office, Russian hackers have been blamed for a series of cyberattacks that have targeted the U.S. government and infrastructure, prompting several Democrats to call on the president to take more serious action against Russia than either Trump or former president Barack Obama.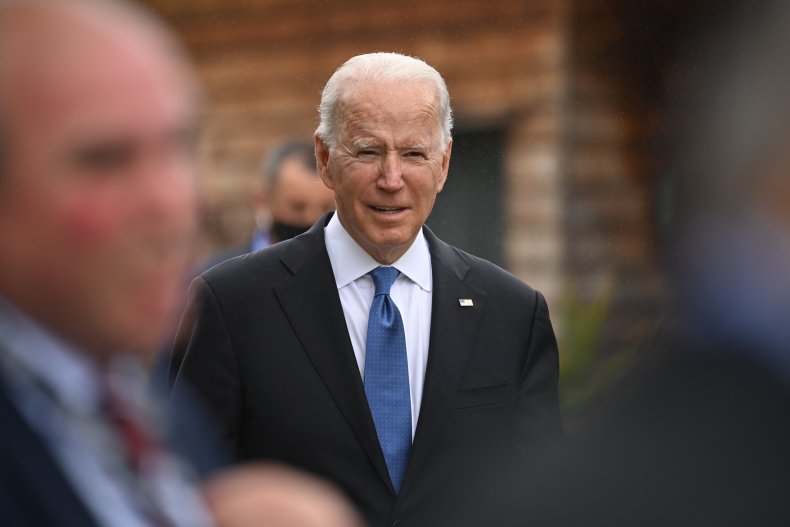 Over the weekend, Rep. Jim Himes said he had "quarrelled" with three presidential administrations about the failure to set up a deterrent to prevent Russian cyberattacks.
The congressman from Connecticut called actions Obama took in response to Russian meddling in the 2016 U.S. presidential election "a slap on the wrist" for Putin.
"When Obama was president and we had the election hack of 2016 Obama sent, I guess the number was 50 or so, so-called diplomats out of the country, that's a slap on the wrist for Vladimir Putin," Hines told host Trey Gowdy during an appearance on Fox News' Sunday Night In America.
"It is time for us to start extracting a very real price," he continued.
"The oligarchs that support Vladimir Putin, the next time one of their businesses goes after or supports an entity that is attacking our critical infrastructure, let's empty the guy's bank account... I say that partly in jest because I'm not sure it's a great idea, but my point is that we have offensive capabilities that we are not using.
"We need to start using them so that we set up a deterrent so that people think twice about whether they're going to do this."
Hines' comments come after Sen. Bob Menendez urged Biden to sanction Russia over its offenses.
In a speech on the Senate floor last week, Menendez, the chairman of the Senate Foreign Relations Committee, said he had spent years "deeply engaged in efforts to hold Russia accountable for its aggressive and destabilizing behavior under Putin."
He noted that he worked to hold Russia accountable for invading Ukraine during the Obama administration and "sounded the alarm over Russian efforts to sow chaos in our elections" ahead of the 2016 presidential election.
"And throughout the previous administration, I called out President Trump for cowering to Putin at every turn," he said.
He condemned Russia-based efforts to attack American businesses, hospitals, pipelines, city governments, and democracy and said the U.S. needed to stand up against the "ongoing and tragic repression of the Russian people."
"When we take stock of Russia's behavior in recent years, we see that in every arena, Putin has chosen escalation over stability and predictability," he said.
Menendez said he had "every expectation" that Biden will be "more assertive" with Putin than Trump was. "I urge him to seize this opportunity to call out the Kremlin for its litany of aggressive actions and announce appropriate measures in response," he added.
Biden has levied sanctions against Russian entities and individuals in Putin's orbit over allegations of Russian interference in the 2020 election and the hacking of federal agencies in what's known as the SolarWinds breach.
Since then, cyberattacks originating from Russia have impacted a major oil pipeline and the world's largest meat supplier. Putin has denied the Kremlin had any involvement in either.
Biden this weekend told reporters he agreed with Putin's assessment that U.S.-Russia relations were at a "low point."
Asked why years of sanctions imposed by the U.S. hadn't changed Putin's behavior, the president laughed. "He's Vladimir Putin," he said.
He also defended the decision to not hold a joint press conference with Putin after their meeting. "This is not a contest about who can do better in front of a press conference to try to embarrass each other," Biden said. "It's about making myself very clear what the conditions are to get a better relationship are —with Russia."