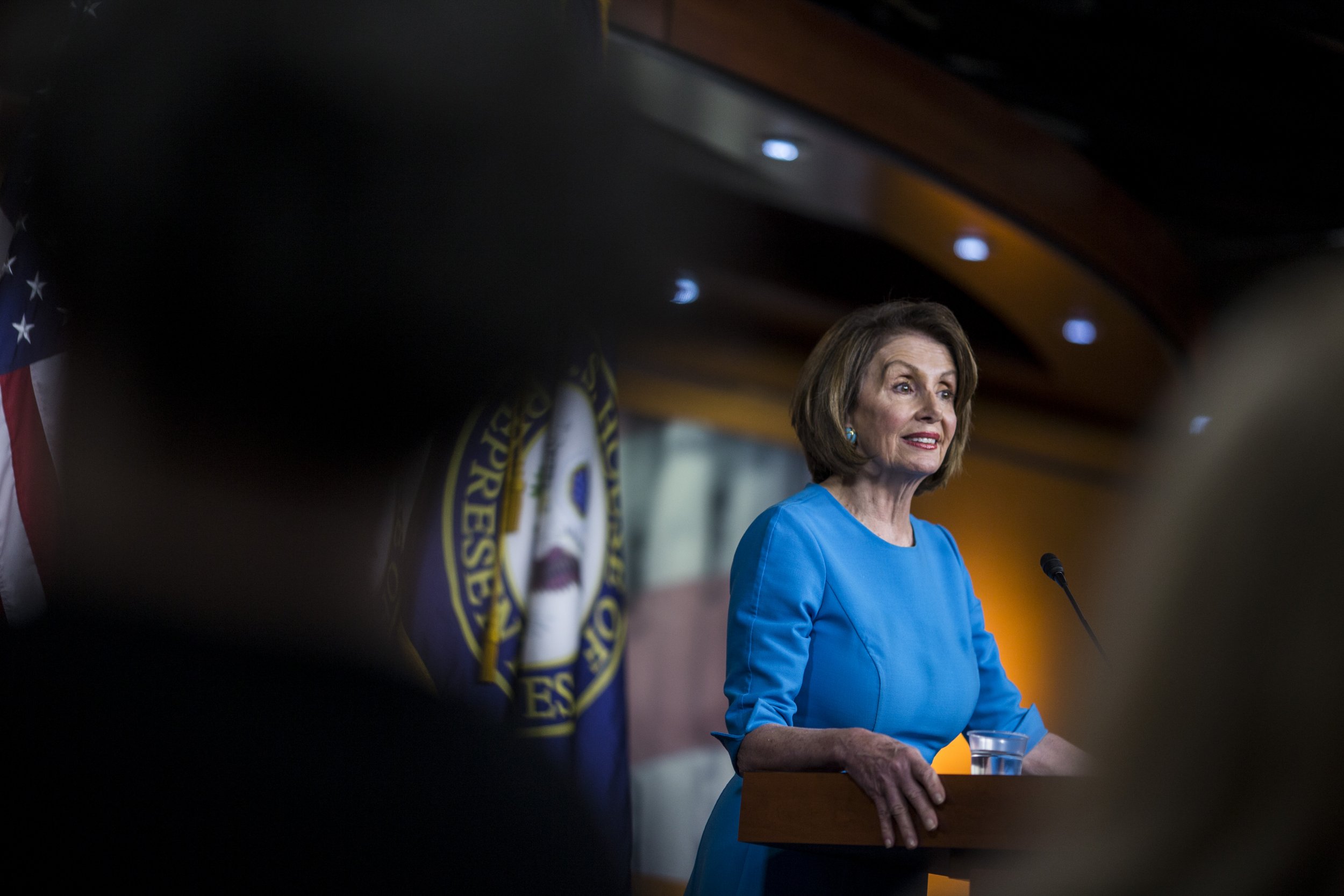 House Democrats, who hold the power to open an impeachment inquiry into President Donald Trump, made it clear Tuesday that while they were prepared to take such a drastic step, they were not ready to go against the wishes of House Speaker Nancy Pelosi.
Democrats, both on and off the Judiciary Committee, began to seize the notion that impeachment was inevitable after Trump directed former White House counsel Don McGahn not to testify—which was the straw that broke the camel's back for many lawmakers. But some of the same members who had so fervently called for an impeachment inquiry on Monday took a slightly different tone by Tuesday afternoon, making it known that the decision would ultimately be left up to one person.
"There are a growing number of people who will continue to make the case about the importance of opening an inquiry, but we recognize that the speaker will make that judgment," Representative David Cicilline, who sits on the Judiciary Committee, told Newsweek. "And I fully support her, obviously."
Judiciary Committee Chairman Jerrold Nadler, who has carefully walked the line between the party's rank and file calling for impeachment and its leadership, told reporters Monday evening that "continuing lawless conduct is making it harder and harder to rule out impeachment or any other enforcement mechanism." But even as Nadler seemed to move toward impeachment, Pelosi and other party leaders, including House Majority Leader Steny Hoyer and Democratic Caucus Chair Hakeem Jeffries, were against it, even if it would help them to obatin the witness testimonies and documents they'd subpoenaed.
Judiciary Committee Democrats emphasized that—at the very least—they would not proceed without Pelosi's go-ahead.
"I think [Nadler], like the speaker, has a different role as chairman," said Representative Pramila Jayapal, a member of the Judiciary Committee and co-chair of the Congressional Progressive Caucus, who supported an impeachment inquiry. "I don't think it's about trying to convince Nancy Pelosi. I think it's about talking about what is happening, why some of us are calling for an impeachment inquiry, listening to what people are saying about why they may not quite be comfortable."
Representative Steve Cohen, another Judiciary Democrat who said he was prepared to file articles of impeachment the moment after Congress heard testimony from special counsel Robert Mueller, said there was a "difficult internal political dynamic" between Pelosi, Nadler and committee members. "It's a process that we are going through," he said.
Representative Alexandria Ocasio-Cortez, who favored opening an impeachment inquiry, had a slightly different take. She said that she had not "felt a very strong opposition to impeachment" during the caucus discussions. But when asked whether the party should surge forward with an inquiry—despite the pushback from House leaders—she said it should be up to Nadler. "This squarely falls under the jurisdiction of the Judiciary Committee," she said.
Cicilline accused the president of "engaging in a cover-up" and trying to "undermine Congress' ability to do investigations." It was vital, he said, for Congress to "communicate a very strong message.
"Opening a formal impeachment inquiry is a good way to communicate that message," he said, while saying he was aware the party was not yet ready to proceed.
"This is a decision that doesn't get to be made by me. It's made through a collective decision by our caucus, as represented by our leadership," Cicilline said. "I think the speaker will continue to engage in discussions with the caucus to see what the caucus' views on this are."