Senate Democrats Renew Call for Investigation Into Whether Trump Mar-a-Lago Associates Influenced VA Decisions
Two Senate Democrats have again asked a government watchdog agency within the Department of Veterans Affairs to investigate possible wrongdoing among three Trump associates and Mar-a-Lago members who, despite having no official government roles, reportedly have extensive control of the VA's operations.
Democratic Senators Elizabeth Warren and Brian Schatz sent a letter on Monday to Veterans Affairs Inspector General Michael Missal that said they wanted to "reiterate our request for an investigation" into the "interference of these unqualified, unaccountable private citizens with ties to President Trump in VA decisions." The letter was made public early Wednesday morning.
The senators had previously sent a letter in August to Missal and the Government Accountability Office, the investigative arm of Congress, requesting that the agencies investigate the three Trump Mar-a-Lago members' roles within the Department of Veterans Affaris..
The members' wide-ranging influence was detailed in an August ProPublica investigation. The GAO told Warren and Schatz last month that its office would investigate, while Missal's office declined.
The two senators cited a new ProPublica report from December 3 as their reason for requesting Missal to reconsider.
ProPublica's August report revealed documents showing that three Trump associates and Mar-a-Lago members—Marvel Entertainment Chairman Ike Perlmutter, physician Bruce Moskowitz and lawyer Marc Sherman—were "secretly shaping the Trump administration's veterans' policies."
Documents obtained through public records requests showed how involved the three men had been, including offering opinions on job candidates, managing the $68 billion annual budget and providing input on policies.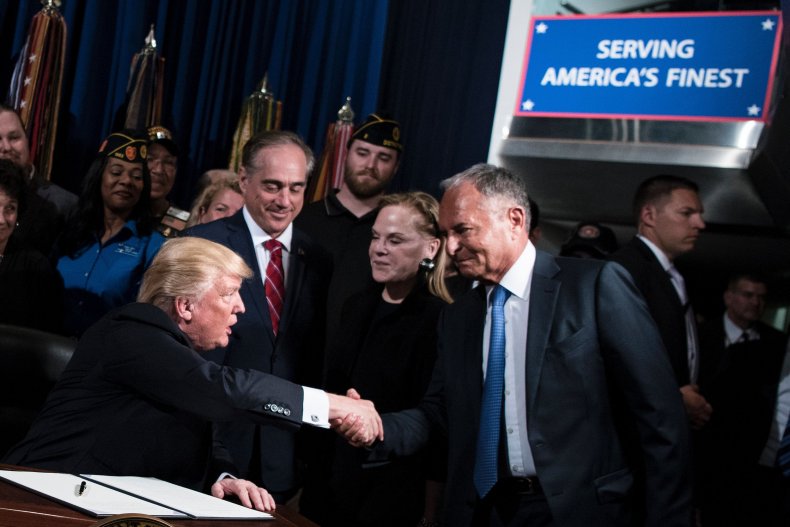 The second report, thanks to more obtained emails, revealed "a multibillion-dollar effort to overhaul electronic health records for millions of veterans," which included Perlmutter, Moskowitz and Sherman examining a confidential draft of a $10 billion government contract. In addition, according to the emails, Moskowitz tried to convince Veterans Affairs and Apple to use an app for the health records overhaul that he had designed.
"We believe this new information detailing the Mar-a-Lago trio's access to, and pernicious influence on, key VA functions should compel your office to reconsider," said Warren and Schatz in their letter. "The VA is supposed serve the health care needs of America's veterans—not the business interests of President Trump's Mar-a-Lago cronies."
Given the "mounting evidence detailing the breadth and depth of the alleged involvement" of the three Trump associates, the senators wrote, the "VA Inspector General must conduct its own parallel investigation."
Warren and Schatz said that Missal's office had "intimate knowledge of the VA, and access to documents, personnel, and other sources of agency information that may not otherwise be available to GAO."
The GAO told Warren and Schatz on November 19 that while the government watchdog would investigate, it wouldn't have the resources available to do so for about five months, putting the start date for the probe somewhere around April 2019.