Will Democrats Vote for William Barr? Members Dissatisfied With Trump Nominee's Answers but Keep Options Open
Democrats were largely dissatisfied with William Barr's testimony on Tuesday, saying they still had questions regarding the Trump administration and the Russia probe. However, they fell short of strongly rebuking the attorney general nominee and would not commit to voting against his confirmation.
Much of the questions posed by Democrats were centered on Barr's 19-page memo to the Department of Justice and Trump's lawyers last June, in which the nominee criticized special counsel Robert Mueller's investigation into Russian election inference and specifically its expansion into whether President Donald Trump was guilty of obstruction of justice. Barr's unsolicited legal opinion was viewed by Democrats as an audition for attorney general and prompted questions over whether, if given the position, he would interfere in the ongoing investigation, prevent Mueller's final report from going public or act at the behest of the president.
"He's certainly been responsive to the questions. He hasn't ducked them, and he's answered them as fully as he can," said Dianne Feinstein, the ranking member of the Senate Judiciary Committee that's tasked with questioning the nominee. "I think he's held up well."
When asked if Barr would likely be confirmed, the California Democrat replied: "Oh I think so. We'll see."
Democratic Senator Dick Durbin labeled Barr a "strong witness."
"Having served as attorney general, this is an experience he's been through before and I'm sure he's reflected on it," Durbin told Newsweek, referring to Barr's short stint as attorney general under President George H.W. Bush. "But there are still some fundamental issues involving his June memo and for me particularly, the issue of immigration."
Barr took a hard-line position on immigration, aligning much of his answers with the president and agreeing with Trump's bid for a wall.
Durbin, like the rest of his colleagues on the committee, said he has not yet reached a conclusion on Barr. Although still dissatisfied, Judiciary Committee Democrats would not go so far as to outright oppose his confirmation.
Barr's confirmation hearing will continue Wednesday. Needing only a strict majority vote to be confirmed, he is almost certain to get the votes from the Republican-controlled Senate.
The nominee reiterated his decades-long relationship with Mueller and his intent to preserve its independence from Trump. Barr revealed a previously unknown meeting between Barr and Trump in June 2017 where he told the president that Mueller was a "straight shooter," and he told the committee any attempt by the president to quash the probe would likely amount to an "abuse of power."
Breaking with Trump, Barr also said he did not "believe Mr. Mueller would be involved in a witch hunt," as Trump has repeatedly called it.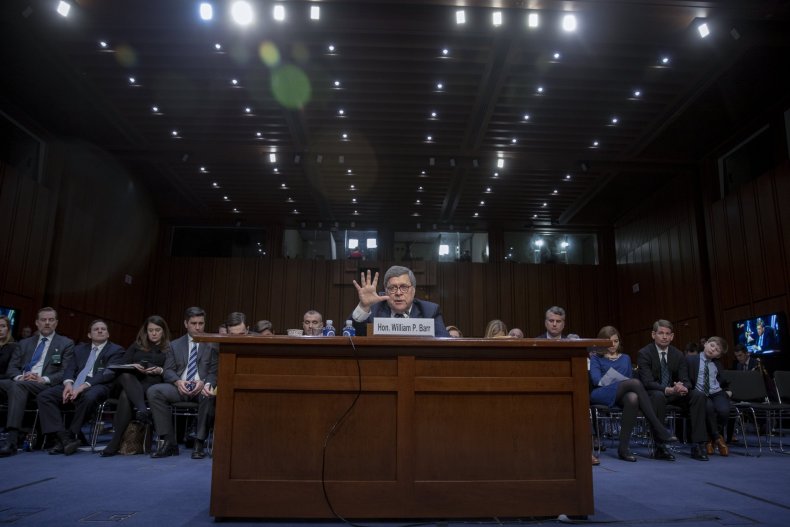 Amy Klobuchar, the Democrat senator of Minnesota and a possible 2020 presidential candidate, continued to have concerns about Barr's memo and "how that relates to decisions about the full release of the [Mueller] report, as well as some of the immigration [issues]."
Mueller's final report will be delivered to the attorney general, who then decides what, if any, gets publicly released. Barr assured senators he would provide "transparency" and was committed to making "as much information available as I can consistent with the rules and regulations that are part of the special counsel regulations." But he stopped short of promising the full, unedited report would be released.
"I'll make a decision after the hearing," Klobuchar told Newsweek.
Senator Richard Blumenthal said he was also "not yet" satisfied.
Asked if he would be voting to confirm Barr, Senator Sheldon Whitehouse told Newsweek his "concerns are still pretty serious, but we'll see. I couldn't say that yet.
"I think he did pretty well," Whitehouse added.
Barr's refusal to say whether he would recuse himself from the Mueller investigation at the direction of DOJ ethics officials, as former Attorney General Jeff Sessions did, concerned Senator Mazie Hirono. Barr told lawmakers he agreed with Sessions's recusal.
"I will seek the advice of the career ethics personnel, but as head of the agency, I make the decision of my recusal," Barr told the committee. "At the end of the day, I would make my decision based on the law and the facts."
Hirono was also troubled about Barr's memo, which she called an "audition" when speaking with Newsweek. The nominee addressed the memo several times during his hearing and tried to quell senator's fears by saying his opinion was based on news reports and a limited legal scope, not on all the facts of the case.
"Anybody who auditions to join an administration like this, I have concerns about for them to just come and say forget all that," Hirono said.
Senator Patrick Leahy told Newsweek he was also undecided.
"Basically, [Barr] took the same position as Jeff sessions did and others," Leahy said on the issue of recusal, who was also a member of the committee for Barr's 1991 confirmation hearing. "I don't know how you could take any other position: The attorney general should not be interfering with the special prosecutor."